With so many Forex platforms popping up online it can be difficult finding a good one. Many platforms offer similar experiences and the trading options can be quite similar. There are many platforms that you can join that outside of the name feel completely the same, but if you are looking for an industry leader and a trading platform that has won numerous awards over the years then you should check out eToro. Users who try eToro's forex trading platform end up sticking with them more often than not. Whether you are a veteran trader or a novice looking to get started in forex trading, eToro is a great place to invest your money.
Click Here For A Special Minimum Deposit Of Only $50

eToro Trading Platform
eToro offers one of the easiest forex trading platforms that we have encountered. They offer a full range of currencies for trading and also allow users to trade eToro Cfds and in the commodity market by trading gold and silver as well. The pearl of their trading platform is the WebTrader that allows users to trade from anywhere around the world. eToro has taken steps to make sure that the interface looks clean and doesn't give a user too much information. One fun feature of eToro's WebTrader is the chat function. You can use this to talk trading with other users to hopefully gain some insight into their trading.
Beyond the trading, eToro takes its social features one step further with OpenBook which is eToro's social media forex trading platform. You can see what other traders are doing in real time and monitor market trends. This is great for new traders who simply want to find a successful trader and "copy their trades" which is an option that eToro offers. You can follow other traders ala twitter or facebook and interact with them as they trade in real time.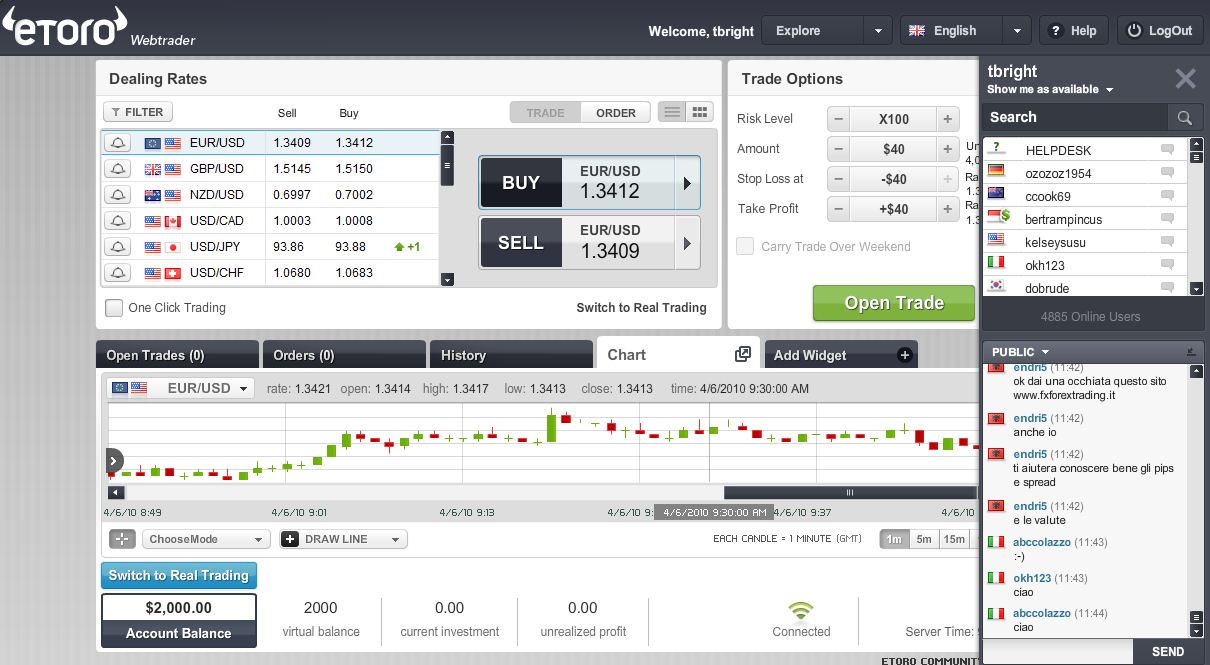 eToro Features
In addition to their excellent WebTrader and OpenBook platforms, eToro is also an industry leader in mobile forex trading. Their Mobile Trading App is one of the best in the industry and is fully compatible with Android and Apple device. Users can access the OpenBook features directly from their smartphone or tablet device and copy trades as they happen in real time from anywhere in the world.
One thing that has drawn people to eToro is their higher degree of leverage than many other sites at 400:1. Although users should be careful with this features as it offers just as many risks as it does rewards.
eToro is an excellent site for beginning players as the minimum deposit is a mere $50 while other sites can require a higher minimum than that. There is also a full demo practice account that you can take advantage of to test their software before depositing.
Customer Service
eToro offers some excellent customer service with live chat, email or telephone support that is available twenty four hours a day during the week. The customer service team is well informed and friendly. Most questions can be answered in eToro's "eToroPedia" which has a large wealth of information that users can easily access.
Why eToro?
Boasting an excellent web platform, smartphone and tablet enhanced compability and some of the lowest deposit requirements in the industry; eToro is a top destination for any aspiring forex trader. The ability to follow other traders and copy their trades is a top feature which has helped to make eToro the award winning forex platform that it is today. Without the social networking aspects, eToro would be a great site for forex trading, but with them they are one of the very best on the web today.