MetaTrader 4 (sometimes abbreviated to "MT4") is a very popular trading platform designed by MetaQuotes Software.
The first version of this interface was released in 2005, and has since then been adopted by many famous brokers as their main trading interface. This article will approach the MetaTrader platform by critically analysing its features, and understanding how a software released more than 10 years ago is still a reference in the online trading market.
Product History
The first MetaTrader platform was released in 2002. After several significant improvements and three years of hard work, MetaQuotes Software finally released MetaTrader 4. From 2007 onwards, a large number of online brokers adopted MT4 as either their main trading platform or at least an alternative. Because of its flexible interface, many brokers developed MT4 plugins or add-ons to recreate a unique trading environment, backed by a state-of-the-art software architecture.
As it will be seen later on, the success of the MT4 platform depends on a large variety of factors. They include the access to a thrilling market of financial software developers, a fully customizable trading interface and advanced data analysis tools.
MetaTrader Features Guide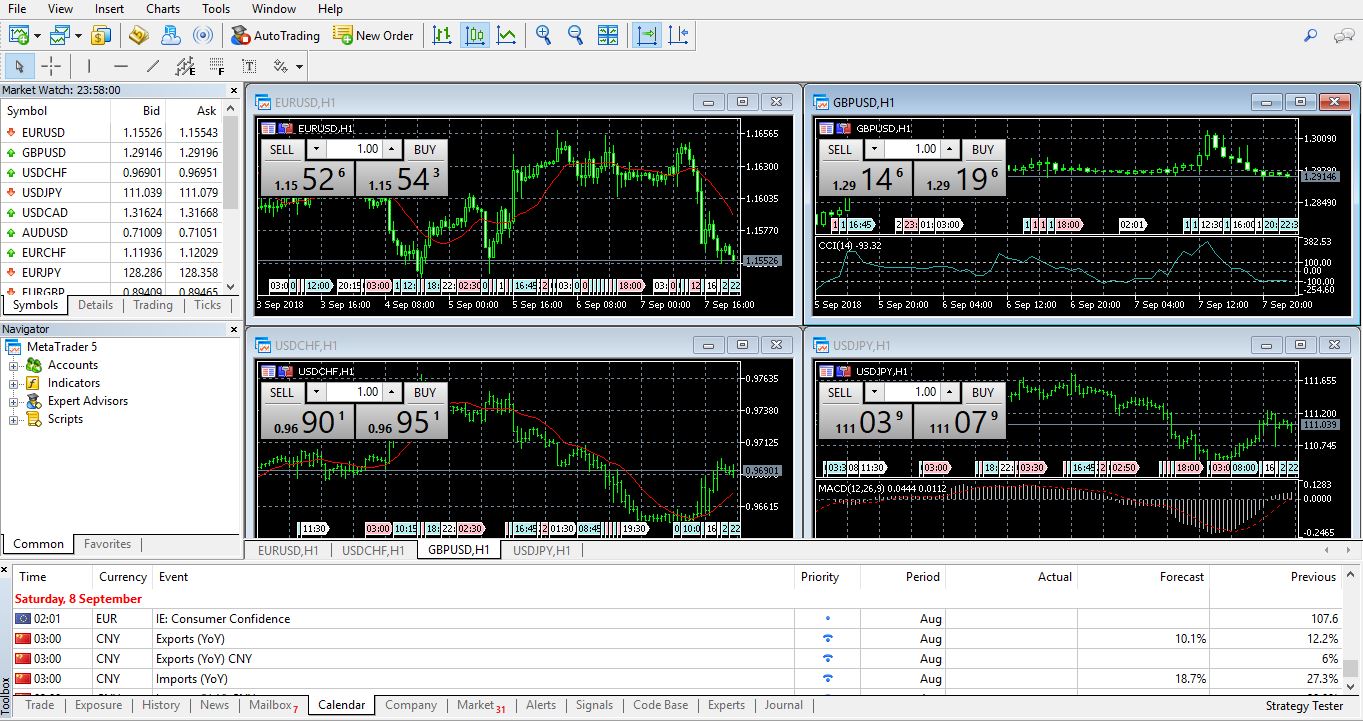 As you will be able to see on this screenshot, the MT4 and MT5 platforms are composed of a few basic elements:
The Market Watch: On the top left corner, you will find a Market Watch window containing the list of the main products used for Forex, CFDs and binary options trade.
The Navigator: Located right under the Market Watch tab, the Navigator allows users to browse their different accounts, data analysis indicators, expert advisors and scripts. This will mainly be used by trading experts that have multiple accounts with different brokers.
The Graph Area: Most of the action will take place in the fully customizable graph area. As its name indicates, this is where you will be able to check financial data and analyse trends. The screenshot above contains four graphs that are ideal to check for large macroeconomic trends. Yet some users will prefer to only use one graph and study it in depth with data analysis tools.
The Tool Bar: Probably one of the most important parts of the interface to master, the Tool Bar includes a lot of useful features to format charts, add new windows, change the language or save the current trading environment.
The Tool Box: Not to be mistaken with the Tool Bar (at the top of the window), the Tool Box is located at the bottom and will let you browse your current trades, exposure, history, mailbox, calendar, the famous MT4 market, as well as alerts and signals.
By mastering these five building blocks, you will easily be able to start trading on MT4 and MT5. However, these two platforms have a lot more to offer;
Graphs and Data Analysis Tools
Many traders simply cannot work without MT4 and MT5 because of their advanced data visualisation features. First of all, any graph can be expanded and reduced, and displayed as bar chart, candle sticks and line graphs.
Successful investors also use the large variety of indicators proposed by the MetaTrader platforms. These indicators include Trends, Oscillators, Volumes, Bill Williams (indicators invented by the legendary trader Bill Williams) and many more. Whereas inexperienced investors might not fully grasp the importance of these mathematical tools, they could be really helpful in getting a "feel" of the market and predicting future price movements.
Screenshot of the EURUSD graph with Bollinger Bands and Ichimoku Kinko Hyo indicators;


Mobile and Web Trading
MetaTrader Software developers also understand that today's investors travel and need to be able to trade everywhere and at any time. This is why the MT4 and MT5 platforms are available on mobile through an app available on Android and iOS devices. For those that prefer trading on a desktop computer, this trading interface is also available on a web version, accessible from the browser of any computer.
Automated Trading
The MetaTrader platform also harnesses the powers of automated trading in a feature called "Expert Advisors", that are nothing less than automated trading software that will do the work for you. The automated trading software can also be modified. This is a very flexible tool that most coding traders will be able to appreciate.
MetaTrader Market and Community
The MetaTrader Market and Community are one of the main assets of the MT4 and MT5 platforms. MetaTrader4 is not only a state of the art trading software, it is also the place where day to day investors, passionate traders and skilled designers meet.
The MetaTrader market is a great way to buy or download freely Expert Advisor programs, custom indicators and analytical programs. Because a good trader uses good tools, this feature is definitely worth a look.
The MetaTrader Community and Forum is a great way to learn more about trading, financial software development and much more. By asking questions on this forum, you will meet a large number of investment experts that will be able to guide you to make fully informed decisions.
MQL5 forum;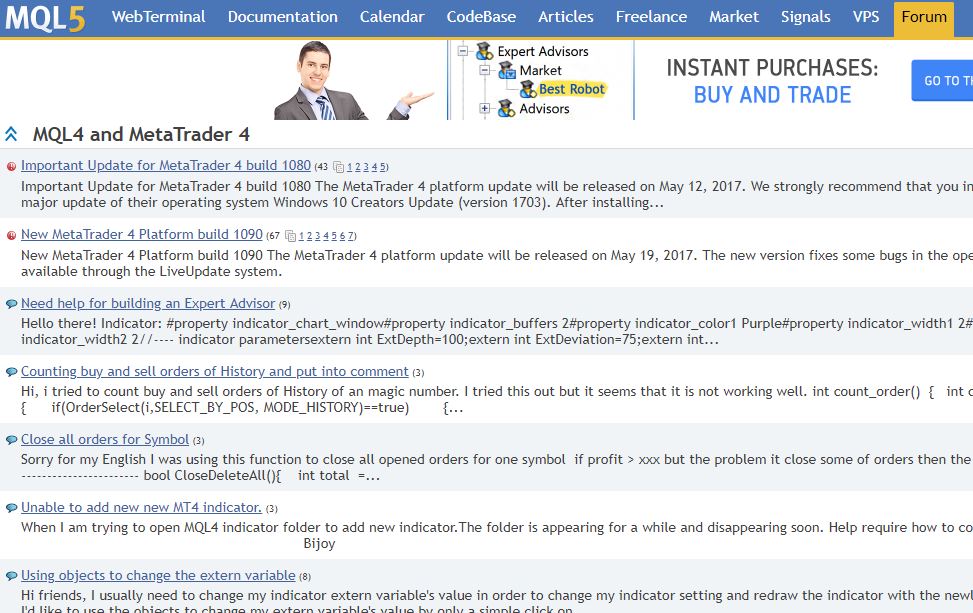 Trading Signals
What MetaQuote Software calls "trading signals" is what other brokers or software providers refer to as "social trading". This allows every user to copy the decisions of advanced and successful investors. Above all, following most signals is totally free, and as there is no best way to start trading than to learn from the best, trading signals have a lot to offer.
Pros and Cons of the MetaTrader Platforms
Pros
A fully flexible graph and data analysis interface
Infinite software possibilities with add-ons and expert advisor programs
Trading signals and social trading to follow the best investors on the planet
Best by test: leader in online trading software for more than a decade
A thriving community of traders and developers
Cons
Flexibility sometimes comes at the expense of ease of use
Research and training are necessary before fully mastering the ins and outs of this software
A growing number of brokers are now reverting back to designing their own software
MT4 and MT5 Summary
Reading this article, it becomes clear that MT4 and MT5 have managed to maintain their position of leading online trading software thanks to a well-designed, ergonomic and flexible platform, as well as an active community of investors and programmers. Feel free to check out some of the brokers featured in the list included in this article to start trading right away with the MetaTrader4 software!
Related: TradingView Review