Credit Card Binary Options Brokers
Credit cards are among the most widely used payment methods in the world, and they have become just as popular with binary options traders. In fact, most binary options brokers accept credit cards as a means of depositing money into trading accounts, giving investors a high level of security, speed, and accessibility.
This guide will go over how credit cards work, their benefits and drawbacks for online trading, as well as how to use them with your binary options broker. We have also compiled a list of the top binary options brokers that accept credit card deposits in 2023.
Binary Brokers with Credit Card
How Credit Card Payment Works
The first iteration of the modern credit card hit the scene in the USA in the 1950s. It was rolled out by the founders of the Diner's Club, Ralph Schneider and Frank McNamara, and was accepted by several different retailers as the first general-purpose charge card.
From here, American Express and other companies introduced the idea that a balance could be carried on the card, an innovation that led to the modern-day credit card as we know it. Now, the global credit card industry continues to grow every year with a compound annual growth rate of 3%. It is predicted to reach $107.7 billion by 2025 at a CAGR of 1.1%.
Credit cards essentially allow you to spend money up to a pre-set limit. Users are provided with a bill every month listing what they have spent, and they are expected to pay at least part of this back at the end of the month.
There is usually a minimum amount per month that must be paid back onto the card once the bill is received. This is set by the card provider and will be a minimum of 1% of the outstanding balance plus interest.
When it comes to binary options trading, credit cards are one of the most popular ways to transfer money into a brokerage account, and many traders choose credit card funding over anything else due to its security and speed. Money can be processed electronically in this way with any card provider.
The top credit card binary options brokers accept the most common card providers Mastercard, Visa, and American Express, but some newer companies are also becoming more popular.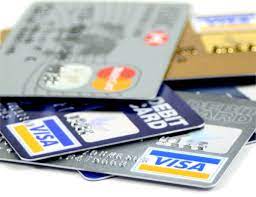 Transaction Times
In terms of transaction times, a credit card is one of the fastest payment methods that you can use to deposit into your binary options trading account.
This prevents investors from missing out on trades before the market moves.
Moreover, many card issuers also provide a virtual card which interacts with trading apps and platforms and allows users to make purchases with a single mouse-click, making transactions even faster.
Using a credit card often facilitates immediate deposits with binary options brokers, however, this depends on whether or not the trading platform supports instant deposits.
Fortunately, this feature is becoming increasingly common with binary options brokers, and most will offer instant deposits if credit cards are being used.
Withdrawal times vary from broker to broker. Typically, withdrawals using credit cards are not going to be as fast as depositing funds, and most leading binary options brokers state that withdrawals will take between 1 and 3 working days, with some trading platforms suggesting it could be 3 to 5 working days.
Pricing Review
When you use a credit card for binary options trading, it's important that you try to lower your expenses and increase your profits, because you are trading with borrowed money.
Firstly, the card company is going to charge you a percentage fee for borrowing funds. This fee is automatically attached to your end-of-month statement letting you know how much you have borrowed, and it will fluctuate depending on what you have spent. While this rate can be as low as 5%, there is also no limit on how high it can be – it is at the company's discretion.
This means that if you make a credit card deposit to your binary options account and do not pay it back in time, it could cost you a lot of money. For this reason, using an interest-free or low-interest card is best, as it allows you to use the card for a certain amount of time and pay either no interest or a very low amount of interest on what you spend.
Some cards also come with a membership fee, which tends to apply to cards that offer rewards or high credit limits. Once again, this fee does not have a limit and is decided by the company. To avoid such fees, you can opt for a free card that is likely to have lower credit limits and fewer rewards. Cards with no membership fees are rising in popularity, however, and you can still find good deals on such cards.
Typically, binary options brokers that accept credit cards do not charge for deposits and withdrawals, which is a bonus, but this is not always the case, and some brokers charge transfer fees. Use our detailed reviews to check the payment fees charged by credit card binary options brokers.
Security
In recent years there have been huge advances in the security of using credit cards. Some of the biggest card providers such as Visa have introduced new security systems that protect clients against identity theft and fraud.
However, this has not had a negative effect on the experience of binary options traders, as many brokers have arranged specific deals with credit card companies to ensure that the services remain user-friendly and streamlined for traders.
With that said, there is always a risk when trading binary options, and borrowing funds from a card company makes this even riskier.
Pros Of Credit Cards For Binary Options Traders
Widely Used
A significant benefit of using credit cards for trading deposits is that they are accepted by most binary options brokers. That means you aren't going to have any trouble finding a broker that meets all your trading needs while also being able to use your payment method of choice.
The most commonly accepted cards are the major international operators such as Visa and Mastercard, but you will also find that some binary options brokers accept other credit cards.
Security
Credit cards are one of the safest payment methods that you can use for binary options trading. This is because transactions are checked and assessed carefully, and all money that is used for transactions is likely to be insured by your card provider.
Credit card companies are under a legal obligation to comply with many guidelines and regulations determined by the country they are located in. There is also the credit card security standard called PCI, which ensures that your funds are safe.
Speed
Credit cards are one of the fastest ways to make transactions to your binary options trading account. Funds can be deposited to your brokerage account instantly and you can begin trading right away.
Rewards
When looking for a card issuer, make an effort to find the provider that offers the best rewards so that you can make the most of your experience. Rewards come in the form of zero/low interest, promotions on items, or cashback.
Cons Of Credit Cards For Binary Options Traders
Interest Charges
The interest on credit card use is the main disadvantage of using this method for trading binary options. A substantial monthly interest charge could cut deeply into your trading profits.
Even if you make money from a trade, you will still have to pay the interest rate from using a credit card to make the deposit, and this sometimes cancels out a large proportion of your potential earnings.
Poor Exchange Rate
Credit card companies also use their own exchange rates for cross-currency transactions, and these are often far worse than the market rate. This is a problem that can be solved, but it does mean that you should fund your binary options trading account with the same currency as your card uses, otherwise it could have a major impact on your profits.
Borrowed Funds
When trading binary options with borrowed money, it can be easy to fall into the pattern of risking large sums because the funds have not come from your own savings. If this becomes the case, and you lose money through trading, then you could quickly find yourself in credit card debt that is difficult to get out of.
Credit Score
It's important to remember that the way you use your card will affect your credit score. If you incur debt due to binary options trading and fail to repay it, it will decrease your credit rating score, negatively affecting your eligibility for credit cards, loans, and mortgages in the future.
It is important to trade binary options responsibly when using a credit card to avoid excessive debt and to keep your credit score intact.
How To Make Credit Card Deposits & Withdrawals
Many credit card binary options brokers make it easy to load online investing accounts:
Depositing Funds
To deposit funds to your binary options broker, log into your account and find the 'cashier' or similar section where users deposit funds. From there, you will be brought to a menu that will ask for the currency you wish to deposit funds in and the amount you would like to deposit.
Note that many credit card binary brokers have a minimum payment amount that must be entered in order to trade, so it is important to find this out before opening your account. Large minimum deposits could be risky when you are using credit card funds, as you want to make sure you can make the money back.
Next, select credit card as your payment method, and you will be asked to enter your name, card number, expiry date, and CVV code. Once you have confirmed these details, the credit card binary options broker will begin processing your deposit. If you are using an instant deposit broker then you should see the funds in your trading account within a few minutes.
If for any reason your deposit is not accepted, then the binary options broker should notify you of this and no money will be taken from your account.
It is also important to check that the binary options broker accepts your type of card before opening your account. Most binary options brokers accept Visa and Mastercard, but this can vary among trading platforms. This information can typically be found on the broker's website with the rest of their deposit and withdrawal information.
The card you are using must also be in your name, as it needs to match the name of the account holder – otherwise, the payment will be rejected.
Withdrawing Funds
Many binary options brokers that accept credit cards only allow the withdrawal of funds using the same payment method as was used to deposit with them. This means that if you deposited funds using a credit card, it will often be the case that you can only withdraw to the same card.
This also means that if you deposited money using another means, such as an e-wallet application, you probably won't be able to withdraw funds to your credit card. The amount you withdraw to your card may also be limited to the amount that you deposited using that card, so if you used multiple methods of deposit, you may not be able to withdraw all of your funds using your credit card.
Some binary options brokers do not allow the withdrawal of funds to a credit card at all, so this is also something to check before you open a trading account.
Withdrawing funds to your credit card from your binary options account is a similar process to making deposits, and just as simple. Once you have navigated to your broker's 'withdraw funds' page, select the account you wish to withdraw from and input the amount you would like to claim. Because you already set up your payment type when you made your deposit, the withdrawal process should be straightforward.
Verdict On Credit Card Binary Options Brokers
Overall, credit cards are a good payment option for binary options traders due to their widespread usage as well as their speed and security. However, if you are new to trading using credit cards, it is also important to keep the risks in mind as well as the potential for high fees that can eat into profits.
It is also important to do research into the binary options broker you are considering trading with and find out if they support the type of card you use, as well as their policy on card withdrawals and instant deposits.
Check out our list of binary options brokers that accept credit cards to get started.
FAQ
How Are Credit Cards Used For Trading Binary Options?
When you are trading binary options using a credit card, the card company pays upfront for what you spend, and at the end of the month, you are required to pay at least a portion of the money back. This means that if you are using a credit card for binary options trading, you need to factor in that you may not make any profit, so you should be sure you can pay your card bill regardless.
Are Credit Cards Safe To Trade Binary Options With?
Credit cards are a safe way to deposit and withdraw binary options funds. This is because card issuers take strict measures to ensure that they offer users protection from fraud and identity theft as well as insuring funds.
Is It Free To Deposit Binary Options Funds Using A Credit Card?
Many credit card binary brokers offer zero fees for depositing funds. However, when you have a card you will have to pay a monthly rate for borrowing money, so although you aren't paying to deposit funds, the card fee can still take away from your trading profits. Opt for a low or zero-interest credit card if you are concerned about this.
Can I Deposit Any Currency Into My Binary Options Account Using A Credit Card?
Credit cards allow you to deposit funds into your binary options brokerage account in different currencies, but it is not recommended that you do so. Card companies often charge an exchange rate that is worse than the market rate, and therefore it will cost you more to deposit funds in a currency that doesn't match your card. So if you have a UK credit card, look for a binary options broker that accepts pound sterling deposits.