Day Trading with Binary Options
What is day trading with binary options? and where you can sign up for the best broker accounts to become a day trader? Compare all the top brokers that cater for day traders and learn which trade types and assets are the most profitable traded intraday.
Top Day Trading Brokers
What is Day Trading?
Day trading is a speculative trading method of buying and shorting a security or derivative within the same trading day. Positions are all closed by the end of the trading day. It is based on the forecast of a financial instrument going up or down in price. Day trading can be achieved in any marketplace, globally, it is most commonly practiced with the trading of Foreign Exchange (Forex), Stocks, Options and Futures Contracts.
Now that we know what day trading is, who or what are the day traders? Well, day trading was once an exclusive practice, reserved for people working in financial firms while considering themselves "professional speculators", or even classing it a lucrative hobby.
However, nowadays just about anyone can become a day trader.
The rise of electronic trading and margin trading software has become available to individuals from around the world. So, if this trading method is available for everyone, how does a beginner get involved, and are binaries a good starting point?
Chart
Charts, technical analysis and patterns are vital tools for day traders. This chart is set to show the Bitcoin / USD exchange rate, which is a great market for day traders – there is a lot of volatility and action driven by news releases and trader sentiment.
How to Start Day Trading
Pick a Market
First step for a day trader is to decide which markets you will be trading in, with the most popular being Stocks / Shares (Apple, Samsung, Tesla etc), Indices (Hang Seng, FTSE, Nasdaq, S&P), Forex, and Futures. Commodities such as gold, oil or things like grain prices can also be traded. Cryptocurrencies like Bitcoin and ethereum are a huge market for day traders at present too.
Forex markets are quite popular among beginners due to the low initial minimum deposit accounts of around £250. Binary options deposits can be even lower (from just £10), but are traded without margin.
Futures require more and stocks require the most money to be invested in for day trading. Binary options offer low cost entry for anyone wishing to day trade. Their drawback however, is a lack of leverage. Whether this is a big factor or not will depend on the trader – leverage increase market exposure, so the fixed price element can actually help is terms of managing risk – but also limits potential profits.
Equipment & Software
Once you know your asset, as an individual day trader, you need the proper equipment and software to commence day trading. As a novice day trader, you will need a fast and reliable computer, it doesn't have to be top of the line, but not the cheapest one either. In addition, day traders require a fast internet connection. You want to be sure your tables and charts are updating as quickly as possible.
Along with all this, you need a trading platform and a broker to commence trading. As a trader starting out, you will want something easy to use and not too complicated. We recommend traders try out the demo accounts associated with most day trading platforms to get a feel of which software platform performs best. As for brokers to go with, make sure they are reputable and regulated, along with low fees, tight spreads and maybe even bonuses.
Learning via virtual accounts is superior to books or courses. Hands on experience introduces trading psychology (though this is increased hugely with a real money account). The same learning curve is difficult to achieve just by flicking through "Day Trading For Dummies" or a hastily written pdf.
Market Hours
Another important aspect to consider before you actually start trading is the time of day and how many hours a day you will be trading. As a day trader it's important to trade the same hours each day to successfully implement and manage your strategy. The best trading hours are usually around the market opening and closing times.
Forex in particular presents interesting opportunities in terms of trading hours. Currencies are traded around the clock with no central market. This means multiple volume peaks and troughs as new regions wake up or shut down. London markets could be closed – but the GBP/USD pair might still be driven by traders in Indonesia, New Zealand or Hong Kong.
These time zones cycles apply equally to cryptocurrencies. Day trading on Bitcoin or Bitcoin cash will continue around the globe. Lesser known digital currency like Ethereum, Ripple or DASH are also traded 24/7. Cryptocurrency has added a whole new dimension for day traders.
Risk Management
Risk for this type of trading needs to be managed in two ways, trade risk and daily risk. Trade risk is how much you are willing to lose on each trade. An ideal standard is to risk 1% or less of your tradeable capital on each trade. The fixed risk of binary options can help is managing risk as the amount put at risk is known at the outset.
A trader will manage this by choosing an entry point and setting a stop loss. The stop loss will remove you from the trade if you reach a certain level of loss for that trade.
Daily risk is like trade risk in the simple fact that they both limit the total loss amount; only daily risk limits the total losses for a single day. In doing this, bad days are restrained from being too bad and can be recovered by a typical winning day.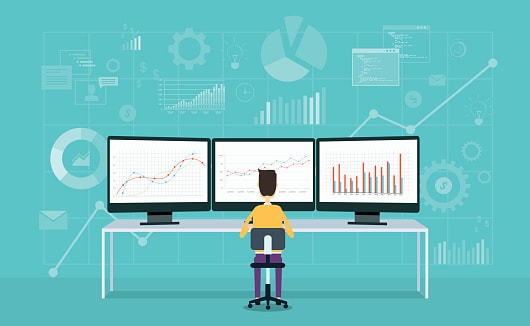 Taxes
There is no clear tax applicable for day trading. Different regions view taxes differently – and binary options are different again. for example, in the UK, binaries are classed as "speculative" and income tax is not payable. In the US, Singapore and India however, the rules are very different.
Tax also depends on whether you view your day trading as a career or a hobby. Professionals are likely to be taxed on profits as 'income' while aspiring beginners may not be. For this reason, it is important to seek local advice.
Binary Day Trading Strategy
Day trading can be very complicated and it's easy to get wrapped up with all the trending strategies and complicated chart analysis. One thing to remember is that you don't need to know it all. All you need is one strategy to focus on, and implement it over and over again. Try out a strategy on a demo account first to see how it pans out.
Top 3 Day Trading Tips
Stay Informed, Always look for Opportunity!
Keep track of the latest stock market news and trends in the economy. Do your due diligence and research companies and the markets they serve. If supply is low and there are still enthusiastic buyers, the price may soar. If there is too much supply and dwindling buyers, the price is about to drop. When staying informed and knowledgeable about certain companies and their performance, massive opportunities will arise, resulting in profitable day trading.
Be a Disciplined and Consistent Day Trader.
Set reasonable trade sizes and manage your trading bank. Most successful day traders risk 1-2% of their trading capital per trade. Follow this rule consistently, as if there were no other way. Trading similar assets, at similar times of day, also provides a quick learning curve that enables you to better spot opportunities or incorrect prices, intuitively.
Be Realistic and Stay Patient
When you find a proven trading strategy stick with it. It doesn't have to win all the time, in fact, most strategies only need to payout 60-65% of the time. So the key is to stick with it and stay informed with market news and the companies you're betting on. As well, sticking with a strategy requires patience. There will be times when the markets take you for an emotional rollercoaster. It's important to make your decisions based on logic and not emotions, as well as sticking with your plan.
Momentum
One of the most used and well-known day trading strategies is the "Momentum Trading Strategy". This strategy relies on market volatility. It can be used alongside other technical indicators and tools that you find on our trading platform as it relies on spotting trends.
In short it's where a trader analyzes the markets and looks for the best performing assets over a certain period of time. It involves buying these and conversely selling the worse performing assets. Being well informed and knowledgeable of current market moving news is instrumental to the success of this strategy.
News such as a company's earnings, a new deal or product launch, or some other kind of breaking news relating to the company can force the price to surge. There are many aspects involved with this strategy, and before implementing it in to your routine, learn all about it to become fully aware of its intricacies. Even practice on a demo account first to acquaint yourself without risking your capital.
Day Trading vs Binary Options
Some people view "day trading" as CFD or spread betting. Binary options however, suit intraday trades just as well, if not better. Here is a breakdown of how binaries differ from more traditional trading tools:
Risk Management. Binaries offer fixed risk. Other tools require the trader to make assumptions about the amount of volatility they face – and judge risk accordingly. While possible, the fixed risk of a binary makes risk management easier.
Payouts. This can go either way – due to leverage – but a binary option can deliver a payout of 90-95% profit for just a single pip one way or another. Other trades may require significant price move to move into profit, and an even bigger move to show the same level of profit.
Taxes. Binary profits are not generally liable for income tax due to them being viewed as highly speculative trades. Day trading in other vehicles is likely to be deemed an 'occupation' and taxed accordingly. Again, this is not clear cut, but in general binary options are more tax efficient.
Entry costs. Binaries generally require a lower entry cost to get started. Likewise, trading up, and increasing trade size along with profits – is much easier with binaries as the starting point is much lower.
Conclusion
So, there you have it, all you really need in day trading is consistency with trading hours and times, a set risk level that you unswervingly follow, and a strategy that works most of the time. Binary options can certainly be used within that framework. It's important to not over complicate these things and stick to a consistent plan with all aspects of day trading, which rules out the emotional factors that can inhibit your trading.
For In-depth Day Trading information, try these resources:
Further Reading: