World Forex
Min Deposit: $1
Bonus: 100% Deposit Bonus
Payout: 100%
Demo Account: Yes
Regulated: SVGFSA
Traders from United States welcome
Visit Broker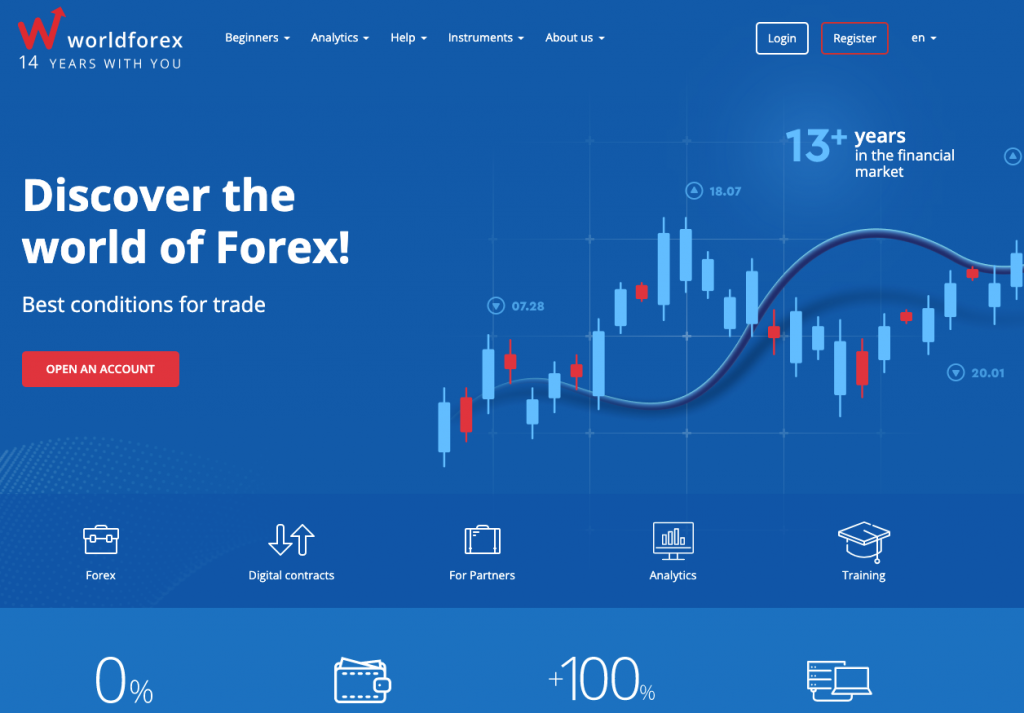 World Forex is an online broker that offers digital contracts alongside traditional financial instruments, such as CFDs, forex, stocks and commodities. Traders can get started with a $1 minimum deposit and the broker provides 24/7 support to assist new users.
In this review of World Forex, we unpack the firm's trading conditions, from payouts to digital contract lengths. Find out if our experts recommend trading binary options with World Forex.
About World Forex
Established in 2007 in the British Virgin Islands, World Forex is a popular trading broker with a large customer base. Over 350,000 traders from more than 150 countries have signed up for a trading account.
The company that acquired World Forex in 2016, Existrade Ltd, is also regulated by the Saint Vincent & The Grenadines Financial Services Authority (SVGFSA).
World Forex's appeal to binary options traders lies in its beginner-friendly digital contracts, which operate in a similar way to standard high/low binary options.
While World Forex is not of the first rank of binary options brokers in terms of visibility, it is fairly well reviewed by users and has some features and benefits that will interest traders, including payouts up to 100% and no deposit bonuses.
Digital Contracts
The digital contracts offered by World Forex are a straightforward bet on whether the price of an underlying asset will rise or fall by the expiry time. For example, will the price of gold increase or decrease in one hour?
A correct prediction will see your account credited with a pre-determined payout, while an incorrect bet will mean you lose your original stake.
World Forex offers European and American digital contracts. The payout in a European option is based on the asset's price at the contract's expiry – in other words, your in-the-money long position could fall out of the money before the contract expires, leaving you with a losing trade.
On the other hand, an American digital contract gives the buyer the option to end the contract early, locking in profits on a position that is in-the-money but looking tenuous.
The price to do this is a steep 40% commission paid to the broker for each contract that ends early.
A third type of binary options product, Digital Contracts 0 – 100, has a higher maximum investment per contract and a high payout, but does not allow early closing and has a more limited range of contract lengths.
Digital contract traders can take positions on currency pairs, including majors like the EUR/USD and USD/GBP, plus gold (XAU) and silver (XAG).


Payouts
World Forex's European and American digital contracts pay out a variable amount depending on the currency pair, expiry time and other factors.
American digital contracts: Pay out a maximum of 100%
European digital contracts: Pay out a maximum of 85%
Digital Contracts 0 – 100: Always pays out 100%
Contract Lengths
Short-term and long-term binary options are available through World Forex's European and American digital contracts, with contract lengths ranging from 1 minute to 7 days.
The Digital Contracts 0 – 100 product has a more limited selection of expiry times, ranging from 1 hour to 5 days.
Limits
There is a hard limit on the amount you can invest per digital contract with World Forex.
For American and European digital contracts the maximum is:
Per contract: 300 USD / 250 EUR / 15,000 RUR
All contracts: 2,000 USD / 2,000 EUR / 120,000 RUB
For Digital Contracts 0 – 100 the maximum is:
Per contract: 1,500 USD / 1,200 EUR / 70,000 RUB
All contracts: 1,500 USD / 1,200 EUR / 70,000 RUB
How To Place A Trade
It is straightforward to buy a digital contract at World Forex:
Open the client portal and log into the trading platform
Choose an underlying asset from the 'Digital Contracts' tab (available in the instrument menu located to the left of the trading platform)
Click 'Make Investment'
In the order window, enter your trade parameters, including the size of the stake and the expiry time
Check you are comfortable with the potential payout
Select either 'Up' or 'Down'
Confirm the trade

Other Markets & Instruments
Traders can also speculate on over 40 share CFDs, providing opportunities on household names like Google, Amazon and IBM.
World Forex also offers commodities paired with the US Dollar, including Gold and Silver, plus Brent and Crude Oil.
In addition, clients can take positions on over 50 forex pairs, such as the EUR/USD and EUR/GBP, as well as 10 crypto tokens, including Bitcoin and Ethereum.
Leverage
Up to 1:1000 leverage is available depending on your account balance.
Accounts with a balance of between $1 and $1,000 can trade with 1:1000 leverage. Accounts between $1,001 and $5,000 can trade with 1:500 leverage. Accounts with a balance of over $100,000 can trade 1:33 leverage.
The maximum leverage available on crypto positions of 20 lots or less is 1:25. Positions of 100 lots or more are capped at 1:1 leverage.
The stop-out level is 5% except for crypto trading, which has a 20% stop-out.
Spreads & Commissions
World Forex offers commission-free trading on all instruments except for cryptocurrencies.
Floating spreads from 0.0 pips are available with the W-CRYPTO account. Floating spreads from 0.6 pips are available with the W-CENT and W-PROFI profiles.
World Forex offers fixed spreads from 1.8 pips on the W-CENT-fix, W-PROFI-fix and W-DIGITAL accounts.
Trading Platforms
World Forex supports MetaTrader's MT4 and MT5, meaning that anyone who already knows this industry-leading software will be able to seamlessly start trading with the broker.
Alternatively, traders can access powerful trading tools straight through their browsers using the WebTrader platforms.
Finally, investors can download the FX Lite BO app to their Android or iOS smartphones or tablets and place trades on the go.
When we used World Forex, we found MetaTrader 4 the best option for beginners. The platform is home to 24 graphical objects, 30 integrated indicators, nine timeframes, and one-click trading. Over 2,000 indicators and 1,900 indicators can also be downloaded to the terminal. Note, the FX Lite plugin allows users to trade digital contracts on MetaTrader 4.
MetaTrader 5 is a better fit for more experienced traders, with additional tools and functionality. MT5 offers 44 graphical objects, 38 integrated indicators, 21 timeframes, an in-built economic calendar, and a strategy tester. Charts, graphs and the user interface can also be customized.
The WebTrader solution offers the easiest access with no software download required. Clients can trade digital contracts and forex with one-click trading, real-time quotes, full trading history, a favorites asset list, and more.

World Forex Accounts
World Forex supports digital contract trading accounts in US Dollars (USD), Euros (EUR) and Russian Rubles (RUB). The minimum deposit is $1.
The W-DIGITAL account offers minimum trades from 1 USD / 1 EUR / 10 RUB while the maximum trade size is 300 USD / 250 EUR / 15,000 RUB.
World Forex also offers several account options for traders interested in the broker's other instruments. Each profile offers market execution, trading on MetaTrader 4 and MetaTrader 5, a $1 minimum deposit and leverage. The key difference is in the pricing model used – variable or fixed spreads and/or commissions.
A halal-trading account can also be requested at the sign-up stage.
Demo Account
Traders can open a free demo account to practice digital contract trading. Prospective investors simply need to select 'Demo Account' when registering for a profile.
An unlimited bankroll is available, allowing users to test the broker's European, American, and Digital Contracts 0 – 100 products. Traders can develop and refine strategies while also getting familiar with the broker's binary options trading platform.
Payments
Deposits
Our experts found a wide selection of payment methods available to binary options traders. Users can fund accounts with e-wallets, credit and debit cards, bank wire transfers, plus cryptocurrencies. There are no deposit fees, but third-party charges may apply.
Processing times vary:
Wire transfers – Up to five days
Google Pay and Apple Pay – Instant
Payeer, Perfect Money, and ADVCash – Instant
Visa and Mastercard debit and credit cards – Instant
Bitcoin and Dash – Up to six hours though blockchain dependent
Sberbank, Tinkoff, Alfa-Click, Promsvyazbank, Russkiy Standart – Instant though Sberbank and Tinkoff transfers can take one day
To Make A Deposit
Login to the client portal using your ID and password
Click on the 'Transactions' tab
Navigate to your account using the menu
Click on the payment method
Input the deposit amount
Hit 'Deposit Funds'
Withdrawals
While using World Forex, we were disappointed to see withdrawal fees apply for most payment methods. Fees range from 1% to 4% plus a fixed charge. This is a major drawback versus alternative binary options brokers.
On a more positive note, World Forex does aim to process withdrawals within 30 minutes which is considerably faster than many alternatives.
Note, withdrawals must be paid to the original deposit method.
Bonuses & Promotions
World Forex offers several incentives to new traders, including a no-deposit bonus – a $10 or $20 sum credited to a trading account simply for signing up.
However, the terms and conditions state that this amount is not available for withdrawal and traders may need to replenish their account to make full use of the bonus. Additionally, the bonus is only available for forex trading – not for digital contracts.
Other promotions include a 100% deposit bonus on payments over $100. This deal also gives traders free access to a virtual private server (VPS), normally costing $5.99.
In addition, World Forex offers cashback of $25 per lot and regularly runs trading contests and tournaments with cash prizes.
Pros Of World Forex For Binary Options Traders
Payouts up to 100%
$1 minimum deposit
Competitive forex rates
American-style digital contracts can be ended early
Good range of contract lengths from 1 minute to 1 week
Investors can trade forex, commodities and stocks as well as digital contracts
Supports MT4 and other popular platforms including mobile apps
Additional tools including copy trading and VPS hosting
No deposit bonuses and trading contests
Market research and live news
ECN/STP trading
Free demo account
Cons Of World Forex For Binary Options Traders
Not the widest range of assets available for digital contracts
Bonuses not compatible with digital contracts
Not overseen by a major regulator
High withdrawal charges
Extra Tools & Features
When we used World Forex, we were impressed with the range of additional tools and trading services available.
Tools
An automated copy trading service is available through the MetaTrader platforms. Popular with new traders, users can choose signal providers based on their track record and risk appetite. Traders can also receive trade reports on any copied orders.
A virtual private server (VPS) is available for $5.99. This allows World Forex clients to run trading systems around the clock without interruption. The VPS can also be operated from mobile devices.
In addition, traders can access live news streams and free calculators that enable users to calculate potential wins and losses before entering a position.
Education
There is also a selection of educational content and materials. Whilst mostly aimed at
beginners, clients can head to the 'Knowledge Base', which is home to platform guides and information on trading charts, popular financial markets, and more.
A free trading course is also available for those interested in learning more about the forex market. Traders can sign up with their email address for access.


Regulation & Reputation
World Forex is not overseen by a regulator from a major jurisdiction. However, the company does hold a license with the Saint Vincent & The Grenadines Financial Services Authority (SVGFSA).
World Forex is also a participant in the Financial Commission, where up to 20,000 Euros of clients' funds are insured in the event that a dispute arises.
Should a trader have a complaint, the broker aims to deal with the matter within 14 days. If the complaint is not satisfactorily resolved by then, the customer can escalate the issue to the Financial Commission to pursue compensation.
Customer Service
Customers can reach World Forex through a messaging app on their website, the support@wforex.com email service, or the following contact numbers, which are operational during standard work opening times in their respective countries:
Russia: +7 495 266 60 77
Thailand: +66 093 181 4643
Great Britain: +44 870 479 8221
The broker has particularly good support options for English, Russian and Thai-speaking traders.
Should You Trade Binary Options With World Forex?
World Forex has been in the business for a long time, and customers who sign up can access a type of binary option known as digital contracts as well as a variety of other financial products, mostly centring on forex.
World Forex's digital contracts have a relatively good payout, and traders can use the popular MT4 and MT5 platforms, a web browser, or a mobile-based platform to place binary options trades with contract lengths of anywhere between a minute and a week.
While World Forex is not overseen by a top-tier regulator, this is fairly commonplace in the binary options industry given the challenging regulatory landscape.
Overall, World Forex offers competitive binary options trading conditions and the access to additional instruments and tools will appeal to many aspiring investors.
FAQ
How Do You Trade Binary Options On World Forex?
Binary options traders will feel at home trading World Forex's digital contracts, which operate in the same way as a standard high/low binary option. To begin trading, they simply need to sign up with World Forex, download the supported trading platform, and get started.
Traders can either start trading real-money digital contracts or set up a demo account, allowing them to make paper trades until they feel comfortable risking cash.
Is World Forex A Regulated Binary Options Broker?
World Forex is registered with the Saint Vincent & The Grenadines regulator – the Financial Services Authority.
This is not one of the top-rated global regulators. However, World Forex has been operating for nearly 15 years and has more than 350,000 registered users.
The broker is also part of the Financial Commission, which resolves disputes between brokers and traders and which can award up to €20,000 in compensation per client.
How Does Digital Contracts Trading Work At World Forex?
World Forex's digital contracts work on the same principles as traditional high/low binary options, but there is some variety in the types of products available. Traders can choose to trade a European digital contract or the American version, which can be ended early for a commission of 40%.
Alternatively, World Forex traders can go for the Digital Contracts 0 – 100 product which has a higher maximum trade size, different expiry times, and 100% payouts.
How Much Does It Cost To Sign Up With World Forex?
World Trade has a $1 minimum deposit, making it popular with new traders and those on a budget. The broker accepts a selection of popular payment methods, including bank wire transfers, debit and credit cards, mobile payment services, cryptos, plus local banking solutions.
World Forex does not charge for deposits, though traders may have to pay third-party fees. Users may also have to pay a currency conversion fee if they fund their account with a currency other than USD, EUR or RUB.
Is World Forex A Trustworthy Binary Options Broker?
Although World Forex is not one of the most well-known binary options brokers, it is trusted by many clients and has been in business for a long time.
The brand also has a 4.0 rating on Trustpilot and a transparent system for customer support and complaints.
Go to World Forex
World Forex Details
World Forex Details
Bonus
100% Deposit Bonus
Instruments
Forex, CFD Stocks, Metals, Energies, Cryptos, Digital Contracts
Demo Account

Yes

Minimum Deposit
$1
Minimum Trade
0.01 Lots
Payout
100%
Expiry Times
1 minute - 7 days
Ladder Binary Options

No

Boundary Binary Options

No

Payment Methods

ADVcash
Apple Pay
Bitcoin Payments
Credit Card
Debit Card
Google Wallet
Mastercard
Perfect Money
Visa
Wire Transfer

Regulator
SVGFSA
Mobile Apps
iOS, Android + Web Browser
Auto Trading

Yes

Copy Trading

Yes

Social Trading

No

Margin Trading

Yes

MetaTrader 4

Yes

MetaTrader 5

Yes

cTrader

No

AlgoTrader

No

OmniTrader

No

TradingView

No

Autochartist

No

eSignal

No

Trading Central

No

STP Account

Yes

ECN Account

Yes

DMA Account

No

MAM Account

No

PAMM Account

No

LAMM Account

No

Demat Account

No

AI / Machine Learning

No

Robo Advisor

No

Negative Balance Protection

No

Market Maker

No

P2P Trading

No

Spot Trading

Yes

Trade Signals

Yes

VPS Hosting

Yes

Tournaments

Yes

Demo Competitions

Yes

Ethical Investing

No

Islamic Account

Yes

Account Currencies
Stock Exchanges
Commodities

Gold
Silver
Platinum
Palladium
Oil

CFD Trading

Yes

CFD Leverage
1:1000
CFD FTSE Spread
NA
CFD GBPUSD Spread
NA
CFD Oil Spread
NA
CFD Stocks Spread
From 0.03
Forex Trading

Yes

Forex GBPUSD Spread
From 0.6
Forex EURUSD Spread
From 0.6
Forex EURGBP Spread
From 0.6
Forex Assets
53
Crypto Trading

Yes

Crypto Coins

BCH
BTC
DSH
EOS
ETH
LTC
NEO
XMR
XRP
ZEC

Crypto Lending

No

Crypto Mining

No

Crypto Staking

No

Crypto Auto Market Maker

No
Go to World Forex
Compare World Forex
Compare World Forex with any other broker by selecting the other broker below.
World Forex vs
Popular World Forex Comparisons