Debit Card Binary Options Brokers
Debit cards are accepted by almost all binary options brokers. This guide explains how debit cards work, their pros and cons for funding online trading activity, plus how they compare to alternative payment options, such as credit cards. Use our list of binary options brokers that accept debit card deposits to start trading.
Binary Brokers with Debit Card
What Is A Debit Card?
Debit cards are a way of paying for goods and services by withdrawing funds from a bank account that contains money belonging to the account holder. Popular companies that offer debit cards include Visa, Mastercard, and American Express. Some trading brokers have also released debit cards that provide unique perks, including Coinbase.
Traders can apply for a debit card by opening a current account with a bank or alternative card provider. This can be done online or in person. It usually takes 7-10 business days for a physical card to be delivered to the account holder.
Importantly, the card allows the owner to pay for goods online or in-store using the balance in their account. And unlike a credit card, account holders can't spend money they don't have unless they open an overdraft facility, which comes with fees.
When depositing to a binary options broker using a debit card, you will be asked to input the long card number, expiry date, and security code in the cashier portal. We provide step-by-step instructions on the process further below.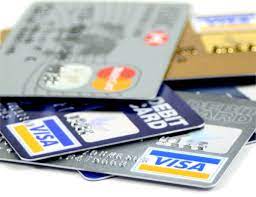 History & Uses
The Bank of Delaware piloted the debit card as early as 1966, with several other banks following suit in the 1970s. Over the decades, debit cards gained popularity as ATMs became more readily available. From 1990 to 2009, prepaid and debit card usage increased from 300 million transactions to 37.6 billion transactions.
Importantly however, prepaid cards and debit cards are different. Debit cards are linked to a bank account, whereas prepaid cards hold funds that have been previously deposited into the card – similar to a gift card, so can be used without a bank account.
In the early days, banks would charge users to own a debit card, however, as merchants began paying financial institutions to process card transactions, fees slowly went away. This helped accelerate the growth of debit cards, which are now available in nearly every country in the world.
Their widespread popularity also means that many of the best binary options brokers in Europe, the UK and the US accept debit card deposits. And while often provided for free, trading platforms can have different payment limits and fees.
Pocket Option, for example, allows clients to use debit cards for both deposits and withdrawals, with no fees or maximum transaction limits. Nadex, on the other hand, offers free payments by debit card but has a maximum transaction limit of $10,000.
Transaction Times
Debit card payments are usually processed immediately, meaning investors can start trading binary options straight away. Online brokers such as Deriv, IQ Option, and Olymp Trade, for example, all offer near-instant deposits via debit cards. Note, instant deposits may not be available outside of business hours.
Withdrawals using debit cards can take longer. This is due to security checks and Know Your Customer (KYC) requirements. Deriv processes withdrawals in 24 hours, for example, while Olymp Trade takes 2-5 days, and IQ Option takes 3 working days.
It is also important to note that, while binary options brokers can process withdrawals in a set number of days, delays on the bank's end can extend the lead time.
If a deposit or a withdrawal is taking longer than expected, contact your broker's customer support team or the card provider directly.
Pricing Review
Fees vary depending on your location, card provider and trading broker. There may be an interchange fee that is charged to the merchant (the broker) and passed on to the trader.
Hirose, for example, charges 2 USD for withdrawals equivalent to your original deposit, and a 1.5% commission on top of a 1.2 USD fee on withdrawals that exceed your initial deposit amount. In contrast, Deriv does not charge any withdrawal fees with debit cards.
Check your binary options broker's deposit and withdrawal page for information on fees.
Security & Safety
Whilst debit cards and their respective providers are usually reputable, there is a risk when
handing over your card details to unknown binary options brokers. With this in mind, it's important to sign up with a reliable brand.
See our list of recommended firms with good customer reviews and reliable security protocols.
For an extra layer of security, investors can also connect their debit card to a PayPal or Google Pay account. Both solutions offer 2-factor-authentication (2FA) and allow traders to deposit with their binary options broker without sharing the card details linked to their bank account.
Binary options brokers may set a transaction or withdrawal limit to minimize the risk of a trader's profits being drained if their account is hacked. The standard withdrawal limit for debit cards is $10,000 for Visa, Maestro and Mastercard.
Debit Cards Vs Other Deposit Options
Debit Card Vs Credit Card
Debit cards and credit cards are similar. The main difference is that with credit cards, you borrow funds from your bank which you pay back later, often with interest. With debit cards, you spend only what you have already deposited into your bank account.
Credit cards can also help build credit scores and offer rewards like discounts on shopping, air miles or gift cards to retailers. In addition, credit cards can help protect against fraud and it's easier to dispute and recover a payment if a transaction goes wrong. This makes credit cards a good option for binary options traders as there are some fraudulent operators online.
But while the opportunity to spend what you don't currently have can be tempting, trading binary options with a credit card is highly risky. Traders should only risk what they can afford to lose.
Debit Card Vs Cash Card
Cash cards are similar to debit cards in that they are connected to your bank account. However, they do not allow you to make online or in-store transactions, and you will be limited to withdrawing cash from ATMs only. This means that you cannot normally use a cash card to make deposits to binary options brokers.
Debit Card Vs Bank Transfer
Bank transfers often take longer to process than debit card transactions, as well as coming with additional costs which brokers tend to pass on to traders. As a result, debit cards are a cheaper way to fund binary options trading activity, from making deposits to withdrawing profits.
Pros Of Debit Cards For Binary Options Traders
Instant deposits at the top brokers
Available at many banks and providers
Less risk of debt compared to credit cards
Typically no additional fees are incurred
Cons Of Debit Cards For Binary Options Traders
No rewards for usage
Less security and chargeback options compared to credit cards
Binary options traders are limited to the funds available in their bank account
How To Make Debit Card Deposits & Withdrawals
Firstly, open a binary options trading account with a broker that supports debit card payments. Before you sign up, check for any fees and payment timelines.
Once your account is live, head to your account area via the broker's website or trading app. Navigate to the deposit and withdrawal page and select debit card from the list of supported solutions (most brokers accept Visa and Mastercard deposits).
Next, enter the amount you wish to deposit (taking note of any minimum payment requirements) and input your card details, including the long card number, expiry date and CVV code (usually found on the back of the card).
Finally, check the details are correct and confirm the payment. Your funds should be visible in your account balance.
Note, most brokerages allow you to save your card details for next time.
Verdict On Debit Card Binary Options Brokers
Debit cards can be used to fund trading activity at most binary options brokers. Deposits are normally fast and fee-free while withdrawals generally take a couple of working days.
You can find out more about a specific broker's payment conditions, including any minimum deposits and transaction fees, on their official site. Alternatively, see our detailed reviews. We have also compiled a list of the top binary options brokers that accept debit card deposits.
FAQ
Are Debit Cards Safe?
Debit cards and issuers are highly regulated. It is difficult to access a bank account that is connected to a debit card unless you are the account holder. With that said, traders should always be careful when sharing their card details with binary options brokers. Make sure you sign up with a trusted and reliable trading platform.
Which Binary Options Brokers Accept Debit Card Deposits?
Most binary options brokers accept debit cards for deposits and withdrawals. Top-rated brands include Deriv, Nadex, and BD Swiss. See our full list of supporting brands to compare providers.
How Do I Get A Debit Card?
When you open a current account with a bank, you will normally be sent a debit card. The registration process varies between banking institutions and countries, but clients will normally have to verify their identity and address. Once your account is open and your debit card has been activated, you can use it to deposit to a binary options trading account.
Do I Need To Pay To Make A Deposit To My Binary Options Account Using A Debit
Card?
Whether a binary options broker charges a fee for the use of a debit card varies. With that said, debit card transactions are normally free, unless it is below a certain amount whereby the merchant/broker may pass on a  processing fee. This fee is usually a small percentage of the money you deposit or withdraw.