IQ Option
$10 Min Deposit
91% Payout
No Deposit Demo Account
Cash Tournaments
Most Trusted Broker 2016 and 2017

Traders from United States NOT accepted



Visit Broker
IQ Option provide some great benefits for binary options traders. The demo account is a great feature, and not time restricted. The robot builder is another huge plus, giving traders the ability to build their own robots, and auto trade. The trading platform is cutting edge, but still user friendly – and the IQ Option app (with tailored android and iOS versions) is equally well designed.
Our detailed review covers each of those features, plus all the other elements that traders want to know about their broker – so minimum deposit and withdrawal methods (like Paypal and Neteller), bonus codes, login information, tutorial videos – and even whether IQ Option is a scam (It is not, by the way!).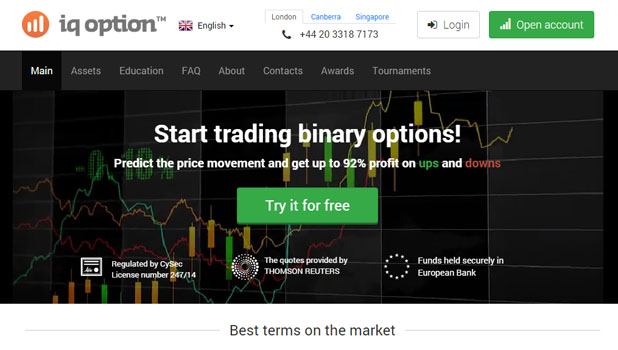 Is IQ Option A Scam?
The binary trading platform is owned and managed by a holding company known as Alta Vista Trading Limited. Based in the Seychelles, IQ Option is licensed and regulated by CySEC, but they have also sought to register with the Financial Conduct Authority (FCA) in the UK, and AML in France.
Established in mid 2013, the brand is well known among the binary trading community as one of the most reliable and innovative binary brokers in the industry. Their reputation is also enhanced by various awards that they have won from various industry reviewers. IQ Option is not a scam.
The firm operates in a very transparent way, in order to maintain their reputation and user confidence, for example:
Demo Account – This runs in parallel to the real money account and is not time restricted. IQ Option are happy for traders to hone their skills for as long as it takes, and have faith in their trading platform to maintain trader retention.
Bonus – Deposit match bonuses have been dropped entirely since December 14th due to CySec rules. The regulator deemed this type of bonus as being high risk, and as a regulated brand, IQ have stopped offering them.
Hedging – IQ are clear on how and when they will hedge their own positions. This should act to reassure traders who fear 'over the counter' brokers only want to see traders lose. IQ actively manage their risk.
Support – Support is offered in a range of languages and includes live chat for quick resolution of any complaints.
Trading platform
To provide their clients with access to the financial markets, IQ developed their own bespoke platform. It was overhauled and improved again at the start of 2016, to version 4.0. As such, the interface and features of the trading platform may not be what most binary traders are used too as it is modelled on the more advanced trading platforms used by the spot forex trading industry.
Nevertheless, it cannot be denied that the software is one of the most sophisticated trading platforms around in the binary industry, particularly the over the counter brokers.
Apart from having a refreshing user interface, the trading platform allows traders to change the view of their chart from a choice of four different layouts:
Line
Candlestick
Area
Bar
The timescale for the bar and candlestick charts can be chosen from an impressive 18 different intervals – and multiple charts can be used, in order to confirm trends over more than one time frame. In addition, there are also various other tools such as a line drawing tool which traders can use to plot their own trends on the live charts. The latest updates also added a wealth of technical analysis features too.
Trade size ranges from just $1, up to a maximum investment of $10,000.
Perhaps one of the most useful features about the trading platform is the ability for traders to make multiple trades on the same chart. This is especially useful when you want to employ more sophisticated trading such as the "Fence" trading strategy.
There are a range of useful tutorial videos provided once users sign up (two are included within this review) and these provide a demo of every aspect of the trading platform. So there are tutorials about the platform itself, some of how to trade with multiple charts or trading windows, and others on how to build robots, or use existing ones. The range of educational material is very big, and ensure new traders can trade with confidence.
Mobile App
The IQ Option app follows the development of the bespoke trading platform, and delivers a seamless mobile user experience. The trading area is shown in the same way, and the screen, buttons and 'look and feel' match those of the full website, or desktop download.
The mobile application has been delivered as a tailored product for each operating system, so the IQ Option Android app, has been developed solely for android devices. Likewise, the iOS app has been written with the iPhone or iPod in mind, and ensures it gets the most out of those devices. It is the sort of attention to detail that IQ are becoming known for.
There is also an 'IQ Option for Windows' version, as well as the android and iOS versions. The download buttons below will take you straight to Google Play or the App Store, and the most up to date version of the mobile trading app:
Download the IQ Option App
Demo Video
Below is an IQ Option demo video. It is a full demonstration of all the developments added during the recent 'platform 4.0' upgrade. The demo includes how users can amend the trading area to suit their own needs. It shows how to check the same price chart over more than one timeframe, how to add technical analysis overlays and how all this can improve trading results.
While the video is not an out and out tutorial, it does deliver a full demo of the user experience, the new trading platform, and how it differs from other binary options broker platforms.
Trading Options
IQ Option has consistently added to the portfolio of underlying assets. Traders are able to trade in the 4 major asset classes such as forex, commodities, equities and indices. They also respond to user demand, for example Nintendo were recently added to the stock lists after seeing a huge spike in trading interest after the release of the Pokemon Go game.
Currency pairs are a particular strength at IQ, with some of the more exotic currencies available, including NOK, SEK and TRY. The asset list is comprehensive.
The firm have also added to their range of expiry times. Previously specialising in short term expiries, IQ now offer many more options – including the popular End of day expiry, and longer term End of week and End of Month. Trader choice has never been greater.
Account Type
The firm also offer a VIP Account. In order to get a the VIP account type, a trader needs to deposit $3000 or more in one deposit. Benefits to VIP status include:
Higher Payouts (For example, +3% on FTSE or Google trades)
Entry to larger tournaments, with prizes up to $100,000
Educational materials exclusive to VIP account holders.
Payouts
In term of returns on investments, the standard payouts offer very competitive rates. Under the right circumstances, traders can earn as high as 91% returns on their investments. These payouts will vary based on the asset and expiry time selected. The 'headline' payout of 91% is among the best offered in the industry.
Bonus Code
IQ previously offered monthly bonus codes for new customers as a welcome bonus. These were paid as a deposit match bonus, and the level would 'scale' based on the size of the initial deposit. These types of bonus have been withdrawn following CySec advice however. As a responsible regulated broker, IQ no longer offer this type of incentive.
Regulation
As a corporate entity established in the Seychelles, the firm's scope of operation comes under the jurisdiction of the newly formed Seychelles Financial Services Authority (FSA). However, it should be noted that the brand is operated by two different corporate entities from Alta Vista Trading Limited. As indicated on their website, IQ Option Europe Ltd is operated by Infofield Premier Ltd (Registration No: HE324593) and Investlab Holdings Ltd (Registration No: HE327751). Since Investlab Holdings Ltd is regulated by CYSEC (License Number: 247/14), this means traders trading on the platform are also protected under the provisions of the MiFID. The firm have also registered with the FCA in the UK and other European bodies, backing up their commitment to MiFID.
Demo Account
IQ offer the best demo account terms in the industry. It is a No deposit demo account. The balance can be restored to $1000 as often as required, and the demo account is useable long term, there are no time restrictions.
The account can also run alongside a real money account – not "instead of". This allows real money traders to change into the demo account, and trial new strategies without risking real money. It is the most flexible demo account available and is entirely risk free. This offering, coupled with the low minimum deposit, is why this broker have grown so quickly. It demonstrates a real confidence with the brand that they have the best trading platform, and know that once traders have used it – they will stay with them.
Robot Review
IQ Option have closed their Robot builder feature due to "technical imbalances". There are hopes that the problems can be resolved, so the review of the robots area has been left in our review – but at present, it is not possible to open a robots account.
IQ have blown the world of binary options robots wide open. Their newest innovation, the IQ Option Robot builder, is the latest development in automated binary options trading and the new industry standard. The feature allows live and demo account holders to choose from a vast library of user generated robots or create their own robot using the easy building tool. The best part is that you don't even have to know how to write programming code, all you need to to do is use the handy robot building wizard. If you want to trade using top rated robots from real traders, or want to automate your own strategy, this is definitely the tool for you.
Bots – Build Your Own
The Robot feature is a binary options auto-trading product that goes beyond what anybody else has offered to date. The feature allows members to build their own trading robots and then use them to trade automatically. Anyone with a well defined strategy using industry standard analysis indicators can set up the platform to automate it, and then save it in a file where others can follow it. To date, there are over 29,000 robots already built and as an added attraction you can choose from among them if you don't want to build your own. This is not copy trading however, you are not copying other traders. This is automated, algorithmic trading from a respected broker.
To use the feature will obviously require an IQ Option account, but the great news is that you can test your robot using the demo account! Once you're logged in, click on the Robots tab to begin automating your experience. The first choice you have is to use an existing robot or build your own.
Copy Winning Robots
If you choose to use an existing robot you will be able to browse the catalog and pick based on a number of criteria. These include the number of copiers, amount of profit in dollars and percent, maximum draw-down and author of the robot among others. Hint, take note of the authors of good robots and robots you like then track any new robots they write looking for the next gem.
If you choose to write your own robot you have two choices, use the Wizard or the Constructor:
The Wizard is a step by step guide to creating robots which takes you though each step on at a time.
The Constructor is for traders who are familiar with the system and want to write customized robots without the Wizard.
In either case algorithms are set up using a flow chart and simple drag-and-drop feature. Along the way you will be able to choose from a list of the widely used indicators, adjust their settings to your strategy, set rules for entry and risk management. Indicators and analysis include candlestick/price action, RSI, stochastic, MACD, moving averages and Bollinger Bands ™, all with adjustable settings.
Risk management tools include 4 methods of controlling the amount of money you risk on each trade:
A Martingale setting (Not recommended) Martingale will increase trade size very quickly and can become very expensive. Risk increases exponentially with this approach.
Percent of Balance (Recommended). The Percent of Balance will use a set percent of your balance on each trade which is perfect for binary options. Money management is key to long term strategy and success.
Reinvest Profit (OK). Reinvest profits gives a declining trade size because the profits on each trade are smaller than the trade amount, OK but not the best choice.
Fixed Amount (Next best). Fixed Volume offers a good level of risk management (like % of balance), but does not take advantage of adjusting trade size to your account so that risk/reward changes in sync with your balance.
Countries
IQ offer trading in a range of countries, and also support across multiple languages. In 2014, the firm operated in 18 countries – in 2016 it was up to 178. There are however, some countries where trading is not possible with IQ due to regulations or local laws. So traders from Canada, USA and Australia are not permitted to open accounts at present.
Having started operating mainly in Europe, the UK is one of the largest trader 'bases' for the brand, followed by other European trading hubs, such as Germany, Switzerland and Sweden. Other CySec protected nations that are seeing rapid growth include Poland and Turkey.
The firm are also growing very quickly in Asia. They have recently added multiple regions to their list, including:
Malaysia
Singapore
Thailand
India
Traders in these regions are now able to register at IQ Option. The login process is very quick, and the demo account sign up requires only an email address. Beyond the login screen, traders will need to make a deposit before trading for real money. The minimum deposit however, is just $10 – among the lowest in the industry. The minimum trade is equally low, at just $1 per trade.
Tournaments
There are regular trader tournaments across the trading platform. These a generally a simple competition based on trading success. They are a method by the broker to encourage trading, so the tournaments are usually decided via the amount of total profit over a given period.
They offer a great way for traders to compete against each other, and create a lot of interest. The terms will often vary – so one tournament might focus on short term options, while the next might look at a specific asset class, like forex.
Often there are substantial prizes for the winners of these competitions. These range from cash rewards, to more unique prizes, such as the recent Aston Martin race day experience. These gave winning traders the chance to enjoy a race day in one of the sponsored Aston Martin Racing cars. These tournaments really increase the customer friendly feel promoted by the firm, and they are worth looking into.
Review Conclusions
Pros
• High Returns of up to 91%
• Low Minimum Initial Deposit Requirement
• Regulated Broker, Registered with the FCA
• Cutting edge Trading Platform
Cons
• Smaller range of commodities than some rivals
The platform offers some very user friendly features, and a very low minimum deposit of just $10. With a minimum trade size of just $1, and the best demo account terms available, they are the best choice for anyone starting out in binary options trading.
Beyond that, the trading platform is excellent and the recent addition of the 'IQ Option Robot Builder' has also meant they represent a solid choice for veteran traders too. They offer a wide choice of deposit and withdrawal options, generate the fewest number of complaints and are constantly improving. All in all, IQ currently lead the way in binary options, and their rapid growth shows little signs of stopping.
Customer Service Rating – 10
• 24/7 Live Chat
• Trading platform translated into 13 languages
• Phone support for all supported languages
Trading Choice Rating – 9
• Full range of stocks, Forex and Indices
• Silver, Gold and Oil
Deposit Method Rating – 10
• Credit Cards
• Wire Transfer
• Web Wallet (Paypal, Skrill, Neteller)
Minimum Deposit Rating – 10
• $10
Minimum Trade Rating – 10
• $1 Minimum
Trading Features Rating – 10
• Industry leading platform
Payout% Rating – 9
• Up to 91%
Bonus Offers Ratings – 4
• Deposit match bonuses have been withdrawn as per CySec guidelines.
Site Intangibles Rating – 9
• IQ Option demo videos and training videos
• Regulated
• Free No Deposit Demo account – Unlimited funds, no time restriction
• Real time price feed from Thomson Reuters
• IQ Option VIP account – Larger bonuses, and better trading terms
Registration
The IQ Option registration process just requires an email and only takes a few moments. Once verified, you then have access to the demo account, and the real money markets. In order to trade on the real account, a deposit will need to be made. The deposit process is simple, much like the register process. The open account button below will take you directly to the registration pages.
After sign up, traders will have access to the demo account. In order to trade for real money, a deposit will be required. The minimum is currently $10, and the smallest trade is $1 per option.
Go to IQ Option