eToro is well known for introducing the concept of social trading into the forex retail trading community. Its social trading platform "Openbook" has proven extremely popular among forex traders as it helps to cut down a novice trader's learning curve. Experienced traders or "Gurus" as they are known at eToro are also taking a shine to eToro "Openbook" as it allows them to earn additional revenue by sharing their trading experience among fellow traders within the Openbook's social network. Nevertheless, Forex is not the only market that traders can trade in at eToro. Traders now also have the opportunity to trade in CFDs with eToro Openbook.
>>>Click Here To Open A CFD Account With eToro<<<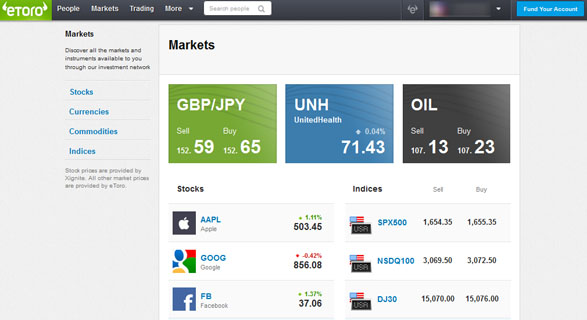 What are CFDs?
CFD or "Contract for Difference" is essentially a contract between two parties, a buyer and a seller, that requires one party to pay the other party the difference between current value of an asset and its future value at the expiration of the contract.  In other words, CFDS are financial instruments which let traders profit from the price movements of an underlying asset without having to own that asset physically. From a trader's point of view, with CFDs, he gets to enjoy the same benefits as he would have from owning an asset but without having to invest as much.
Location
Although eToro is a based in Cyprus at #7 Omirou St., 2nd Floor,3095 Limassol, the company also have several regional offices around the world to satisfy local regulatory requirements. Their regional offices can be found in the British Virgin Islands (BVI), New York, U.S.A and Sydney, Australia.
Regulation and License
To meet its regulatory requirements, eToro is regulated by CySEC, the Cypriot Securities & Exchange Commission. As the regulatory standard is in compliance with the European Union's Markets in Financial Instruments Directive (MiFID), this mean eToro is authorized to operate within the eurozone. For the U.S market, eToro (USA) is regulated by the U.S. Commodity Futures Trading Commission (CFTC) and National Futures Association (NFA). For the Asia Pacific region, eToro operate through IC Markets Ltd which is licensed by the Australian Securities and Investments Commission (ASIC).
Trading
There are several choices of trading platform at eToro. These include:
Openbook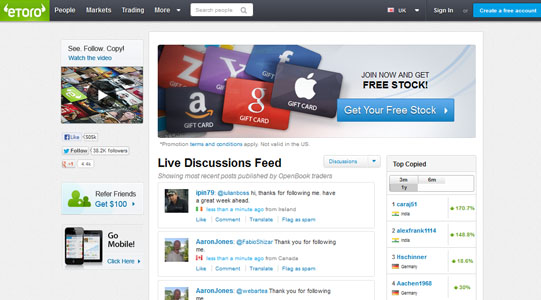 The flagship trading platform of eToro based on the concept of social trading. With this platform, traders can copy trades and find "Gurus" to follow.
WebTrader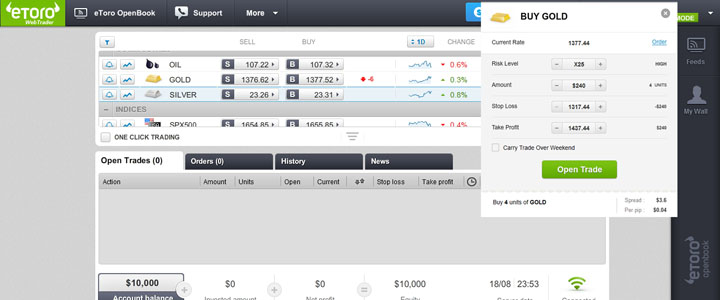 Flexible web based trading platform which is very simple to use and synchronized with Openbook. WEbTrader is also packed with a suite of tools like real time charts.
Mobile Trader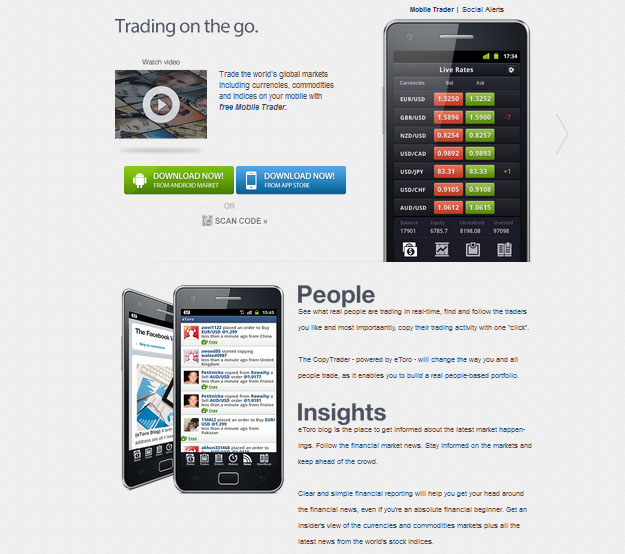 Web based browser designed for Smartphones and mobile devices targeted for traders who are constantly on the move. Benefits of this platform include:
Connected to eToro OpenBook's top 100
Copy/Follow traders
Live trading feeds
Up to date rankings
View profiles
Accounts/Fund Transfers
Traders at eToro can choose between opening a basic trading account or a Premium trading account.
Basic Account
Deposit Promotions
Free Webinars
Full Access to eCourses
Minimum deposit of $50 to open
Practice Account
Premium Account
Access to Expert Traders' news
Deposit Promotions
Free Webinars
Full Access to eCourses
Minimum deposit of $20,000 to open
Practice Account
Premium Account Manager
However, prospective clients of eToro can also sign up with eToro for a free demo account to try out the various features of their trading platform before they commit. The Demo accounts come with $10,000 practice money. You only need to provide an email to gain access to the Demo account. I really like their demo account setup as there is no obligation to deposit any real money nor will you get sales representatives calling you and harnessing you to make a deposit.
Fund Transfers
Funding of trading accounts can be done through the following methods listed below:
Credit Card
GiroPay (Germany only)
MoneyGram
Neteller / 1-Pay
PayPal
Skrill (MoneyBookers)
WebMoney
Western Union
Wire Transfer
Withdrawal of funds can be done through:
Bank Wire
Credit Cards
Neteller (eWallets)
Paypal
Skrill (Moneybookers)
Webmoney
Customer Support
Support at eToro is available 24/5. Traders can contact customer support by email by filling up a web form online or through the phone by calling the following numbers listed below:
+357-2-5030234 (Cyprus)
+1-888-993-8676 (New York0
+61-1800-778-583 (Sydney)
Conclusion
Overall eToro is a reliable broker to deal with. They offer a truly social based trading environment allowing you to benefits from the experiences of real "Gurus". Furthermore, they are fully regulated meaning you can trade with them with the assurance that they will not run away with your money! The only setback with eToro is the fact that they don't offer any downloadable trading platform like MT4 which can be customised to suit the individual needs of some traders. Then again, we have to remember that eToro is trying to cater to the wider market, traders who lack the experiences in trading fast moving financial markets and traders who wouldn't be able to appreciate the features of an advanced trading platform like MT4.