TradingView.com Full Review
Tradingview.com is an internationally focused, full service trading platform that can be linked to brokers around the world.
It is by far the most complete, easy to use platform I have ever seen. Tradingview.com is not biased, it provides information and trading opportunity for all asset classes including stocks, commodities, indices, forex and crytpocurrency.
Tradingview.com is 100% browser-based with no downloads needed, if you are thinking about using MT4 I suggest you take a look at this platform first.
Features
Charts
The central feature of TradingView.com is the charts, the charts are the most functional I've ever used. If they look familiar they should, Tradingview.com was created by the same community that brought us Multicharts.com. The charts are 100% customizable, can be used in any time frame and come with every feature you can imagine.
Assets
The first thing I noticed when using the charts is the incredible array of assets. Not only does Tradingview.com list every asset traded on public exchanges around the world, it lists every variation of every asset.
When you go to look for the EUR/USD you will be able to choose from several different exchanges and that is true for all assets. In the case of cryptocurrency you would be able to pull up a chart of BTC/USD prices from several different exchanges.
Tools
Tradingview.com has every tool you could imagine. To the left of the chart interface are choices for drawing tools like trendlines, Fibonacci Retracements, rectangles, pitchforks and more.
At the top of the charts are settings for chart type (candle, bar, heiken ashi, etc), time frame, indicators (more than 80 standard plus the ability to install custom indicators), and alerts/alarms. To the right of the chart is a window with watchlists and tabs for data windows, hotlists, economic/earnings calendars and a trading diary.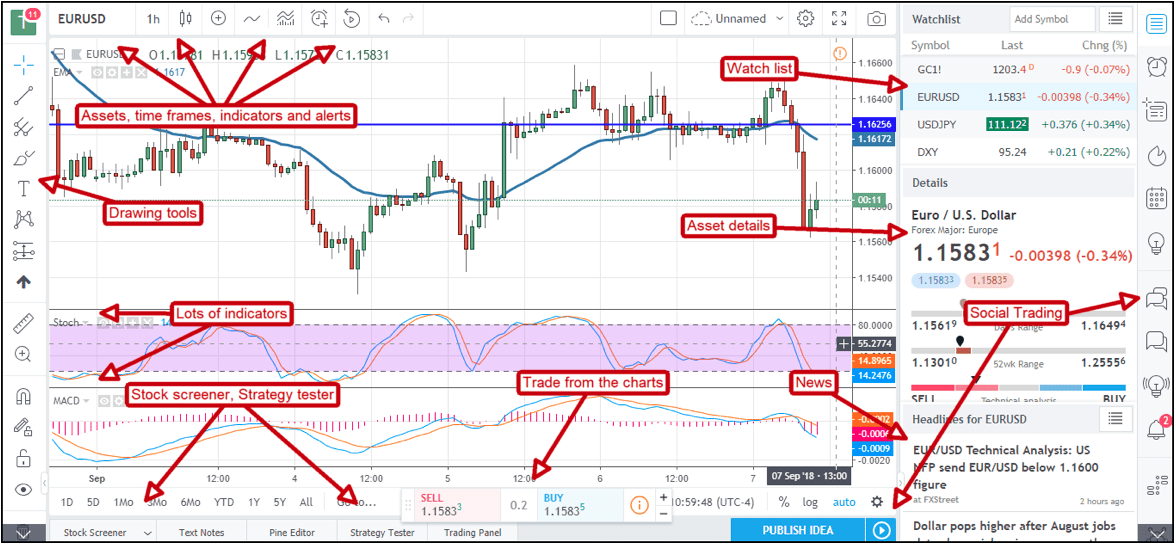 Social Trading
What really makes Tradingview.com so complete is the social trading aspect. These guys did it right, you can post trading ideas to the Tradingview.com feed right from your chart as well as participate in chat-rooms tied to each of the assets.
Additional features include a screener that can be used to find trades on stocks, forex and cryptocurrency. Along with that is strategy tester than can be applied to standard indicator strategies (provided with the tools) or used with a custom strategy. In the Pine Editor you can set up criteria for your own strategies and have them applied to your charts for back-testing.
The best part about Tradingview.com is that you can use most of the features for free. Join here
All you have to do is sign up and understand they'll be showing you some ads from time to time (it's not too bad, don't worry about that). If you want to link to your account and do things like use more than 3 indicators, or view certain assets, you will have to pay. You can upgrade to full access for about $10 a month, billed on a two year basis, or a cost of about $240 for the basic package.