eToro
Visit Broker
General risk warning: your capital is at risk
eToro have made copy trading and social trading popular. The broker's fresh trading model enables traders to utilise the trading experience of other traders.
With so many Forex platforms popping up online it can be difficult finding the best one. Many platforms offer the same user experience and the trading options can be quite similar. So if you are looking for an industry leader, with a unique trading platform that has won numerous awards over the years – then you should check out eToro.
Users who try eToro's simple trading platform end up sticking with them more often than not. Whether you are a veteran trader or a novice looking to get started in online trading, eToro is a great place to invest your money. They are always ahead of the game in terms of investing hot topics. The recent addition of a cryptocurrency fund being a perfect example. It offers traders access to bitcoin, ethereum and 5 other cryptocurrencies in just one fund.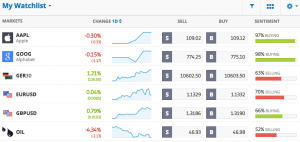 eToro Trading Platform Review
eToro offers one of the easiest forex trading platforms that we have encountered. They offer a full range of currencies for trading and also allow users to trade eToro CFDs and in the commodity market by trading gold and silver as well.
eToro has taken steps to make sure that the interface looks clean and doesn't give a user too much information. One fun feature of eToro's platform is the chat function. You can use this to talk trading with other users to hopefully gain some insight into their trading.
Beyond the trading, eToro takes its social features one step further with OpenBook which is eToro's social media forex trading platform. You can see what other traders are doing in real time and monitor market trends. This is great for new traders who simply want to find a successful trader and "copy their trades" which is an option that eToro offers. You can follow other traders in a similar way to twitter or facebook and interact with them as they trade in real time. This is where the phrase "social trading" comes from.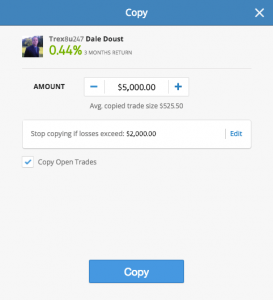 Broker Features
In addition to their excellent trading platforms, eToro is also an industry leader in mobile forex trading. Their Mobile Trading App is one of the best in the industry and is fully compatible with Android and Apple device. Users can access the OpenBook features directly from their smartphone or tablet device and copy trades as they happen in real time from anywhere in the world.
One thing that has drawn people to eToro is their higher degree of leverage than many other sites at 200:1. Although users should be careful with this features as it offers just as many risks as it does rewards.
Demo Account
eToro is an excellent site for 'beginner' traders , though the minimum deposit is now $200 which may put some novice traders off. There is also a full demo practice account that you can take advantage of to test their software before depositing. The demo account includes all the features of a real money account, including the ability to copy other traders.
etoro Mobile Trader
eToro designed their platform for Smartphones and mobile devices. Due to mobile social trading being at the forefront of the design process, the app is second to none.
It delivers all the features of the full website, and performs very well across all platforms including iPhone, Android and Windows devices. Traders can react instantly to any markets news.
Benefits of this platform include:
Connected to eToro OpenBook's top 100
Copy/Follow traders
Live trading feeds
Up to date rankings
View profiles
Accounts/Fund Transfers

Customer Service
eToro offers some excellent customer service with live chat, email or telephone support that is available twenty four hours a day during the week. The customer service team is well informed and friendly. Most questions can be answered in eToro's "eToroPedia" which has a large wealth of information that users can easily access.
Why eToro?
Boasting an excellent web platform, smartphone and tablet enhanced compatibility and some of the lowest deposit requirements in the industry; eToro is a top destination for any aspiring forex trader. The ability to follow other traders and copy their trades is a top feature which has helped to make eToro the award winning forex platform that it is today. Without the social networking aspects, eToro would be a great site for forex trading, but with them they are one of the very best on the web today.
eToro is well known for introducing the concept of social trading into the forex retail trading community especially. Its social trading platform "Openbook" has proven extremely popular among forex traders as it helps to cut down a novice trader's learning curve.
Experienced traders or "Gurus" as they are known at eToro are also taking a shine to Openbook as it allows them to earn additional revenue by sharing their trading experience among fellow traders within the Openbook's social network.
Nevertheless, Forex is not the only market that traders can trade in. Traders now also have the opportunity to trade in CFDs with the same platform.
What are CFDs?
CFD or "Contract for Difference" is essentially a contract between two parties, a buyer and a seller, that requires one party to pay the other party the difference between current value of an asset and its future value at the expiration of the contract.
In other words, CFDs are financial instruments which let traders profit from the price movements of an underlying asset without having to own that asset physically. From a trader's point of view, with CFDs, the trader gets to enjoy the same benefits as they would have from owning an asset but without having to invest as much.
Where are eToro Based?
Although eToro is a based in Cyprus at #7 Omirou St., 2nd Floor,3095 Limassol, the company also have several regional offices around the world to satisfy local regulatory requirements. Their regional offices can be found in the British Virgin Islands (BVI), New York, U.S.A and Sydney, Australia.
Regulation and License
eToro are regulated via a number of different bodies. In the UK, they are fully regulated by the Financial Conduct Authority (FCA). Any firm offering CFDs to UK consumers must be regulated by this regulator.
To meet its regulatory requirements throughout Europe, eToro is also regulated by CySEC, the Cypriot Securities & Exchange Commission. As the regulatory standard is in compliance with the European Union's Markets in Financial Instruments Directive (MiFID), this means eToro is authorized to operate within the eurozone.
Social Trading Accounts
Traders at eToro can choose between opening a basic trading account or a Premium trading account.
Basic Account
Deposit Promotions
Free Webinars
Full Access to eCourses
Minimum deposit of $200 to open
Practice Account
Premium Account
Access to Expert Traders' news
Deposit Promotions
Free Webinars
Full Access to eCourses
Minimum deposit of $20,000 to open
Practice Account
Premium Account Manager
However, prospective clients of eToro can also sign up with eToro for a free demo account to try out the various features of their trading platform before they commit. The Demo accounts come with $10,000 practice money. You only need to provide an email to gain access to the Demo account. I really like their demo account setup as there is no obligation to deposit any real money nor will you get sales representatives calling you and harnessing you to make a deposit.
Payment Methods
Deposit Methods:
Credit Card
GiroPay (Germany only)
MoneyGram
Neteller / 1-Pay
PayPal
Skrill (MoneyBookers)
WebMoney
Western Union
Wire Transfer
Withdrawal Methods:
Bank Wire
Credit Cards
Neteller (eWallets)
Paypal
Skrill (Moneybookers)
Webmoney
Crypto Copy Funds
eToro have announced a new fund – part of their CopyFund feature. The new fund will be focussed on Crypto currencies. The fund includes Bitcoin and Ethereum (Which can be traded individually), but also Ripple, Litecoin, DASH and others.
Investing in crypto currencies has not been easy previously. The technical challenges, and risk factors to try and manage, have made it difficult for retail investors. The eToro fund gives traders access to a rapidly growing sector with a single click. eToro have seen crypto currency trading increase 400% in the last 12 months.
The portfolio of currecnies will be analysed and rebalanced once a month. The innovative fund will offer investors a diversified portfolio weighted according to market cap size.
Yoni Assia, CEO and co-founder of eToro had this to say on the new release:
"This CopyFund is the first of its kind globally providing investors access to the world's biggest digital currencies in one innovative portfolio. For those who believe in the technology's potential, this is an opportunity to invest in a straightforward and simple way."
Review Conclusions
Overall eToro is a reliable broker to deal with. They offer a truly social based trading environment allowing you to benefits from the experiences of real "Gurus". Furthermore, they are fully regulated meaning you can trade with them with the assurance that they will not run away with your money!
The only setback with eToro is the fact that they don't offer any downloadable trading platform like MT4 which can be customised to suit the individual needs of some traders. Then again, we have to remember that eToro is trying to cater to the wider market, traders who lack the experience in trading fast moving financial markets and traders who wouldn't be able to appreciate the features of an advanced trading platform like MT4.
Go to eToro
General risk warning: your capital is at risk