iOption Ltd is a privately-held institutional binary options broker based in Cyprus and the British Virgin Islands. iOption is one of the numerous binary options brokers to adopt the SpotOption white label trading platform, which offers a wide array of binary options contracts. iOption commenced operations in 2008, the year binary options trading became available to the general public.
Sign up to iOption.com Now with a Minimum Deposit of $250 and Receive a 25% up to $125 Bonus Free!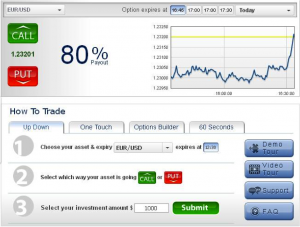 Bonuses and Promotions
Like most binary options brokers, iOption offers generous account opening bonuses to traders that signup with their platform. These bonuses are issued according to the type of account the trader operates.
a)    Starter Account: A starter account is an account opened with a minimum of $250 and comes with a welcome bonus of 25% of trading capital.
b)    Trader Account: Starts with a minimum of $2000 and attracts an extra $100 bonus in addition to the regular welcome bonus of 25%.
c)     VIP Account: Starts from $5000 and comes with an extra 10% bonus in addition to the regular welcome bonus of 25%.
In addition to the regular bonuses, iOptions has also come up with an industry first; the so-called no deposit bonus. This bonus which is worth $100 is a result of a collaboration between BinaryOptionsFree and Intellitraders, and provides a total sum of $100 which is deposited into the live account of any trader who signs up with iOptions using the bonus affiliate link on the website of Intellitraders and BinaryOptionsFree.
Account Information
In order to start trading with iOption, a trader is required to open an account by filling a simple online form on the homepage of iOption. When this form is completed, the trader will be sent a username and password with which to access the web-based platform. The account is activated when the trader sends over his identification documents. These documents are a government-issued ID card (drivers' license, national ID card or international passport) and either a utility bill or bank statement as proof of residence.
There are several varieties of binary options contracts that a trader can trade on the iOption platform. These are as follows:
a)    Classical Binary Options contract: This is the standard Call/Put contract type which is the equivalent of the Up/Down or Rise/Fall contract. The trader can choose pre-set expiries ranging from 15 minutes to six hours in order to trade.
b)    High Yield One Touch: The high yield one touch option gives the trader the opportunity to strike a huge payday to the tune of 500% if the price of the asset is able to meet the pre-set strike price by the expiry. As a rule, the strike price is usually placed a long distance from the market price of the asset, making it a real challenge for the trader to win in this trade. But if you have the nerve, then there is no harm in trying.
c)     Option Builder: With this feature, a trader has greater control over expiry times and the risk profile. The trader can actually decide what his returns will be, and give himself the chance to recover some of his capital in case the trade is out of the money.
iOption Review – Provided by FX Empire
Platform Features and Markets Offered
What assets can traders bet on when trading with iOption? These are varied and fall under four distinct asset classes as shown below:
Currencies: EUR/USD, GBP/USD, EUR/GBP, USD/CAD, USD/CHF, USD/RUB, GBPJPY.
Stocks: CITI (US – CITIGROUP), Apple, Nike, Gazprom, British Petroleum, Google, Lukoil, Coca Cola, HSBC, Rolls Royce, Reuters, Toshiba, Teva Pharma, etc.
Commodities: GOLD, silver, wheat, coffee, crude oil (LIGHT SWEET CRUDE), Sugar and platinum.
Stock Indices: Dow, Nasdaq, FTSE100, Xetra Dax, S&P500, CAC40 and a host of other Asian and Middle Eastern indexes.
Customer Service
iOption has a customer service department that features a live chat feature, as well as email and phone lines that provide 24-hours, round the clock customer service in several languages.
Sign up to iOption.com Now with a Minimum Deposit of $250 and Receive a 25% up to $125 Bonus Free!
Is iOption a Scam?
iOption, established in 2010, is among the new entrants in the binary options industry. It is one of the most popular trading platforms in existence today and provides a very high payout of about 85%, making it stand apart in the industry. iOption makes use of the most reliable trading platform, SpotOption, which is shared by many of the top binary options brokerages in the industry. Although iOption has been known to have some minor issues with their charting tools, the overall customer satisfaction has been overwhelming with excellent withdrawal options and prominent payment gateways to secure all of your transactions.
Final Word
If you are a trader, the no-deposit binary options bonus is one feature of iOption that you should utilize. This is because it provides the best opportunity to test the waters of a live account without risking any of your money.