How To Avoid Binary Options Scams Part 2
Here is part 2 of avoiding Binary Options scams (for part 1 click here). This is the really really grey area of the social media arena where scammers are waiting to prey on you. Its far more convincing and unlike the JV marketers these guys will talk to you directly, but only to a point. Once they figure they can't get any more from you or you no longer have value to them, they will un-friend you in a heart beat. The one thing will remain as with the JV marketers and that is they want your $MONEY$. So be on the look out for them asking for deposits or sign-ups telling you about amazing profits and opportunities, which will end just like the JV scams with empty pockets and bad feelings. At least they took the time to say "Hi" while they emptied your account LoL…
As you can see in this video  with both "The Green Room" and "FB Wealth Group" though they might pretend to be traders/friends they are really just out to get your money through either signups or even trying to have you pay them directly. Be aware with the social media format, as there is a whole new way to scam people by pretending to be friends/traders. If you see them mention anything MLM "Multi Level Marketing" related or see they are from that field know they are schooled most likely in how to scam you, so RUN THE OTHER WAY!!! These guys don't play and they will say whatever is needed to get you to sign-up and invest in whatever scam they makeup.
Here is a 45 minute long interview of a person that was scammed by both "The Green Room" and "FB Wealth Group" I named it Binary Options Horror Story because that is exactly what it is in all its gory details. If you are new to binary options listen to this fully to see how they scammed people out of their money so it does not happen to you. Notice also how the worked with the brokers directly such as they did with "Lbinary" and "CToptions". Both firms are blacklisted from ever being recommended by me…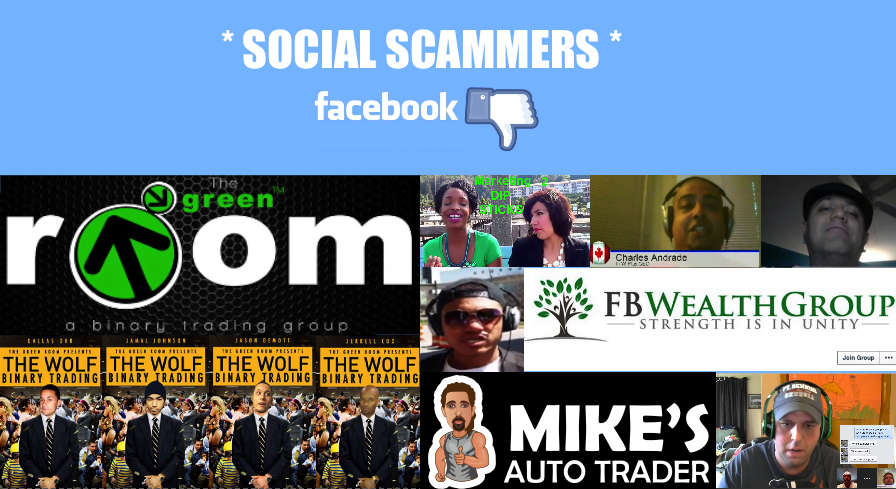 So much for facebook friends! As you have seen in these videos how these SCAMMERS manipulate social media to steal your money and leave you wondering wtf did you get involved in! Again they are not really bright as its easy to be a criminal and requires very little talent. They will repeat the common element of wanting you to deposit or even asking for money directly and from there you can tell them "GO F*CK THEMSELVES!" Yes use those words and make sure to un-friend these scam marketers on facebook as well, because all they will do is drain your bank account with their smiling lies and stories that even a drunk irishman would be to ashamed to tell!