John Anthony
1 Month Free If You Sign Up To A Broker Or £99/Month Cost
LotzofBotz here to promote a Signal Service… Yes it is possible hell has just frozen over because I hate signal providers/marketers/brokers/small dogs/Michael Freeman and all over priced pillows that my GF might wish to purchase. Yet I find maybe I take too much pride in my own trading and am a bit too closed minded to other methods or trading ideas. So in following this train of thought lets take a look at different signal providers to see what is really out there that could make both you and me some "MOOOONAAAAY!!!" Because I am not here to jerk it to youtube all day as I have bills to pay and countries to buy. So first as I walk this road into the dark winding forest of the unknown reviewing Signal Providers. One of them had already stood out and intrigued me "John Anthony's Signals." His method for delivering signals I believe to be genius and likely responsible for a great deal of his success. In the video below I will provide you with a good deal of insight as to why he is worthy to be recommended by me. It is likely not to be for the reasons you think ;)
As you can see in the video it shows exactly how the system works. You sign-up are given a login then wait for a signal to pop up on the table, as well you will here a bell ring which will turn you into Pavlov's Dog waiting for signals. So if you are across the room you can turn up the volume and boom come running for dinner. It is pretty funny as I picture how people on the other side scramble around to catch signals from JAS. Do note that these are signals and not actual trades. This means it is based off the short term high from the minute candle of which JAS decides the entry is and that means you can get a delay of a few seconds to over a minute. That does not mean he is a scam just that its a signal based off the high of a 1 min candle and not an actual trade. Again I would use his signals as a high end indicator more then for blind trade entries. Below I will list the pros and cons of his service.
Pros –
1) You can use just about any broker for the expiry times he uses which are often the 30 and hour the hour mark for most of his trades.
2) You can determine which trades you wish to take and by watching him actually learn a good method of trading.
3) Since he now includes higher risk trades in his mix you get more signals a day.
4) This is a person with bank trading experience so his methods are solid and for $100 a month imo its a good deal, specially if you are new to trading binary options.
5) You can choose which pairs you wish to trade by selecting them from his menu options of the webpage, though I recommend you watch them all.
Cons –
1) He no longer has a PREPARE options which allows you to setup a trade and I hope he amends that in the future as this gives you no time to enter close to the signal time.
2) The higher risk trades that he now includes in his trading imo will bring down his performance and the stats he is showing with them I find a bit askew/off. I think he is reducing the quality of his service with this.
3) The signals he counts as stats show the high price of a 1 min candle and are not actual results from trades so you have to take that into account and readjust your likely expectation for win rates in the 60% range not above 70% which is a bit marketing fluff on their part.
4) He no longer includes the individual win rate for each different pair which again reduces the quality of his service and hope he changes that in the future.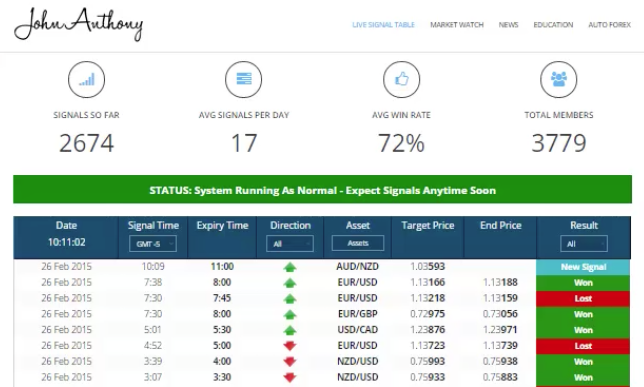 All in all I came away with thinking this guy has a brilliant way to get tons of passive wannabe money makers/traders for only $100 a month. After issues with people copying his signals and reselling them it seems he has lessened the quality of his service which I hope he amends/corrects. I myself found him useful for trading odd crosses and and really used him more as an indicator to which I could then choose to enter using my own method/algos to give me a better edge then if I just traded his signals on the blind. If you are a newbie or don't have the time to focus on being a trader then this might be for you. Again his logic for trades make sense and I think those who use his service would have a hard time not being profitable with it. Until next time!
Enjoy, LOB