Ways to trade with the trend: Part II
Hi traders,
This is my second article about the ways which I use to trade with the trend. In my previous article I talked about the two things which I want to see to make me  sit down and wait for a chance to take a trade in the trend direction. These are lower-highs (downtrend), higher-lows (uptrend) and ABCD pattern. Now, take a look in my chart when I want to take a binary options trade with the trend.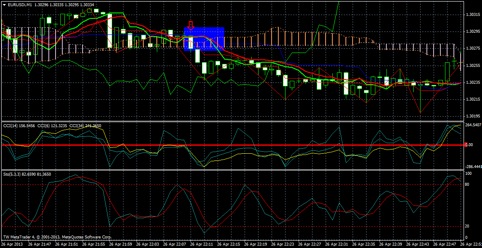 It's complicated I know. First of all what I use.
–     two emas (4 period the green one, 8 period the red one)
–     ichimoku with the default settings(i focus on only in the cloud)
–     triple CCI(6,14,34 period) and I add level 0
–     Stochastic with default settings(I add levels 20 , 80)
As I said in my first article the key in trading for me is only Price Action. For taking a trade I am waiting for a price action signal and not an indicator's signal. I use these indicators only to confirm the price action signals.
My entry in the chart is in the blue box(the put arrow). If you remember in my previous article a little bit above of this spot we had a 50 fib retracement of the A-B leg in our ABCD pattern. The question: Is this the right spot to take a trade with the trend?So, we need confirmation. My first confirmation is the triple CCI. I use it to catch the momentum. Above zero level is bullish and below zero level is bearish. I am waiting all the CCIs to be below zero level in this case, we are in a downtrend.
The second confirmation for me is the price to cross down the 2 emas. This is a sell signal. In this case the same time the price breaks down the ichimoku cloud. This is another sell signal.
Now, let's go to the stochastic oscillator. When the price made the 50 fib retracement the stochastic was still moving up. After the retracement we have two small green candles so we had to wait. Then the next candle is red and big and in the stochastic oscillator we have a crossover(the red line is now above the blue) near level 80(overbought area). So, with the price action signals, ABCD pattern, Fibonacci and  the confirmation of the emas, CCIs, ichimoku and stochastic we have so much confluence and now it's the right time to take a put. I prefer 5 minutes expiry in this case. Look at the chart our trade is a solid ITM and  after that the price is still moving down.
Our steps :
–     We identify the trending market
–     we identify the fib reversal
–     we wait for the confirmation and the right time and we jump in
Best Regards,
Kostasze