The Simple Balanced System For Binary Options
Many binary options traders got started trading in the forex markets. They shifted to binary because the mechanics of trading were simpler, not because the analysis was any different. For that reason, the analysis is the same, it makes sense that a solid forex strategy would work just as well for binary options. This is true of the Simple Balanced System. This system was first put forward on the website ForexStrategiesRevealed.com and has passed muster. Traders from all walks of life find this strategy to be highly effective for forex and you will find it is just as effective for binary options.
What Is The Simple Balanced System
This system uses a simple, simple but highly effective, combination of indicators to determine entry and exits for forex traders. The exits are not that important to us as binary traders unless you are trading options with an Early Out feature. In fact, the exit signals may even provide additional entry points for short term entries in some cases. The system relies on 2 exponential moving averages, a 5 and 10 bar, as well as stochastic and RSI. It is important to use the exponential moving average with this system because is gives added weight to the front end of the data set and tracks asset prices more closely than a standard moving average. The stochastic and RSI both have custom settings, the only thing about this system that is not simple. I usually don't recommend using anything but the standard settings for indicators like stochastic but for this strategy it may be necessary. Stochastic is set to (14,3,3) and RSI to (14,70,30); stochastic is set to shorter term and RSI to a longer term.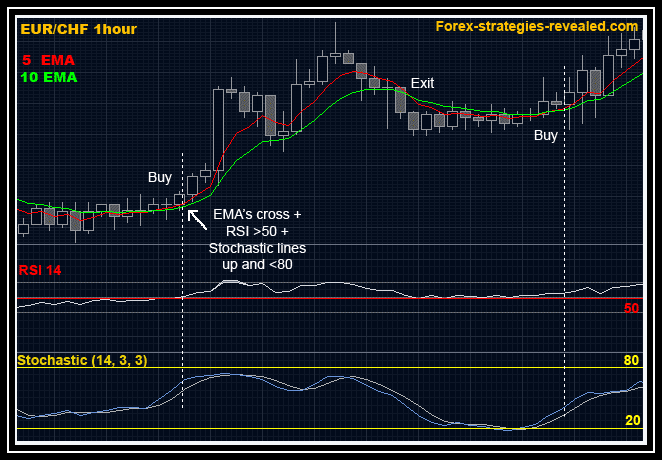 This strategy can be used in any time frame but I suggest using daily, 4 hour or hourly charts for best results. Anything shorter than that is less reliable. This is how signals develop. For a call wait for the 5 bar EMA to cross the 10 bar EMA from below. Then wait for confirmation from from stochastic and RSI. Both stochastic lines should be pointing up with %K above %D and RSI should be crossing above the mid line, bouncing up from the mid line or simply pointing up while above the mid line. For a put signal the opposite is true. The 5 bar EMA must cross below the 10 bar EMA and be confirmed by stochastic and RSI. Stochastic should be pointing down following a bearish crossover and the RSI should be falling below the mid line or moving lower while below the mid line.
Because the original strategy is meant for spot forex it has exits as well. For binary traders these are pointless but we must take expiry into consideration. The signals given by this strategy are fairly strong and the asset moves into the money within a few bars. When choosing expiry using the daily charts a 3 day to one week expiry is recommended for the strongest signals. On the 4H chart end of day, 3 day and up to one week expiry is what will work best, depending on the asset and strength of the signal. On the hourly charts end of the day and end of tomorrow are what you want to target. While I don't recommend using this system on any shorter of time frame it can be applied there as well, just be aware of potential market moving events.
My Final Thoughts On The Simple Balanced System
This system is simple but its not a system, its a strategy. This strategy provides analysis and rules for entering trades but nothing about position size, money or risk management. That being said if you use some sound money management techniques you should be able to produce consistent positive results with this strategy. I like that it uses multiple indicators to provide signal confirmations, I also like that the combination of indicators is easy to use. What I don't like is that, as originally written, it does not take trend or support/resistance into consideration. Applying trend analysis is a good way to weed out false, bad and weak signals. Keeping support and resistance in the equation is a good way to weed out good signals that have an unusually high probability of failure. I also don't like that you have to change the standard settings of the indicators. To me, this is a sure path to failure but it seems to work here.
Finally, there is an indicator that I think could replace the stochastic/RSI combination used here; the stochastic RSI. The stochastic RSI is an indicator that combines stochastic and RSI into one oscillator. It is in effect a stochastic reading of an RSI and displays exactly as normal stochastic. The only problem I see with this is that you will only be able to adjust the stochastic setting, not the RSI it is based on so it may not track exactly as intended. However, based on my back testing with the Russell 1000 index and daily charts it appears to work quite well.