The FOMC Minutes Are Here, But Do They Matter?
---
The FOMC Minutes Not Expected To Move Markets
The FOMC Minutes are at hand once again and may move the market. I mean, they sometimes move the market but this week probably won't be one of them. The FOMC has indicated they are patiently waiting for data to lead them in their policy choices. The data so far shows a robust U.S. economy with very little inflationary pressure. Those pressures may change soon as trade woe and tariffs worm their way into the economy but not yet. This week the minutes are likely to reveal more of the same, a patiently waiting Fed.
The market, despite Jerome Powell's hints to the contrary, is expecting a rate cut by the end of the year. The odds are now standing at 75% for at least one cut by December, possibly two or even three if the economy tanks. The Dollar Index has been edging higher in the last few weeks and is now sitting just below a resistance target. This target is just below the recent high at $98 and may contain the index until the minutes are released. Upon the release the index may move higher provided the FOMC is still bullish on the economy.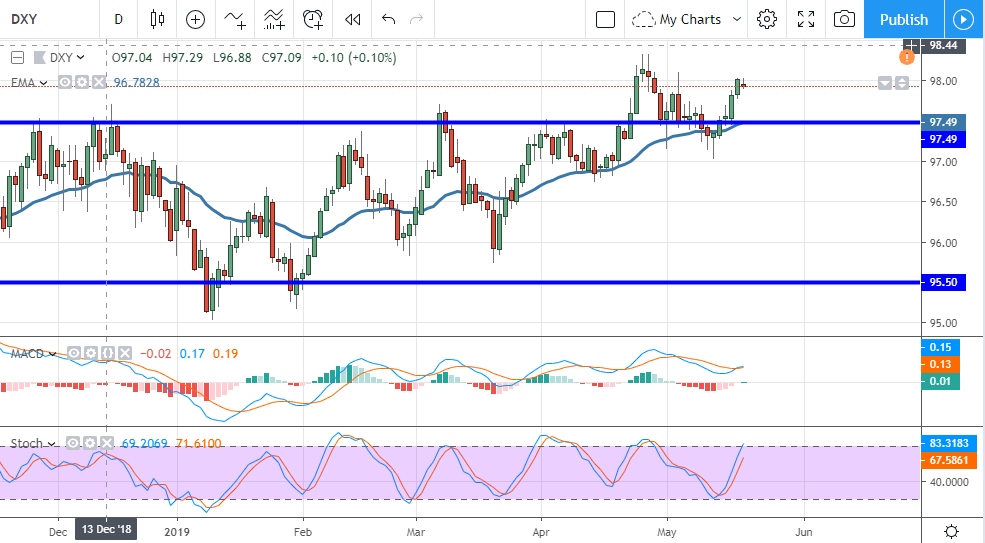 The risk is that the minutes may reveal a more-cautious than expected Fed and that could be bad for the market. If the Fed gets too cautious odds for a rate-cut will increase and the dollar is likely to weaken. Regardless, the index is expected to trend sideways longer-term. The key support and resistance targets at this time are $97.50/the 30-day EMA and $98.25/the recent high. A move to either is an opportunity to fade the market but I'd wait until after the minutes are released before opening such a trade.
The EUR/USD May Move Lower
The EUR/USD is poised to move lower but that move may be halted by support at the 1.1200 level. Price action and technical indication are bearish so a downward movement is the most likely scenario. Support may be reinforced or weakened by the FOMC minutes or data due out from the EU. EU data due out this week includes consumer confidences, Manufacturing PMI, and EU parliamentary elections on Friday.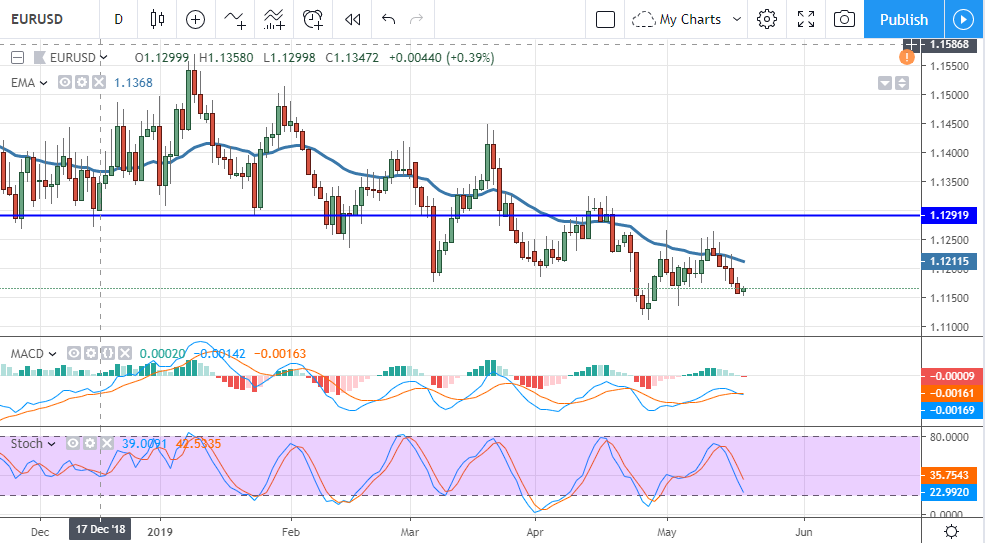 The GBP/USD May Also Move Lower
The GBP/USD may also move lower and let me tell you, this chart looks a lot more bearish. The GBP/USD has been in a steady downdraft for over two weeks and doesn't show any signs of slowing. The indicator are both bearish and support lower prices as does last week's break below support. Support at 1.2800 was shattered and open up 1.2600 and 1.2400 as targets. This week there is quite a bit of UK data so look for some volatility in the least.