Textbook Entry Point For Major Cryptocurrencies
---
If You Missed The First Bounce…
If you missed the first bounce cryptocurrencies made from their post-correction bottom they are doing it again. I don't know any better way to say it that this, the major crytpocurrency pairs are offering text-book entries that buyers should not ignore. Sure, they may retest support and dip a little lower but they won't go much lower and any purchase made now is likely to see big gains in the near, short and long term.
A couple of factors have combined to produce this opportunity. First, the wild media attention BTC was garnering when it traded near $20,000 has evaporated and with it a lot of curious interest and the need to "get in now, before it's too late". Second, there have been a couple of negative news bits over the last week that have 1) caused a bit of concern and 2) put a damper on access to the market. Together these factors add up to a cooling market and one that has settled to a normalized level.
The news. First is a hack, suspected hack, reported hack we're not really sure at a major cryptocurrency exchange that caused some traders to flee the market. Bottom line, no funds were stolen so fears are misplaced. Second, the SEC has stated that all US based exchanges need to be registered with them and must comply to basic oversight is not unexpected a net-positive longer term although it does limit some access nearer-term. Finally, the trustees of the Mt GOX disaster are selling their BTC's in order to recoup damages for those hurt by the debacle. This comes at a time in which buyers are shy, depressing prices to extreme lows.
Bitcoin has fallen about 25% in the last week. The coin met resistance at a downtrend line and is falling under that pressure, now trading below the short-term moving average. Support began to push-back on prices at the $9000 level which is now the new support target. The indicators are bearish but also very weak, consistent with a near term swing in momentum rather than a reversal in prices. Of the three major cryptocurrencies, BTC ETH and LTC, this one looks the weakest. A move below $9000 could go to $6,000 but I would not expect that without the emergence of a new catalyst.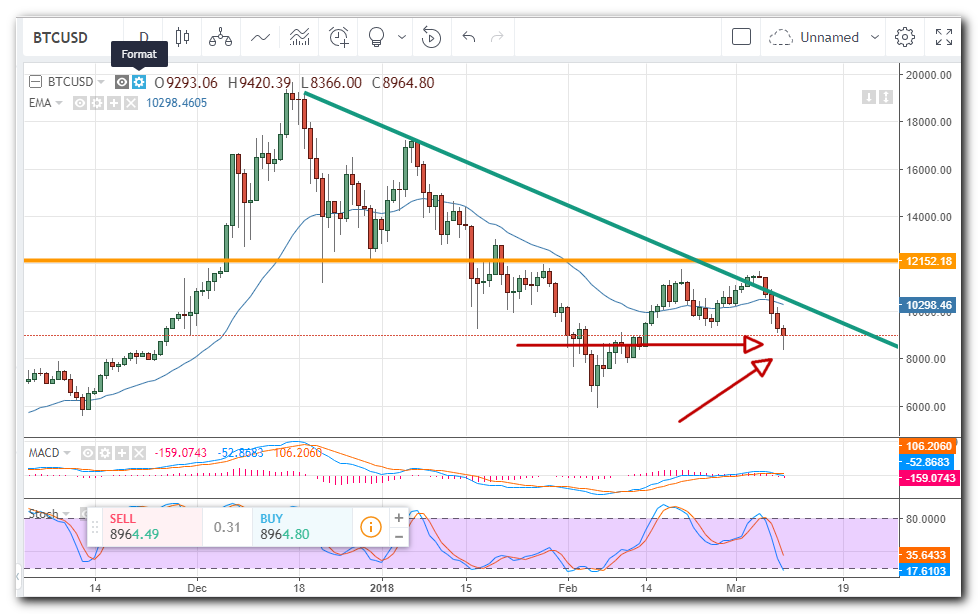 Ethereum's chart is looking much, much more bullish. The coin suffered greatly over the past week and is now bouncing from a strong support level. Support is the $700 line, a level tested and bounced from two months ago. The indicators are bearish and consistent with this test with the caveat of showing oversold conditions at an extreme price level driven by non-fundamental news. A new catalyst may drive the coin below $700 but until that happens this is a prime entry point. A move to $900 could be expected near-term, a move above that would be bullish and may go up to the all-time high.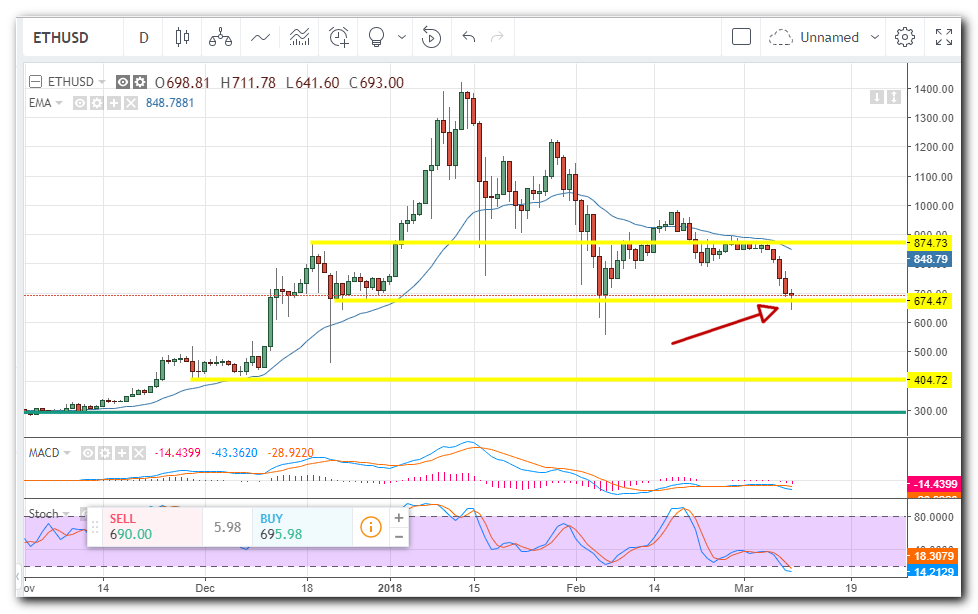 Litecoin has likewise fallen to test a support level. This test confirms the sharp move higher which occurred three weeks ago. Support is at the bottom of that long green candle, near $160. While it may not be possible to get LTC at $160 again purchases near that level, below $200, are likely to see solid gains in the near future. A revert to mean should take the coin back to $200 at least, a move above that would be bullish and consistent with the price reversal indicated by the February 14th candle.