---
One of the more successful binary options brokers that has adopted the Tech Financials trading platform is 24Option.
The award-winning binary broker is owned and managed by a Cypriot Investment Firm (CIF) called Rodeler Ltd. Operating under the CIF license #207/13 and regulated by the Cyprus Securities Exchange Commission (CySEC), 24Option has successfully managed to combine the best of both worlds for their traders in terms or regulatory protection and enhanced trading experience.
With returns for regular options reaching as high as 89% and the ability to trade with more than a hundred different types of underlying assets on a premium trading platform like Tech Financials, it's not surprising to find that 24Option is the binary broker of choice for countless number of traders from all around the world.
List of Other Brokers adopting the Platform
Apart for 24Option, there are also numerous other binary options brokers that have adopted the Tech Financial trading platform. They include:
2Selections
33Options
Binary International
Boss Capital
Exbino
FRX Banque
Option99
OptionsClick
OptionsFair
OptionsXO
Planet Option
Vantage FX


There is no doubt that the Tech Financials platform is one of the best binary platforms around. It comes as simplified solution that delivers world class performance. With the platform's ability to deliver accurate pricing, a trader can be confident that his trades will be executed instantaneously. Click here to visit the 24 option website.
More about the TechFin Binary Options platform
There's an age old saying in trading, "knowledge is power". Now that may be true and go a long way to reaping massive profit, but let's not overlook the importance of working with an efficient, and for that matter secure trading technology provider.
With trading, timing is everything – the speed at which your trade is executed is a key factor in determining whether the trade will be successful or not. That's why binary options and forex traders are consumed by using platforms that they know perform well. Additionally server down time is a real pain when it comes to trading. Imagine this scenario, you're about to close out your trade and the platform you're trading on goes down. It's annoying.
This article looks at one of the key technology providers in Binary Options, Tech Financials. It will cover the key platform features, benefits, and cons, if any.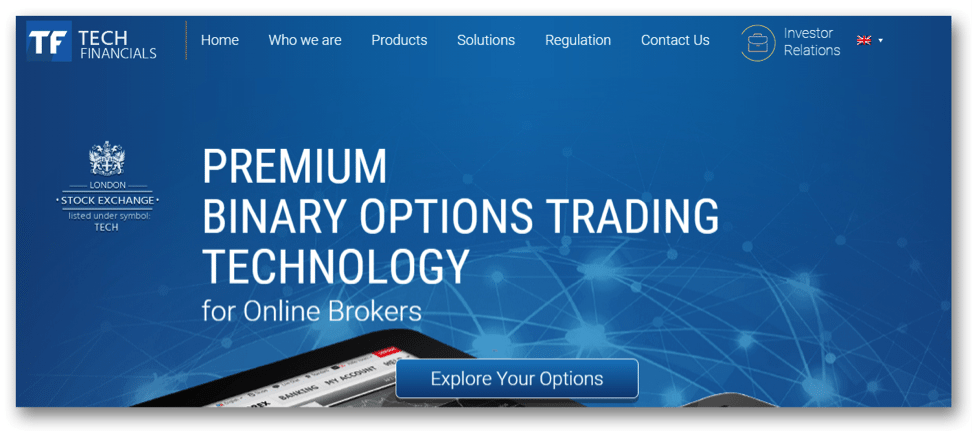 Platform Types
Generally, binary options traders will come across two different types of binary platforms, both proprietary and those developed by third party providers. In the binary options trading industry, there are only a handful of binary brokers that have opted to develop and use their own proprietary platforms.
The majority of binary brokers instead rely on white label platforms, developed and supplied by third party solution providers. These are dominated by several leading brands one of which is Tech Financials.
About Tech Financials
Established in 2009, Tech Financials is binary options trading solution provider that specializes in delivering simplified trading environments for both novice and professional traders. The company is currently the only binary options trading platform provider that is listed on the London Stock Exchange AIM market under the ticker symbol "TECH".
Key Features of the Platform
The Tech Financials binary trading platform is one of the most popular binary trading platforms in existence today due to its amazing capabilities and ease of use. The platform offers:
• Accurate Pricing
One of the key elements which form the foundation of binary options trading is the asset's price. In order to deliver real time accurate pricing, Tech Financials has developed a cutting edge pricing engine called the "Orca+" that is able to meet the demanding conditions of the fast moving binary options trading arena. Today, their pricing engine serve accurate real time prices to more than 100,000 binary trading transactions made daily by traders from all over the world.
• Fast Execution and near Instantaneous Reaction Time
In order for traders to reap the benefits of accurate asset pricing, a platform must be able to quickly execute trading orders placed by traders. In fact, the trading speed and reaction time of the trading platform can determine if a trade will be successful or not, especially when it comes to short term options. With its minimal graphic user interface, the Tech Financials platform is able to perform at near instantaneous speed to enable traders to monopolize any favourable market position which they have identified.
• Trading on the Go
With the majority of today's wired population owning a smartphone or mobile device, forward thinking Tech Financials has recognized the fact that most binary traders will most likely own a smartphone or mobile device as well. To enable traders using the tech financials' platform to harness the power of their smartphones or mobile devices, Tech Financials has developed dedicated mobile trading apps for both iOS and Android powered devices. The apps are designed with a simple yet user friendly navigation interface that maintains the look and feel of the fully fledged trading platform ensuring minimal adjustment time to fully exploit the apps.
Multiple Option Types
To enhance the trader's experience while they are using the platform, Tech Financials has provided support for several types of options contracts. The option types can be categorized as:
• Standard Options
These are your typical High/Low (Call/Put) options contracts where traders just need to specify the direction of the price movements. The average run time for this type of option contract is 30 minutes. Variations of this type of option contract comprise of one touch options, and boundary options.
• Short Term
These trading contracts are designed to be fast paced especially for traders who want a faster turnaround for their investments. The expiry times ranges from 30 seconds, 1 minute, 2 minutes and 5 minutes.
• Long Term
To cater to binary traders who want to trade using just fundamental analysis, Tech Financials has came up with the idea of long term options contracts. These options have an expiry time that extends to the end of the trading day or to the end of the month.
• High Risk
Tech Financials has also provided traders with the option of converting one touch and boundary trading contracts into higher yield contracts with just the click of the mouse. For example by clicking on a "High Yield" tab, a trader can turn a contract with 70% payout ratio into a contract with a 200% return. Naturally, with higher yields comes higher risk.