Pro Binary Options Signals (PBOS)
A Review of Pro Binary Options Signals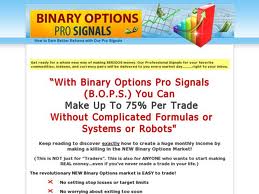 Pro Binary Options Signals (PBOS) is a new signal service that provides trade signals to its subscribers to enable them profit from trading binary options for currencies, commodities and indices.  These assets are traded only when the respective exchanges on which they are listed are open for business.
The unique selling proposition of Pro Binary Options Signals is that traders are able to make up to 185% of invested capital per day, and that this can be achieved without the use of complicated algorithms or complicated software. Pro Binary Options Signals requires that subscribers open trading accounts with certain binary options brokers to receive and implement the trading signals.
These binary options brokers who work with PBOS in an affiliate relationship also provide traders with varying degrees of bonuses as follows:
Or just sign up with PBOS direct by clicking here.
| | | | | |
| --- | --- | --- | --- | --- |
| BROKER | BONUS | SYSTEM | PBOS PROMO | AC OPENING BAL |
| | 100% | SpotOption | 10% Insurance + Free signals | USD500 |
| | 100% | SpotOption | First Month Free signals | USD500 |
| | 50% | TechFinancial | First Month Free signals | USD100 |
| | 30% | SpotOption | First Month Free signals | USD250 |
| | 25% | Tech Financial | First Month Free signals | USD250 |
| OptionNet | 50% | Tech Financial | First Month Free signals | USD250 |
| VIPBinary | 100% | SpotOption | First Month Free signals | USD250 |
Pro Binary Options Signals promises its subscribers the following:
1) Trading Signals sent via email or via text messages to your iPhone or any other mobile device.
2) Average 80% accuracy every month.
3) The chance to earn up to 185% every day from multiple daily signals on stocks, currencies, commodities and indices.
4) Tips for proper money management.
New subscribers to the PBOS service are allowed to try out the service for 7 days at just $9.99, after which they will be required to pay $99 a month for the service if they decide to continue.
While we are yet to try out the signals service in order to authenticate the profitability claims of Binary Options Stock Signals, we would like to comment on a few things about the offer.
At $99 a month, the price of signals subscription may look a bit pricey. But when you consider the fact that multiple signals are sent for various asset derivatives, and the fact that Pro Binary Options Signals seems to have a good win percentage, it is expected that the returns on investment should be able to pay off the subscription fees many times over.
Should You Take Up This Offer?
$9.99 is not a lot of money, and for any trader who wants a signal service that can take the stress of trade analysis of their shoulders while at the same time delivering the sort of returns that will make the trading activity worthwhile, it would make sense to take up the 7-day trial offer.
In taking up this offer, there are things to watch out for. In a situation where the trader has to make multiple trades per day, money management can become an issue. Pro Binary Options Signals appears to have recognized this, and that is why tips on money management have been included as part of the deal. Look at these tips, utilize them while applying the trade alerts and see to what extent they are able to match acceptable risk management standards.
In addition, you should also check to see that your network carrier delivers trade alerts to your GSM phone as they occur. This would help you determine what method of delivery of alerts would work best for you.
Another reason why you may consider taking up this offer is the bonus offerings of the brokers to which PBOS is affiliated. This ensures that your own money is not put at risk while you try out the trade alerts from Pro Binary Options Signals.