Binary options signals are alerts that are used to trade binary options contracts, which have been derived after analysis of the underlying asset to be traded. When compared with its forex counterparts, binary signals are still at an early stage. But as the number of traders increases, and newer software applications and tools are developed, we will begin to see increased usage of signals for binary trading in the market.
Recommended Binary Options Signals Providers
Signal Hive gets BinaryOptions.net's vote as the current best binary options signal provider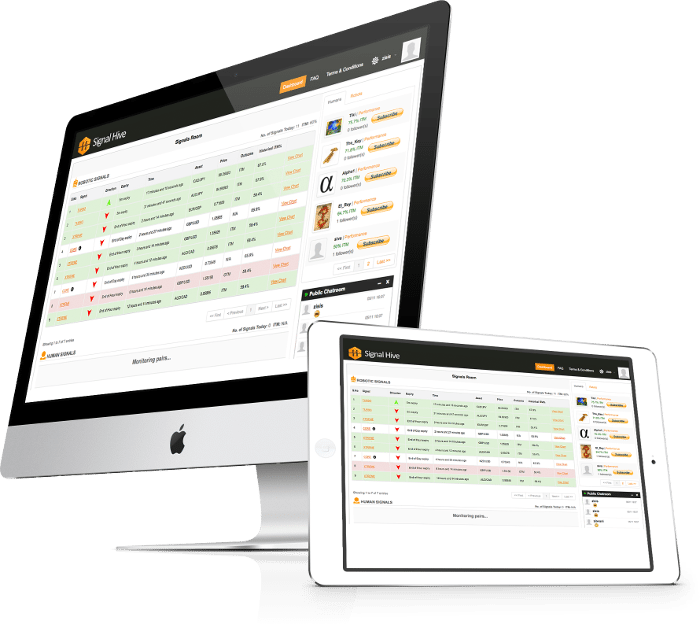 Signal Hive is a first of its kind, high-quality signals market place provides binary option signals delivered both by algorithms (robots) and human traders, both which are heavily vetted over many months. Education can be provided via the more comprehensive Blue Sky Binary service. Signal Hive is all about following the trader and is aimed at traders who just wish to point-click and have a good shot at growing their capital over time. BSB Research & Development (R&D) has worked on ensuring only the highest quality signals (robotic and human) are delivered on Hive, with the aim to keep quality in the 60-70% ITM range on a weekly basis (Regular infographics allow results to be analysed). If any signal or human trader experiences a prolonged period of under 60% ITM, it is deprecated and removed from Hive.
>>>Click here to visit the Signal Hive website now<<<
Signal Hive is a signals market place where you decide which human or robotic traders you follow, in order to receive their trade recommendations. Read Lotz's Signal Hive review here. Having been launched a bit over 3 months ago and having achieved solid performance after 1,700 signals with an ITM% of 64%, the Hive increases your chances of capital growth over time and gives you access to advanced tools such as a Dynamic Asset Risk Engine (DARE) and Analytics which helps you manage your risk.
All Signals Providers
Forex Signals
Forex represents an ideal environment for signals and alert services. With no central market, forex pairs are traded 24 hours a day, for 5 days. 5 and a half to be precise. In addition, the volumes of currency traded are huge. This leads to a huge amount of trading opportunities.
Signal providers for forex are generally more established than binary platforms. Many of the best services have been going for well over a decade. This provides traders with a large amount of data to judge the services results.
This confidence works both ways. So the signal providers also have faith in their product. For traders, this means free trials, or discounted membership for new customers. The signal services know that traders will only be impressed via results – so they encourage traders to give them a go risk free.
Best Forex Signal Provider?
We have seen many signal provider's sales pitches. For us, results are the key. To that end, we suggest Signal Hive deliver the best forex signals, and here is why:
Take a look at these monthly performance figures – since 2004: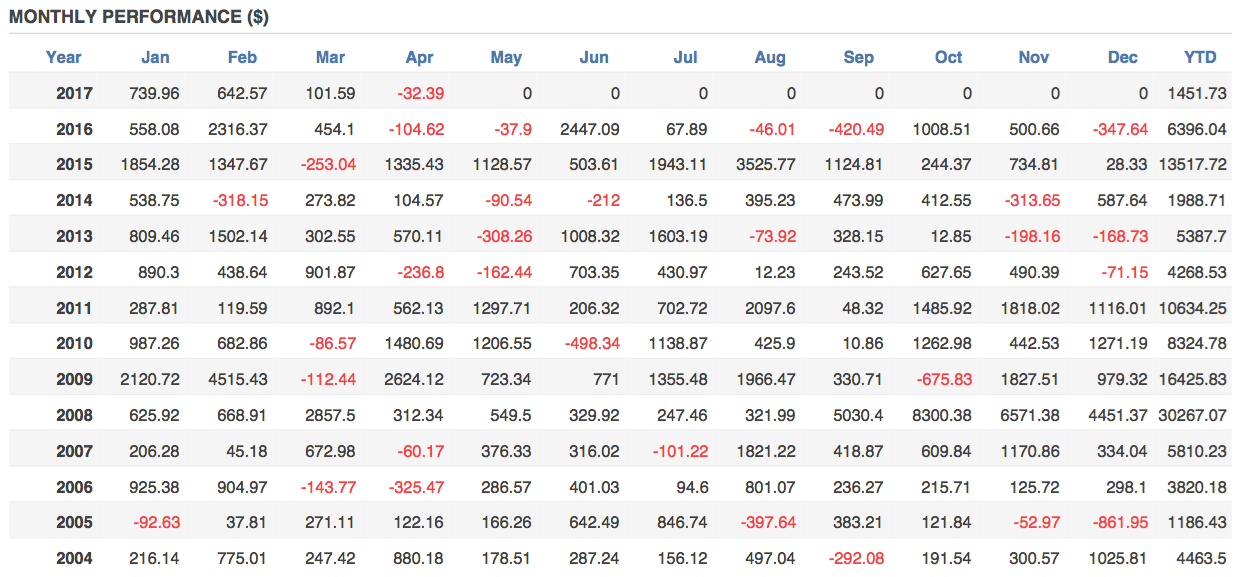 This particular Signal Hive algorithm (Named Master T-2000 v2) has delivered annual profit for nearly 14 years. Every year.
The best thing however, is that you not have to take our word for it. The system is available as part of the free trial the firm operate. So you can receive these signals absolutely free, with zero risk.
The software can also be automated with some of the leading brokers. With MetaTrader 4 integration and real time indicators, the software is very good. After the free trial, the full pro service costs $50 per month. If you are not satisfied after the trial period however, simply walk away.
Drill Into The Signal Details
Beyond the headline numbers, the system proves very consistent. Data can be checked per hour, or per day of the week and over the long, every single period is profitable. So the software and algorithm simply select solid trades.
Signal Hive provide a range of signals though – as the name suggests. In addition to the Master T-2000 v2, there is a system call MELISA (Multi-Entry Logic Investment And Savings Algorithm). This system has also delivered profit every year since 2004 – but performs particularly well during times of turmoil in more traditional markets. Given the markets seem to be lurching to one shock straight to another at present, it offers a natural 'hedge' to market volatility.
All these systems and more are available at Signal Hive, and with a no string trial on offer, there is no harm in giving them a try.
>>>Click here to visit the Signal Hive website now<<<
Charting/Indicators
Signals Providers to Avoid
For a list of signal provider scams, visit our binary options scams page.