Copyop
$100 Minimum Deposit Cost
The CopyOp brand is no longer operating.
One of the latest innovations to emerge this year in the binary options trading industry, Copyop is a full fledged social trading platform for binary options. The platform is operated by an investment company called Ouroboros Derivatives Trading Ltd. Copyop uses the same proprietary technology for its trading platform as the leading binary broker anyoption. This is hardly surprising since Ouroboros Derivatives Trading Ltd also owns the trading brand anyoption.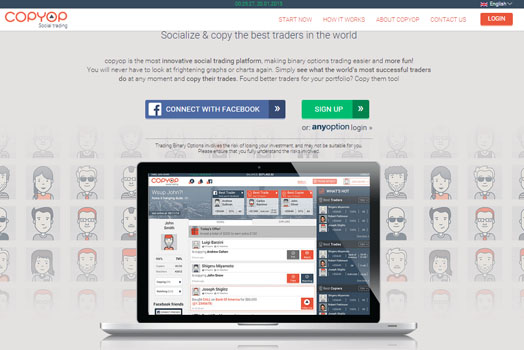 The exciting thing about Copyop is its ability to provide traders with a way of automating the binary trading process that is based on human decisions rather than software algorithms. Essentially, it is a platform which allows you to "copy" the trading decisions of your more successful peers in the binary trading circle (read more about copy trading here).
Uniqueness
Apart from making the binary trading process easier, Copyop also allow its users to earn from their trading success through their "coins to cash" system. The more successful a trader is, the more the trader will be featured in the news feeds. This in turn will allow more traders to see the trader's success and let them copy the trader's success. And through the "coins to cash" system, each time the trader makes a trade; investments will also be made for other traders who are following the "successful" trader. With each investment made, the "successful" trader will receive copyop coins from the system.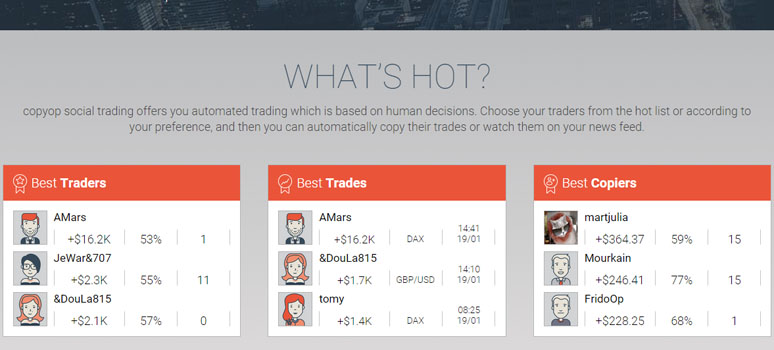 Assets & Payouts
The assets that are available for trading will depends on which time zone one is trading in. For example, if a trader is trading during the Asian trading hours, the assets which are available for trading will reflect those assets from the Asian markets like those listed below:
Currencies

Equities
Indices

AUD/JPY
AUD/USD
EUR/USD
NZD/USD

ANZ Bank
BHP Billiton
CPIC Group
DI Corporation
Hyundai HCN
LG Corp
Samsung Elec
Wooridul Life

Hang Seng
SP/ASX200 Sydney
SSE180 (Shanghai)
As for the returns achievable, this will depend on the risk factor which the trader is willing to undertake. If the trader wants to achieve the highest possible return with the lowest rebate rate, then he can go for the 80% return payout ratio. Should his trade fails, he will only get a rebate of 5% from the amount he invested.
License & Regulation
As Copyop is operating under the umbrella of Ouroboros Derivatives Trading Ltd, this mean Copyop is also licensed to operate like anyoption under the same Cyprus Securities Exchange Commission (CYSEC) license number: 187/12. Hence, traders who have enjoyed the high standard of legal protection while trading with anyoption can also expect the same level of legal protection when they trade on Copyop.
Pros
Innovative Trading Platform
Multiple Languages Support
User Friendly
Variable Risk Levels & Returns
Cons
Assets are limited to Market Trading Hours
No Live Chat Support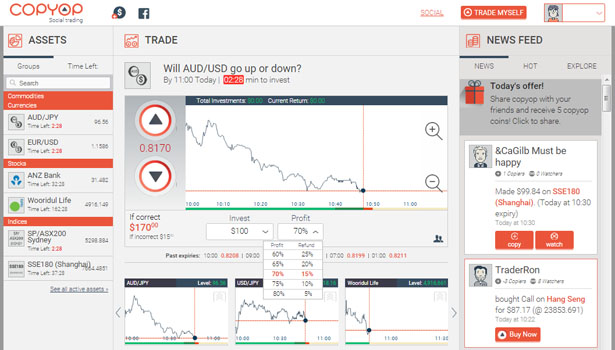 Conclusion
This trading platform is probably one of the best binary trading innovations that have so far emerged to the forefront. Not only is the platform easy to use, it is helps a trader to increase his productivity with less time spent on market analysis. The best part of this platform is that one doesn't have to be an expert to trade like an expert.
Since Copyop is an offshoot of Ouroboros Derivatives Trading Ltd, the parent company of anyoption, there is no worry that Copyop is a scam since they are regulated under CYSEC. To get started on Copyop, just register with Copyop to open a trading account. No deposit is required initially but if you want to start trading straight away, you need to deposit some funds. Copyop doesn't state what their minimum deposit requirement is but it is assumed to be the same as anyoption at $100 since they are just different chips off the same block. Likewise, we can also expect the minimum trade amount to be the same at $25.
Ratings Overview
Customer Service Rating – 10
24/7 Support
Trading platform translated into 5 languages
Asset Choice Rating – 7
Dependent on market trading hours
Deposit Method Rating – 7
Credit Cards
Wire Transfer
Web Wallet
Minimum Deposit Rating – 9
Minimum Trade Rating – 8
Trading Features Rating – 9
Standard Call/Put Binary Options
Copy Trade Function

Payout% Rating – 9
Up to 80%
Variable Risk Levels from 5% to 25%
Bonus Offers Ratings – 5
Ability to earn Copyop coins which is convertible to cash
Site Intangibles Rating – 8
Regulated
Asset filter
Real Time Price Feed from Thomson Reuters