Binary Options Stock Signals
A Review of Binary Options Stock Signals (BOSS)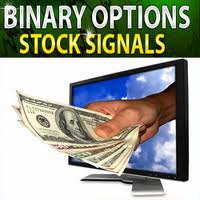 Binary Options Stock Signals (BOSS) is a new signal service that provides trade signals to its subscribers to enable them profit from trading stock binary options.
Stocks constitute one of the asset derivatives traded in the binary options market. Stocks are only traded when the respective exchanges on which they are listed are open for business. Binary Options Stocks Signals' unique selling proposition is that traders are able to make up to 75% of invested capital within an hour of trading, and that this can be achieved without the use of complicated algorithms or complicated software.
>>>Sign up to Binary Options Stock Signals Now<<<
Binary Options Stock Signals requires that subscribers open trading accounts with their "approved brokers" to receive and implement the trading signals. Obviously these "approved brokers" refer to binary options brokers with whom BOSS maintains an affiliate relationship.
Video Review of BOSS
>>>Sign up to Binary Options Stock Signals Now<<<
Binary Options Stock Signals promises its subscribers the following:
1) B.O.S.S. signals for 7 Stocks delivered via email to subscribers daily. There is also a bonus of 3 extra stock signals for subscribers who take immediate action.
2) Access to a Member's Area with valuable tips and info.
3) List of our recommended brokers for best executions and payoffs.
4) Lifetime updates to service.
5) Subscription rate locked for life; meaning that subscribers never have to pay any increased rates.
One good thing about the BOSS signals service is that new subscribers are allowed to try out the service for 7 days at just $7, after which subscribers will be required to pay $97 a month for the service if they decide to continue.
While we are yet to try out the signals service in order to authenticate the profitability claims of Binary Options Stock Signals, we would like to comment on a few things about the offer.
1)      Profitability is not just a function of the signals themselves. While the signals may actually be accurate, there are many traders who have difficulties interpreting and applying trade signals. It would be good for the providers of Binary Options Stock Signals to provide traders with some form of instruction on how signals can be utilized. The company has a few videos of how to use their signals on YouTube, so this may help in this regard.
2)      Presently, Binary Options Stock Signals services and trade alerts are accessible by email and in the members' area. We would advise traders to ensure that they add this company's email to their safe sender's list or to their address book so that all email trade alerts are received into the inbox of subscribers and not filtered out as spam. Many traders neglect to do this and it takes a while to discover that trade alerts have actually been sent but have all been pushed off as spam. Binary Options Stock Signals should inform traders accordingly so that misunderstandings are avoided. In addition, the company should also explore other options of sending trade signals such as the use of SMS to avoid delays in signal delivery. This may pose a challenge as the telecoms infrastructure in some countries are not as advanced in others. Thanks to the development of smartphones, there may be a case for the use of push notifications.
3)      The trial period is a great innovation which will allow traders to sample what they are about to pay for.
4)      At $97 a month, the price of signals subscription may look a bit pricey. Also, many people tend to get scared by the recurrent billing system. It may be better to introduce more flexible payment options. Naturally, traders who make money from the signals will stay in the system. Sheep will always stay where the grass is green.