OptionBit are in the process of closing. For a list of alternative brokers, and full comparison reviews, visit our brokers page.
Alternatively, these are our Top 3 brokers based on Ratings:
A leading premier Binary options platform, OptionBit have undergone a revamp to provide even better quality services for their traders. Aside from being one of the few binary brokers around to offer digital, touch and range options, they are also one of the first brokers in the industry to incorporate money management features and analytical tools into their trading platform in a holistic manner. Being in the industry since 2010, OptionBit has already established themselves as a reputable and reliable binary broker. In this review, we will look at some of the changes adopted during the recent revamp of the trading platform.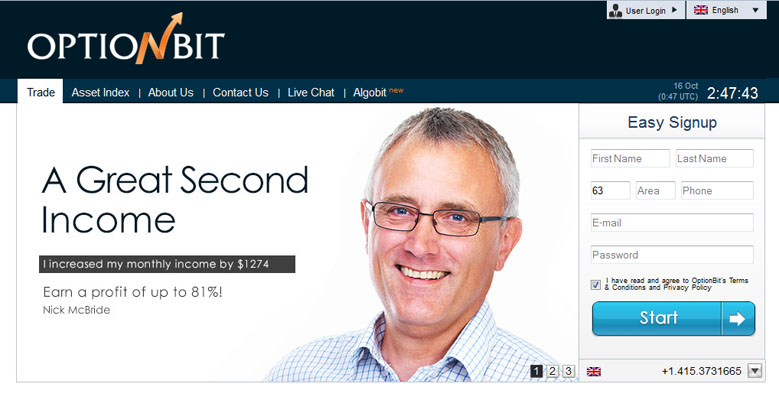 Trading Platform
Unlike most binary brokers who prefer to go with the flow by adopting SpotOption's trading engine as the mainstay of their trading platforms, OptionBit uses TradoLogic's trading engine as the basis of their trading platform. This is why traders will notice some major differences with OptionBit's trading platform when compared to others in the binary industry. The first thing that is noticeable is the difference in layout of the trading platform. The other thing that is different about OptionBit's trading platform is the additional functionalities like the trading management system incorporated into the trading platform.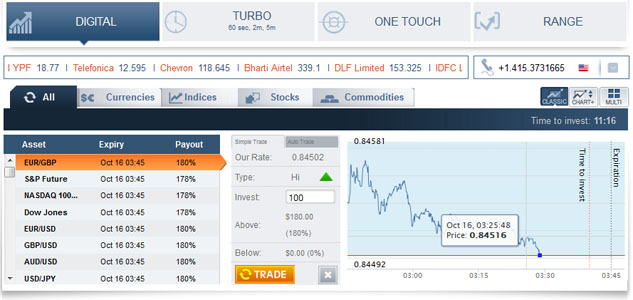 Unique Features of the Trading Platform
As mentioned earlier, OptionBit's trading platform is different from most other platforms. For starters, it is possible for traders to close a trade before its expiry with the trading platform.  In addition, traders also have the opportunity to extend their trade to the next expiry cycle with the "Extend Now" feature.
There is also the "Autotrade" feature which allows traders to trade based on a long term basis. For example, a winning trade can be automatically reopened in the same direction with the entire amount to compound the trader's winnings.
However, the most noticeable difference is perhaps the Algobit system incorporated with OptionBit's trading platform. The system automatically scans the markets and helps to alert traders of any new trends that are forming in the market. This means traders will never have to miss any trading opportunities anymore.
Mobile Trading
Apart from providing their traders with advanced trading tools, OptionBit also made it a point to support their traders with mobile trading ability. This mean OptionBit's clients can trade from practically anyway in the world. All they have to do is to download the trading App on to their mobile devices and they are set to go.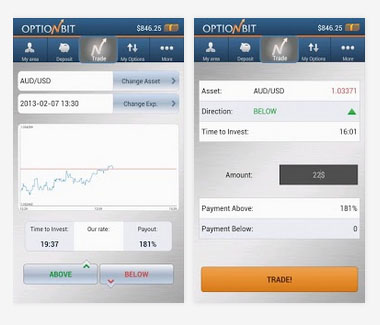 Types of Trading Contracts
OptionBit currently offers their clients 5 main types of trading contracts. These include:
60 Seconds Options
Digital Options
One touch Options
Range Options
Touch Options


Payout Ratios
With OptionBit, the return on investment varies according to type of options traded. On average, returns range from 65% to 81%.
Asset Index
Since their inception, OptionBit have expanded their asset list tremendously. Now traders have a choice of more than 65 underlying assets to trade with.
STOCKS

FOREX

INDICES

COMMODITIES

ALLIANZAMAZONAPPLE

BAIDU

BAYER

BMW

BOEING

BP

CHEVRON

CITIGROUP

COCACOLA

DANONE

DEUTSCHE TELEKOM

DISNEY

EBAY

EXXON MOBILE

FACEBOOK

FRANCE TELECOM

GAZPROM

GENERAL ELECTRIC

GOOGLE

HONDA

HSBC

INTEL

KONAMI

MCDONALDS

MICROSOFT

MITSUBISHI

MORGAN STANLEY

NIKE

RENAULT

REPSOL

SIEMENS

SONY

TELEFONICA

TOTAL

TOYOTA

VIVENDI

VODAFONE

AUD/USDEUR/GBPEUR/JPY

EUR/USD

GBP/JPY

GBP/USD

NZD/USD

USD/CAD

USD/CHF

USD/JPY

USD/NOK

USD/RUB

USD/SEK

AEX-25BEL-20BOVESPA

CAC FUTURE

DAX FUTURE

FTSE 100 FUTURE

IBEX

NASDAQ

NASDAQ FUTURE

NIKKEI 225

S&P FUTURE

SPI 200 FUTURE

TOPIX 500

COPPERCRUDEGOLD

SILVER
Customer Support
Accessing the support services at OptionBit is hassle free as traders can reach them easily through:
Email
Live Chat
Phone
Web Contact Form
To make their clients' lives easier, OptionBit's website is available in several major languages like:
Arabic
French
German
Italian
Japanese
Portuguese
Russian
Spanish
Swedish
Reliability
To ensure the safety of their clients' funds, OptionBit employ 128bit SSL encryption technology to safeguard all their internet transactions. To prevent running afoul of anti money laundering measures, all fund transfers are done through internationally recognized methods like credit cards, wire transfer and MoneyBookers.
Pros
Advanced Trading Tools
Incorporated With Algobit Trading Management System
Intuitive Trading Platform
Support Mobile Trading
Welcome Bonuses Up To 50%
Cons
Only the first withdrawal is free. Subsequent withdrawals incur a charge of $30.
Conclusion
The recent makeover at OptionBit is like a breath of fresh air. But what is truly impressive is the fact that they have gone through all the trouble to incorporate the Algobit Trading Management System with their trading platform. In other words, they have taken something good and made it even better.
Go to OptionBit