November Binary Options Brokers Payment Processing Report
November 24, 2012
When first choosing a broker to trade with, the very first quality on your checklist should be the ease with which you're able to deposit and withdrawal your funds in timely fashion. I've personally traded with two offshore brokers, Markets World and 24option, and I have always had very good experiences depositing and withdrawing funds with both.
MarketsWorld
Markets World is regulated in the Isle of Man and is mandated to keep all deposited funds on reserve. Therefore, in theory, if all their customers were to withdraw their funds simultaneously, Markets World would be fully able to pay each and every account. When I traded with Markets World, I used credit and debit cards. Depositing is a breeze, as it is for essentially every binary broker. You're prompted to a page where you fill out your address (which should match the one on your credit card statement for the transaction to go through successfully), your credit card details (card number, expiration, and three-digit CVV), and what monetary amount you would like to deposit. Bank wire deposits are also available although I have no experience doing them on Markets World. With credit/debit cards, you can withdraw as frequently as you like with no charge; however, with bank wires, you will be granted merely one free withdraw each month and $50 for each subsequent withdraw. Minimum deposit on is currently just $20/€20/£20.


The withdrawal process on Markets World is seamless and I've heard the same from virtually every Markets World user. I always received my funds back to my credit/debit card in 1-2 days, although based on others' reports, 3 days seems to be more typical.
When I first began using Markets World, my profits were small enough that crediting those funds back to a credit card was sufficient. However, in cases where you're making larger sums of money, you run the risk of having too large of a positive balance built up on the card (where the creditor actually owes you money). While this may seem to be a good thing, I would actually discourage doing so. A small positive balance on a credit card can be okay, particularly if you'd like to make a purchase on the card that is normally too large for the normal credit limit. However, due to money laundering laws in the U.S., if a positive balance is too large, the funds on the account will be frozen and reported to federal investigators. There is not a definitive level at which this might happen and is up to the discretion of the credit card company. This is due to the fact that some individuals use credit cards to hide sources of income or simply stow their funds on credit cards to avoid setting up a normal bank account and therefore exempt those funds from normal taxation. For that reason, debit cards (cards whose utility is tied to the funds from your checking account) may be the way to go, especially if you plan to be making larger sums of money. With debit cards, instead of potentially building up a positive balance with a creditor, you're simply increasing the funds in your checking account.
The credit/debit card deposit process on 24option is essentially the same on as on Markets World and is easily the fastest, easiest, and most popular way to deposit and withdraw funds. The timeline for card withdrawal appears to vary wildly with 24option. I regularly got my funds back on my card in 1-2 days, which is extremely quick. However, I've heard that others do not get their funds back from anywhere from 3 days to several weeks. I'm not precisely sure why I happened to always receive such good treatment and why others have to regularly wait such long periods of time, but the withdrawal process on 24option does seem to be very individualized. Minimum deposit for credit/debit card is currently $250/€250/£250.
24Option
On 24option, there are also alternative ways to deposit and withdraw. One is by bank wire. For bank wire, you need to contact your account manager by phone or through email and send the appropriate bank details. In order to send a bank wire, it usually follows the standard process of logging into your checking account online, going into the "Transfers" tab, and executing the transfer from there. In order to withdraw by bank wire, all I had to do was give my checking account number and bank routing number to my account manager. I regularly receive my bank wires back promptly. When I request a withdrawal, it's usually approved within 24 hours, is posted back to my bank as a pending transaction the next day, and clears within 2-3 days. Minimum deposit on bank wires for 24option is $1,000/€1,000/£1,000.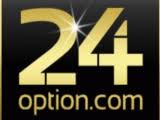 On 24option, traders also have the additional two options of Skrill/Moneybookers and Liberty Reserve, although I've never used either for 24option. Both are similar to how the PayPal service works, by logging into your MB or LR account and transferring funds through their respective websites. Minimum deposit for each service is $250/€250/£250.
Also, most importantly, before you're able to withdraw funds you will need to submit some documentation to each broker via email in order to confirm your identity. This includes a valid picture ID (driver's license – front and back) and a utility bill that confirms your home address (phone bill, electric bill, or in some cases, a credit card bill). Moreover, if you choose to deposit and withdrawal by credit card, then you will also need to scan your credit card – front and back – while blacking out the last four digits of the credit card number for 24option and the first four and last four for Markets World. Black out the digits for both the the front and back images on the card to protect yourself from having your card information stolen.
If you're simply withdrawing smaller amounts, Markets World doesn't require any documents to validate the account, although I'm not sure at what point validation is necessary. However, what I like to do before trading with any broker is to send in all my documentation before trading in order to ensure that the account is ready for withdrawal ahead of time.
Conclusion
Which of the two would I recommend for purposes of ease of withdrawal? I've had relatively equivalent experiences with both. However, given the wide variation in individual treatment at 24option and the strong level of withdrawal consistency at Markets World, I would have to go with the latter.
I hope this post is useful to those of you who are new to the entire process of depositing and withdrawing from brokers. I can only vouch for the two brokers I've actually used, but be sure to ask around if you are interested in trading with brokers that I haven't mentioned.
Please feel free to leave any questions or comments below.