Marketsworld
$20 Min Deposit
90% Payout
Traders from United States welcome
Visit Broker
MarketsWorld have ceased trading. The firm is no longer accepting new accounts for any form of trading, including CFD and Forex.
Popular Alternative Brokers To MarketsWorld
MarketsWorld Review
MarketsWorld is an established broker in the Binary Options arena having launched in 2011.  The company is licensed and regulated in Great Britain by the Isle of Mann GSC and offers opportunities to trade a variety of assets. The firm prides itself on the high payouts (of up to 90%), low entry points ($1/£1/€1) and low initial deposit ($20/£20/€20 minimum deposit), fast withdrawal service as well as exceptional 24/6 customer support.
The fact that MarketsWorld is licensed and regulated as a Binary Options broker in the Isle of Man offers traders guarantees that funds deposited are safe and secure. Please note if you are from the USA that this broker is not regulated within the United States and US citizens should take their own legal advice prior to sign up – the brand themselves however, see no legal reason why they should not accept US residents as traders.
The company recently underwent a massive platform upgrade and website overhaul. For the website, they have removed all the flashy casino style ads hyping fast trading and fast money. For the platform they have improved the interface, increased the assets, extended the expiry and brought the charts up to industry standards.
MarketsWorld hav ceased trading. Return to the broker comparison table to search for an alternative broker.
Bonuses and Promotions
Since inception the company has introduced a number of promotions and bonuses which are constantly evolving.  Not only are Markets World currently offering the highest returns in the market at 90%, but there are also other bonuses that traders can take advantage of such as:
$10 Free Trade
100% Cash Match
$300 Refer a Friend bonus
Plus unlimited use of the excellent free demo which hones trading skills and enables you try before you buy.
Account Information
There are very few barriers to entry to MarketsWorld.  Minimum deposits are $20 with minimum trades starting at $1/1 up to a maximum of $1,000, MarketsWorld caters for all traders, from novices through to experts.  The platform caters for all standard currencies and can be operated in EUR/GBP/USD.  Account opening is immediate with a simple sign in process and live chat is available if you have any issues, so all angles are covered to ensure you get the most from your trading.
Trading Requirements
MarketsWorld provides an intuitive and user-friendly trading platform which enables traders to concentrate on strategy and entry points.
With minimum deposits of $20 / £20 / €2 and minimum trades of just $1 / £1 / €1 to a maximum of $1,000 / £1,000 / €1,000, Markets World caters for all types of binary trader.
Traders can fund their accounts and make withdrawals using all bank debit cards, Visa and Mastercards, including Visa Electron, Visa Debit, Visa Purchase, Mastercard Debit, Maestro, Switch and Solo cards.
Platform
Markets World offers traders all the main trading assets which include major currencies, indexes and commodities; what sets the platform apart is the ease of use and the fact that you can earn up to 95% profit per trade and the fact that the company is regulated in the British Isles which does provide peace of mind.  The Markets World platform also offers traders the chance to hone their skills by using the real time free demo account and couple this with the excellent bonuses, you can understand why MarketsWorld is proving so popular.
The platform upgrade is really nice, a huge improvement over the original. While still in need of cosmetic enhancement the functionality is superb. Assets are easy to find and navigate and each comes with improved charting as well. The charts are limited to 1 minute candles and have no drawing tools as yet but are real-time and very handy for short term trading.


Customer Service
Markets World has a dedicated customer service team who are available 24/6 by telephone, email, skype and live chat.  Due to the fast nature of the industry, the team are keen to hear from their customers so that they can improve the trading experience and evolve the environment to suit their clients.
Demo Account
The firm offer a demo account, which requires no deposit to open and login. The demo account provides the same access to the underlying assets, at the same prices. This gives traders the opportunity to try the platform without the need to risk any money, or make the minimum deposit.
The account is unlimited, so there are no time limits. Likewise, funds can be reset if the demo balance is wiped out. In is always reassuring to see a broker offer access to an unlimited demo – it shows the firm have confidence in their trading platform, and are happy for new customers to try it – as they have faith in their product that users will eventually be pleased with what they see and open a real account.
If a trader does open a real money account by upgrading the demo account – the original account becomes void. However, a user can simply open a second demo account if they want to try different strategies without risking real money. It is certainly one of the better sets of demo terms for any broker.
Trading App
The brand offer a high quality mobile trading app. The app has been designed for both android and iOS (iPhone and iPad). It delivers a similar trading experience to the full platform, and execution of trades is equally fast. Support is offered 24/7 on the application and the download is compact, needing just 24MB.
The app is a solid addition to the trading experience and traders who like to ensure they can trade while away from home will be kept happy. The same demo account can be operated from both the mobile app or a desktop, so traders can trial both without paying the minimum deposit.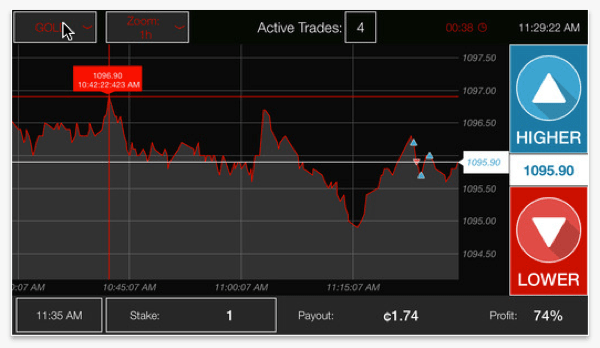 Is Marketsworld a Scam?
Marketsworld is one of the popular brokerages that have been launched in 2011. The firm is located in Great Britain and is regulated by the local financial authorities on the Isle of Man. The greatest attraction of this platform is its high payout amounting to 95% on your investments. It has a very wide asset spread consisting of currencies, stocks, indices, and also commodities. They include an excellent customer support that offers help on all issues to traders, along with an easy withdrawal service. In addition to this, Marketsworld also provides several payment gateways to provide maximum convenience and security to all your transactions.
Final Word
Whilst Markets World may not have a  huge repertoire of trading tools the company has big plans for the future with new developments due to come on stream.  As it stands the platform provides an exemplary service with fast execution of trades and accurate quotes.  The customer care team were fast to react to any queries and the withdrawal process was quick and easy.
In summary, MarketsWorld provides a  safe, reliable and regulated binary options platform for both novice and experienced traders.  The potential 95% returns, easy deposit/withdrawal process and customer service puts them as a must visit for all binary option traders.
Go to Marketsworld