Moneybookers Binary Options Brokers
How to Use Moneybookers to Fund your Binary Options Trading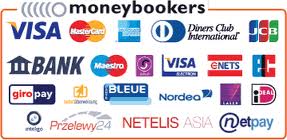 Moneybookers (currently being rebranded as Skrill) offers e-wallet funding and withdrawal options for binary options traders. Binary options brokers have realised the need to provide as many funding and withdrawal options as possible, so as to allow a greater number of traders participate in binary options trading. It is a symbiosis as binary options brokers make more money when there are more traders actively using their platforms, and traders are much happier when they are able to fund and withdraw from their accounts in record time. Every trader always looks towards the payment notifications that come in via email or SMS alerts, and fast transactions with e-wallets such as Moneybookers make this a reality.
It is not always about speed. Sometimes it is more about convenience and options available. Online payment processors such as Paypal apply very stringent regimes on accounts domiciled with them. Some countries are permanently blocked from using Paypal, while others have all manner of limitations such as limits on the amount of money that can be transferred when funding a binary options trading account, or on the amount of money that can be withdrawn. Any acts of ignorance on a trader's part when using Paypal for funding or withdrawal, especially if such a trader is not resident in the US or in Western Europe, can easily lead to the account being frozen and the funds seized. For traders who want to avoid such situations and still enjoy the benefits of speedy funding and withdrawals, Moneybookers provides a viable alternative.
In using Moneybookers, a binary options trader can employ the following transaction methods:
a)     Skrill Digital Wallet, which is the conventional e-wallet service offered by Moneybookers. Using the e-wallet, a trader can transfer funds from his trading account directly to his e-wallet or from his e-wallet to his binary options trading account.
b)     Credit/debit card: If the trader decides to use the card option, he can use a credit/debit card accepted on the Moneybookers platform.
c)     Moneybookers Prepaid MasterCard. This prepaid card issued by MasterCard specifically for owners of Moneybookers accounts, also has the advantage of functioning as a debit card on which funds in the Moneybookers account can be withdrawn from an ATM.
Just as is obtainable on Moneybookers-accepted forex accounts, Moneybooker-accepted binary options accounts allow traders to fund/withdraw from their trading accounts in two ways:
1)     Integration of the Moneybookers system into the broker's website, permitting funding and withdrawal by entering the required Moneybookers details while still on the broker's site.
2)     Redirection to the Moneybookers website from a clickable link/Skrill logo on the broker's website.
Which Binary Options Brokers Accept Moneybookers?
Here are a few Moneybookers-compliant binary option brokers.
Betonmarkets
Betonmarkets is fully Moneybookers-compliant. Depositing trading capital into your Betonmarkets binary options account with Moneybookers is done instantly. No delays whatsoever. Withdrawals are accomplished in a single working day. Traders can move between $100 and $20,000 using Moneybookers on Betonmarkets. There are no charges whatsoever for using this service.
Optionfair
Optionfair is based in Cyprus, and in addition to having one of the most robust and advanced binary options trading platforms around, also has plenty of flexibility as far as deposits and withdrawals are concerned. Optionfair has at least 10 different methods by which traders can fund their accounts and make withdrawals. Of course, Moneybookers is served on this plate and traders will find Optionfair to be a good place to fund and withdraw from accounts instantly.
Banc de Binary
Traders can deposit funds to their binary options trading account on Banc de Binary using the Moneybookers e-wallet or by using a Third Party credit card. Withdrawals follow the same route. There are two categories of Moneybookers usage by traders. Regular Moneybookers accounts with Banc de Binary carry limitations on transactions. Traders cannot deposit or withdraw more than $1000 at a time. VIP accounts do not have limitations to the amount of money transferred to and from the trading account. A case of all fingers not being equal you might say.
24Option
24Option is another binary options broker that is starting to make a strong statement in the binary options arena. The company is backing up its aggressive marketing with features to enhance the binary trading experience of its clients. One of these features is the addition of Moneybookers to the list of payment options for deposits and withdrawals. This is accomplished in a few easy steps on their website.
There are other brokers who also offer Moneybookers deposit/withdrawal options, but these four brokers mentioned here are good places to start business.