How the news can destroy Technical Analysis
Good Day everyone,
In this article I will share with you my trades and I am going to discuss the impact of the news to the price. First of all, take a look in my results.


As you can see I had one ITM trade and one OTM trade. The OTM trade is because of the news the time I took my second trade. Some traders, trade the news but I will discuss this tactic in a next article. In this article I am going to explain you how the news can make Technical Analysis useless if you will trade the time that we have news announcements. Let's go to see the first screen shot of the day.
It's from EURUSD currency pair.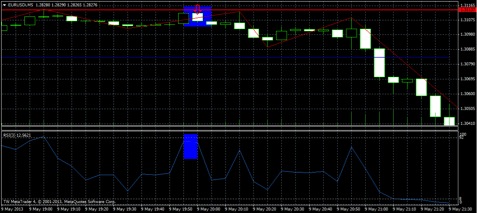 As you can see the time I took the trade the market was ranging above the daily pivot (the blue horizontal line). The red horizontal line is our resistance. When the price hit the resistance and it was trying to retest it our 3 period RSI was overbought near to the 92 level. I took a put and it was a solid ITM trade. After that, the price is moving down, makes lower- highs and we have a new down trend. Notice that I am working in 5min charts in these trades.
Now, let's see the second screen shot from my second trade. It's from USDJPY currency pair.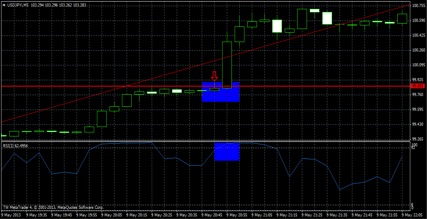 In the beginning of the chart the price is moving slowly without important volume. Then, we have a move up and the price makes pull backs about 30 minutes in the red horizontal line which is our resistance. Our RSI made a move down after the overbought zone and after some minutes is again in the overbought zone. I took my trade in the put arrow, I took a put. The reasons were the overbought condition, the price hit the resistance and there wasn't enough movement in the market. I took my trades in the close of New York Session. And then, it happened. A big bullish breakout and my trade was OTM. Within the 5 minutes (my expiration) I was looking for a small pull back to cut the loose but it never came. So, the question is why we have this breakout. The answer is NEWS. Some minutes ago,  there was news for the 30-year-Japanese Bond and this news had of course impact to the JPY currency.
So, if you are a technical analyst doesn't mean that you can ignore the news. Most of the time news is unpredictable and you should follow a different strategy from technical analysis strats to trade them. A news calendar indicator is "a must" to your platform because you should know if there is some  news, every time.
Kind Regards,
Kostasze