Find the Best Online Forex Brokers in 2014
In the 2010's, online financial transactions have evolved to the point where Forex trading is feasible for the common man (and woman). Forex stands for "foreign exchange" and refers to an international investment market. Forex sites involve the buying and selling of stocks, commodities, futures, and indices options. Forex trading is fast, accessible from home, available to anyone with any amount of money, simple to buy and sell, customized by brokerages for traders with all sorts of goals, and can be highly profitable. Like binary options trading, the forex market is also recommended for beginner traders, because the quick turnaround and frequent changes in the market allow one to learn quickly.
NB – for those newbies out there: forex trading is different to trading forex binary options. Read Lotz of Botz's opinions on both here.
Most reputable Forex Brokers:
Below, we've listed a number of the best Internet Forex brokers for traders in 2014. Some of these sites cater to American traders, while others bar day traders from the United States. A few of the websites we list cater to high-dollar or high-roller traders, while some of the others lets you start trading real indices for as little as five dollars. All brokers we've included because they are trusted and legit. When you've read through this list, most new Forex traders should find a brokerage site which fits their financial outlook and their technical needs. Good luck in mastering this exciting way to grow your finances.
Etoro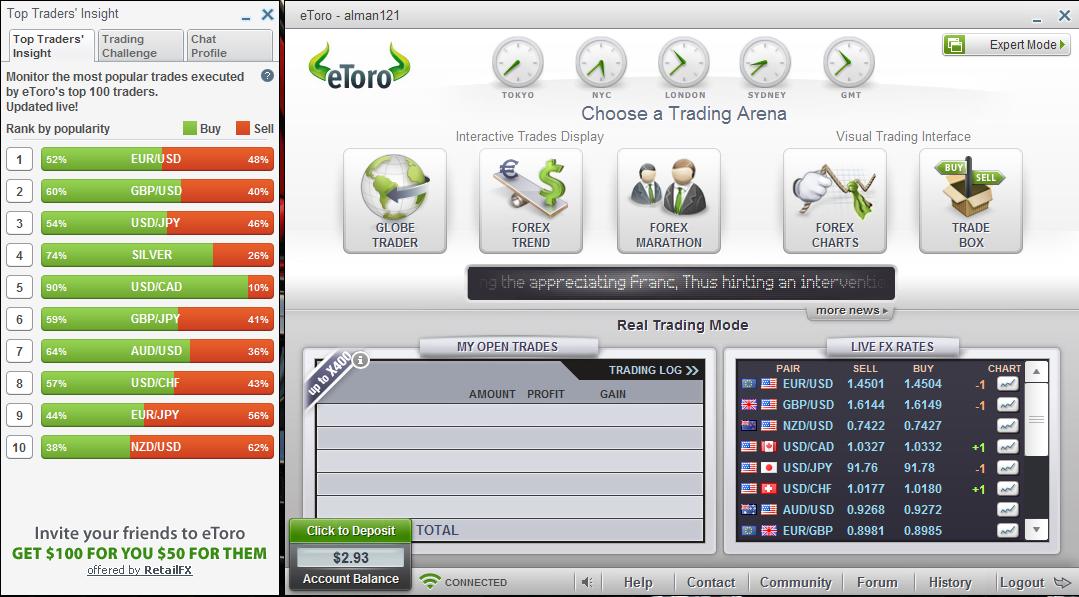 Calling itself "the innovative trading experience," Etoro has offices in the Virgin Islands, Cyprus, and the United States. Americans are welcome to open trading accounts, and they accept four currencies for trades: the Australian dollar, the Euro, Pounds Sterling, and the US dollar. Etoro's website is available in seventeen languages, including English, Japanese, Arabic, and a few more obscure languages from all over the world. Live chat support twenty-four hours a day makes contacting customer service really easy. Each month, all accounts are eligible for a 15% reward on all deposits up to $2,000. Users mention slow times for opening accounts and processing some deposits, thanks to a difference between the site's posted time zone and the actual time zone deposits were processed in. On the bright side, account holders at Etoro speak highly of the speed of withdrawals, most of which are processed within three business days.
NetoTrade
Neto Trade is a London-based broker that offers access to lots of different markets including online Forex trading. In fact, Neto Trade offers 49 different Forex pairs, a huge collection of educational material, and is aimed at people who may not have experience in trading. Neto Trade offers different levels of trading accounts, including a demo account that let you use play-money and trade on all their markets, testing strategies or just getting your feet wet. From the smallest account (the Mini, which you can open with as little as $100) to the  Platinum Account (available to for people who deposit $10,000 or more), there is a trading level no matter the size of your first investment.
Neto Trade runs on industry standard MetaTrader 4 software that anyone who has traded online before will be familiar with, a set of software that isn't easy to learn from your first experience with it. The site's automatic trading feature and other customizable options make Neto Trade one of the most flexible Forex trading platforms out of all online Forex trading platforms. The ability to access your account from anywhere online, without a software download, makes NetoTrade perfect for business travelers and all types of people interested in on-the-go online Forex trading.
SunbirdFX
SunbirdFX gives traders access to a very wide range of Forex and CFD markets, running on the MetaTrader platform, providing traders with dozens of currency pairs and a variety of potential order options. Unfortunately, SunbirdFX is not currently open to American trade accounts. When it comes to opening a new account, the site accepts payments via credit card, wire or bank transfer, and services like Moneybookers, CashU, Liberty Reserve, WebMoney and Yandex.Money. To open an account, you have to deposit at least $100, and customer options and personal service increase the more you deposit. Different account types offer different rewards, everything from deposit bonuses to VIP customer service treatment and personal trade assistance. The type of account, and thus the rewards you earn, depend on the size of your first deposit.
YouTradeFX
YoutradeFX, a Forex brokerage service regulated by the Financial Services Authority (FSA) of the United Kingdom, among other financial trading regulation services around the world. YouTrade has an international flavor – the platform's website and other serices are available in 12 languages, including English, Spanish, Turkish, French, Russian, Vietnamese, Italian, Portuguese, Arabic, German, Japanese and Dutch. If you're looking for a platform with lots of customer support options, consider YouTrade. They're available twenty-four hours a day every day via email, phone, and live chat. Like many other of the top Forex trading platoforms on this list, you can trade using the ubiquitous MT4 platform, or you can choose a totally Web-based interface for trade on-the-go. If you're new to Forex trading, YouTrade's risk-free account can help you learn basic trading skills without risking any real money.
Adding and removing funds from YoutradeFX account isn't as easy as at other traders that made the cut – you can deposit and withdraw via credit card, Skrill account, and a handful of other third-party transfer systems. YouTrade promises "same day processing" on certain types of withdrawals though this process comes with plenty of terms and conditions. Looking for variety? YouTrade offers more than four dozen financial instruments, allowing for lots of account flexibility.
ForexYard
Offering seventy different currency pairs, account services and website support in more than a dozen languages, and mobile trading options compatible with 50 of the most popular smart phones and tablets, ForexYard is among the most user-friendly Forex trading services online. As with most of the Internet's best trading platforms, ForexYard's customer service team can be contacted 24-7 via live chat, email, and toll-free phone numbers for eleven different countries. The two account types at Forex are mini-accounts (any deposit smaller than $1,000) and standard accounts (built on deposits of over $1,000), each of which have their own specific features. For example, mini-account withdrawals and deposits incur fees; standard account withdrawals and deposits are advertised as being totally fee-free. The service earned regulation in 2011 and remains one of our favorite ways to trade Forex on the Internet because of how adaptable all of its services are.