Cryptocurrency Market Ripping To New Highs
---
Bitcoin $10,000 Is At Hand
With evidence popping up around the market it is easy to say the recent correction in cryptocurrency is over. The China Correction, which only happened 2 months ago, looked like it would depress digital currencies for some time but now is only a minor blip on the radar. Bitcoin has been leading the market and now trading at all time highs. Ethereum, Litecoin and others have been lagging this recovery and only now begun to match moves made by elder brother BTC. If past history proves an indicator of future performance we can expected to see both ETH and LTC continue to move higher into the near term.
Why? Because in the past these currency have traded in tandem; when one moves up the others are soon to follow. Bitcoin is typically market leader as it is the number one accepted token worldwide; traders can access it easily and then use it to purchase other tokens if they chose. Ethereum and Litecoin are similarly easy to access and also used to purchase other tokens not typically available at the exchanges. This layering of the market results in waves of action that we as traders can follow. Bitcoin is the first wave, followed by LTC and ETH and then in turn by tokens such as Omisego and Basic Attention Token.
Is Bitcoin Going To $10,000
With current action it looks like BTC is heading straight for $10,000. The coin is moving up from the $8,000 level which is now new support with a target of at least $10,000. This is derived from the magnitude of the post-China Correction recovery and surge to new highs. This surge is driven by expectation of a Bitcoin future to be listed on the CME which has the mainstream trading community taking notice. The coin is currently forming a flagpole/flag break-out with a magnitude of $2,250. Now that it is breaking out of the flag we can expect a total move near or equal to $2,650 or $10,250. Bitcoin has gained 183% since hitting the post-China bottom and is projected to move nearly 280% by my calculations.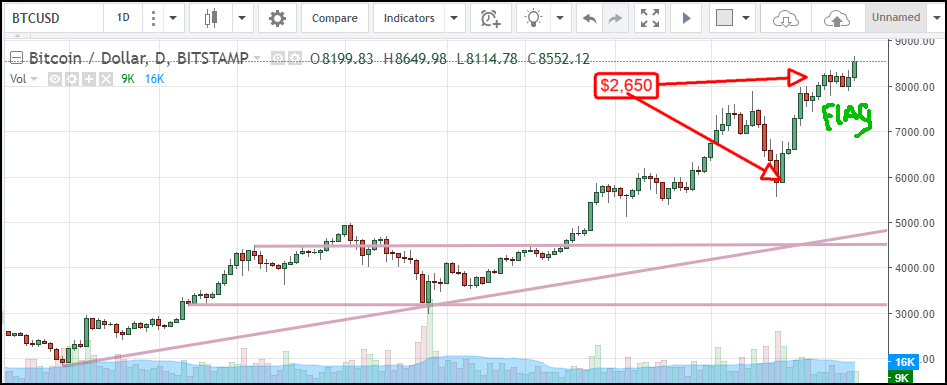 In this same time Ethereum has been trending sideways and well below the top seen just before the China Correction. It has recently moved up to test that top and broken out to new highs. It is now trading near $480 and showing gains of only 140% since the bottom which leaves another 40% to go, if it tracks along with BTC. Looking at the charts that is very possible. The coin is moving up with strong white candles and high volume, posting new all time highs, and likely to attract new money now that sentiment has shifted to the upside. Assuming $480 is where a flag pattern may form and projecting this forward we get a target near $655 or 235% since hitting the September bottom.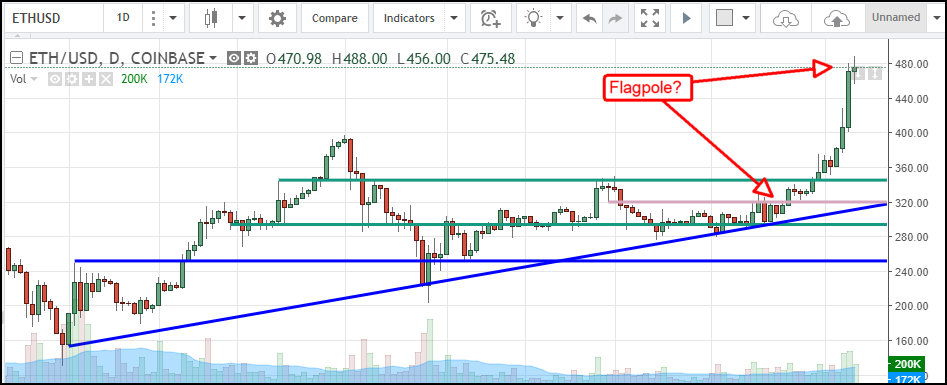 Litecoin is lagging further still with the added benefit of lower cost. The coin is still trading below its all time highs near $100 but looking more and more like those highs will be tested in the least. If we can assume similar moves as seen in BTC and ETH this means a break to new highs and gains in excess of 200% of current prices ($85 as I am writing this). A look to the charts concurs although there is much speculation involved. The next likely place for resistance is in the $90 to $100 range. Assuming this is the point of consolidation before breaking out the flag pole would be $40 putting upper target at $130 to $140 in the near to short term.