Finopex is a relatively new entrant to the binary options market. They have established an impressive platform offering diversity and usability, a platform that is driven by a strong vision and passion to deliver the best binary options broker services in the industry.  The technology is advanced, the people are experienced and the trading experience is perfectly geared for a seamless trading experience.
Sign up to Finopex Now and Receive a Special Bonus Of Up To 75%!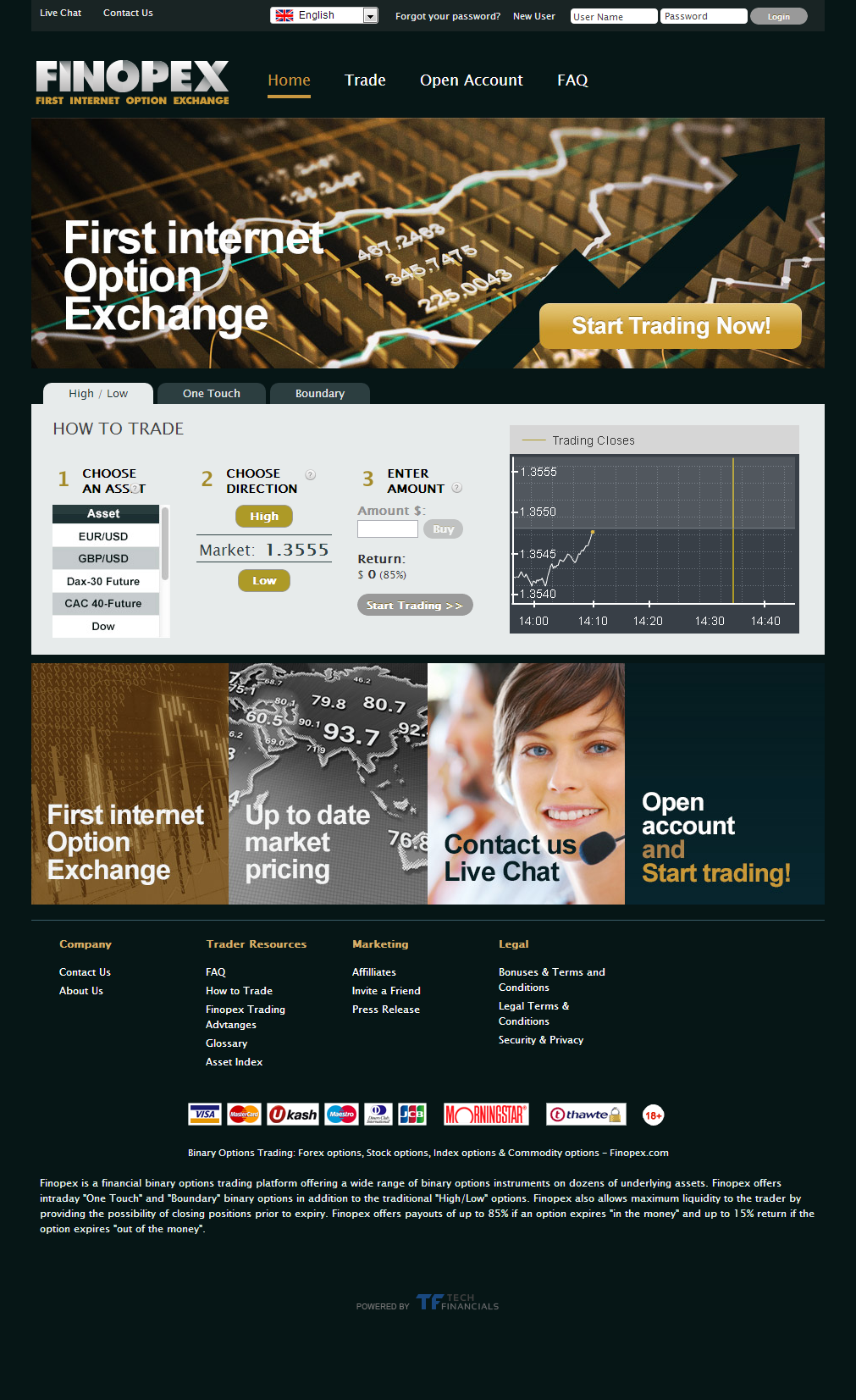 Bonuses and promotions
Finopex have an innovative and attractive welcome bonus policy. They have three levels of incentive Gold, Silver and Bronze. Gold is designed for professionals and aspiring professional traders, offering a more than generous 75% bonus on deposits between $5000 and $9999. The silver bonus is for serious traders, providing a 50% bonus on deposits between $1000 and $4999. The bronze starter welcome bonus is for deposits between $200 and $999.
These offers are amongst the best on offer in the binary options industry and are an excellent way to instantly boost your financial trading account.
Account information
Finopex is targeted at binary option traders at all stages of their career, from beginners through to experienced professionals. New traders can get going with a small $200 deposit and enjoy an exciting entry into the binary options world.  Trades can be placed from a minimum of $5 on 60-second durations, $25 on standard put and call trades, and $50 on Touch based trades.
With the development of Finopex into new markets the languages offered are being expanded. Currently the platform is for English markets. Traders can deposit and trade using USD, GBP and Euros, depending on their preferred trading currency. The homepage provides easy to follow guidance on how to sign up and begin trading. The process is fast and simple. Trading profits are just a few online steps and some quality research away.
Trading requirements
Finopex is an innovative and progressive company, always looking for the next way to improve the experience for their customers. They don't believe in resting on the laurels and believe in continuous improvement. The trading process is always transparent, functional and compelling, with a comprehensive asset offering and seamless trading flow.
Deposits and withdrawals are currently through Credit Card, Western Union and Moneybookers. The operators of the platform will be expanding this selection over the coming weeks and months as they strive to provide the most accessible system possible for their many new customers. 
Platforms featured and Markets offered
Finopex is not just about indices and currencies. They also offer stocks and commodities. They have handpicked some of the most popular assets in the industry and are always striving to furnish the most diverse and interesting of trade asset offerings. Below is a list of assets that are currently available through Finopex:
1.         Stocks: HITACHI, NISSAN MOTOR, AMAZON, BARCLAYS, BIDU, BRITISH AMERICAN T, FIAT, FRANCE TELECOM, GOLDMAN SACHS, IBM, PETROBRAS, S.BANK INDIA, SAB MILLER, TESCO, BNP PARIBAS, TEVA PHARMA, TOSHIBA CO, TURKCELL (TURKEY), TATA MOTORS (INDIA), REUTERS (US THOMSON REUTERS), BAE SYSTEMS (UK), ROLLS ROYCE (UK), HSBC HOLDINGS (UK), COCA COLA (USA), SBERBANK (RUSSIA), LUKOIL (RUSSIA), GOOGLE (USA), BP (BRITISH PETROLEUM), GAZPROM (RUSSIA), NIKE (USA), APPLE (USA), MICROSOFT (USA)
2.         Currencies: EUR/USD, GBP/USD, EUR/JPY, USD/JPY, GBP/JPY, EUR/GBP, AUD/USD, USD/CAD, USD/TRY, EUR/TRY, USD/CHF, EUR/CHF, EUR/CAD, CAD/JPY, USD/NOK, EUR/NOK
3.         Commodities: ASX (AUSTRALIA), WHEAT, COFFEE, SUGAR, GOLD, SILVER, PLATINUM, CITIGROUP (USA), OIL (LIGHT SWEET CRUDE)
4.         Indices: IBEX, NIFTY, NIKKEI 225, TEL AVIV 25, TOPIX, KL FUTURE, STRAITS TIMES, NASDAQ FUTURE (USA – NASDAQ 100 FUTURE), S&P FUTURE (USA S&P 500 FUTURE), SSE180 (SHANGHAI STOCK EXCHANGE), HANG SENG (HONG KONG), BOMBAY SE, KUWAIT (KUWAIT GENERAL INDEX), DUBAI (DUBAI FINANCIAL MARKET GENERAL INDEX), QATAR (DSM20), EGX 30 (EGYPT), TADWUL (SAUDI STOCK EXCHANGE), MSM 30 (OMAN), RTS (RUSSIAN TRADING SYTEM), MICEX 10 (MOSCOW INTERBANK EXCHANGE), ISE 30 (ISTANBUL STOCK EXCHANGE), FTSE 100 (UK), CAC (FRANCE), DAX (GERMANY), NASDAQ (USA), S&P 500 (USA), DOW ( USA – DOW JONES INDUSTRIAL AVERAGE)
Finopex allows traders to blend a strategy through a mix of trade types. Traders can PUT and CALL, or even place Touch and No Touch trades. When a trader has a conviction position to take they will be able to find a trade option to make money. On top of this there are great 60-second binary options for traders that are well versed in their technical analysis. Those that can expertly dissect and interpret candlestick patterns, moving averages and reversal signals will be able to make fast profits in just 60 seconds. It is even possible for traders to choose several 60 second binaries and trade them simultaneously.
Finopex offers the potential for massive profits. Touch trades offered with an expiration of a week, for example, can attract profits of up to 500%. Traders that are able to understand an asset and make high yield predictions can dramatically increase their bankroll very rapidly.  Even standard binaries allow profits of 81%. This is certainly a top platform for those looking for some of the highest returns available in the industry.
Customer service
Customer services is at the heart of what Finopex do. They constantly strive to improve the trading experience for their clients and are available 6 days a week, 24 hours a day by phone, Skype and email. They are driven by a passion to provide the best of the best in terms of customer satisfaction, and this commitment comes across in their dedication to getting you the answers that you need.
They are always looking for ways to improve. They truly value your feedback and suggestions and have a continuous technological improvement process, which is built into their software management process. If something can be done better they want to know. This is a company that really cares about what they do.
Is Finopex a Scam?
Finopex is one of the new binary options broker and trading platforms. Finopex has shown a great deal of user-friendliness through their innovative platform and promises around 80% returns on your investments. The traders who have worked with Finopex have acquired high-quality trading experience while dealing with Finopex. One of the greatest highlights of Finopex is their excellent welcome bonus that is as high as 75% and is meant to encourage traders to take advantage of higher payouts. Finopex is owned by Simple Trade and is among the most trusted names when it comes to binary options trade.
Final word
Finopex is an impressive entrant to the binary options market. They are client-centered and understand the importance of a comprehensive offering and faultless user experience. Professionalism shines through everything they do, from administration through customer service and into the technology teams. This is a focused company with a vision to be the best. With the ground they are gaining in the industry who is to say they won't one day achieve that goal?
Sign up to Finopex Now and Receive a Special Bonus Up To $7499!