EasyXP is a clean and functional platform with a great range of assets. The company provides terrific customer service, excellent option pricing and a clear and simple trade process. The platform offers a refreshing and exhilarating experience, driven by the vision of people with years of binary option industry experience.
The user experience is right up there with the best binary option websites in the industry. The teams behind EasyXP are 110% committed to ensuring that their clients receive the best possible service and obtain the best possible trading experience.  This shines through in both your interactions with the website and the interactions with the staff.

Sign up to EasyXP Now For An Exclusive Bonus!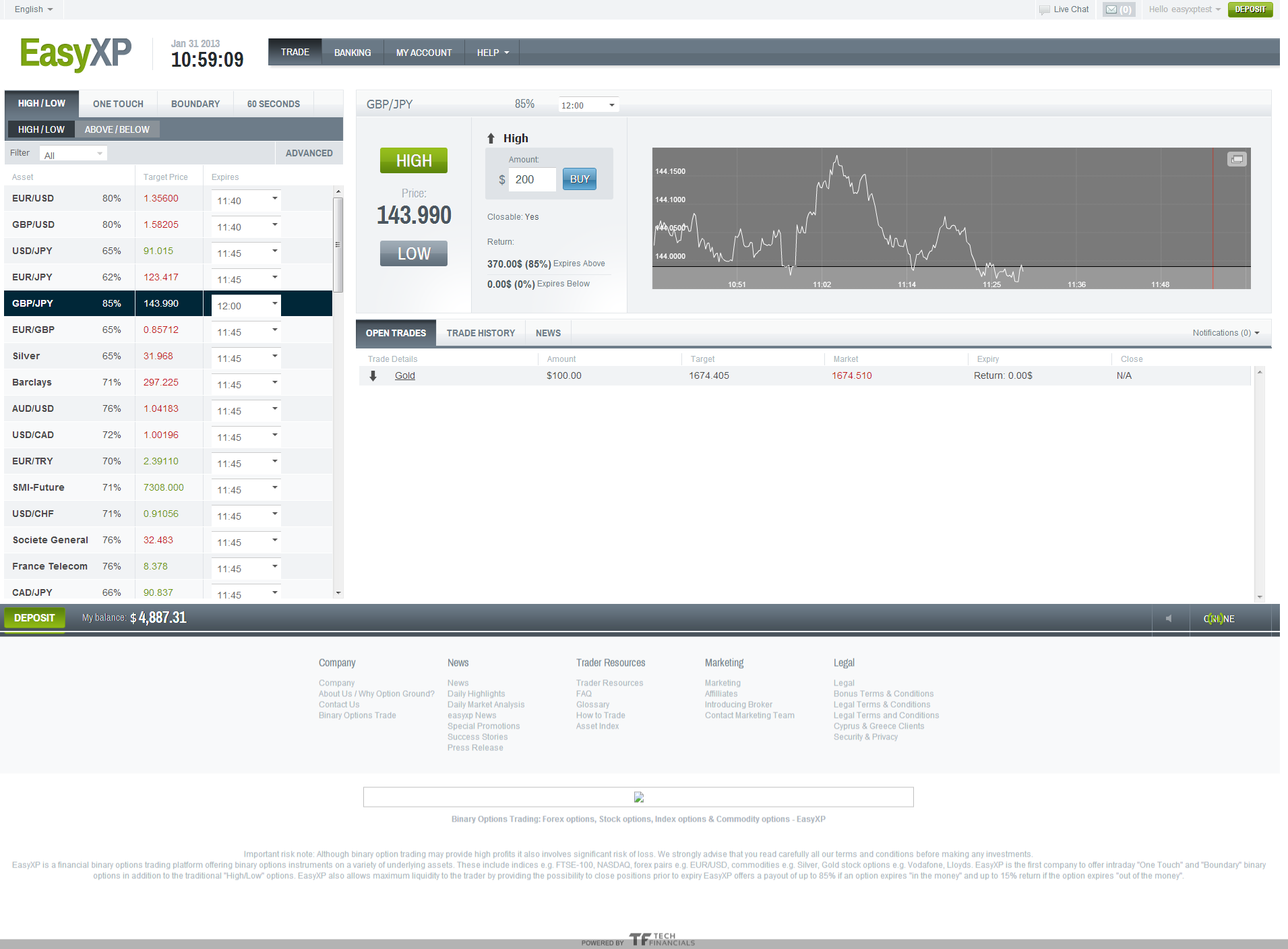 Bonuses and promotions
EasyXP provide some of the best incentives available in the binary option broker community. Beginner traders and experienced traders alike can obtain excellent trading account bonuses when they deposit into their financial trading account. Those looking to deposit between $200 and $999 will get 40% topped up for free. Traders depositing $1000 to $4999 receive a 50% bonus. Serious traders crediting $5000 to $9999 benefit from a 75% instant increase to their financial bankroll. These three tiers of bonuses represent the EasyXP Bronze, Silver and Gold account levels. Whichever level you opt to begin at you will receive an industry-leading bonus with which to beginning your EasyXP trading journey.
Account information
Alongside the attractive bonuses on offer EasyXP provides a flexible trading environment; an environment suited to both beginners and experts in binary option trading. The minimum trading deposit is set at just $200, meaning beginners can get going with low initial capital investment.
EasyXP offer innovative 60-second binary options. These expire just a minute from trade commencement and provide the opportunity for fast profits. The minimum trade for these short options is just $5. Standard binaries have a minimum trade stake of $25 and one touch weeklong trades require a stake of at least $50.
The platform is currently targeted to the English-speaking world, but more languages are due to be added shortly, opening up the fantastic experience to much of the world. Traders can select their trading currency by choosing between USD, GBP and EURO.
Opening an account is as easy as 1-2-3. New users are lead through the simple process in minutes.
Trading requirements
EasyXP is a dedicated broker, committed to offering the best experience in the industry. Their success is driven by their focus on their clients' needs and they are constantly searching for ways to improve the offering. New languages, assets and enhancements are continually improving the experience.
The deposit and withdrawal options on offer currently include Credit Card, Western Union, and Moneybookers. The EasyXP Tech Teams are currently working on the integration of further payment methods to increase choice and flexibility for their loyal clients.
EasyXP are a quality-focused organization with teams of technologists constantly working on improvements. They welcome feedback and suggestions, all of which are considered for suitability by their business analysts and software developers through an iterative improvement process.
Platform featured and Markets offered
Some people that are new to binary options operate under the misconception that binaries are all about currency trading. EasyXP demonstrate very clearly through their massive asset range that this is not the case. They offer Stocks, Currencies, Commodities and Indices. With well over 80 assets to choose from there is something for every trader. Below is a list of the currently available assets on EasyXP:
Stocks: HITACHI, NISSAN MOTOR, AMAZON, BARCLAYS, BIDU, BRITISH AMERICAN T, FIAT, FRANCE TELECOM, GOLDMAN SACHS, IBM, PETROBRAS, S.BANK INDIA, SAB MILLER, TESCO, BNP PARIBAS, TEVA PHARMA, TOSHIBA CO, TURKCELL (TURKEY), TATA MOTORS (INDIA), REUTERS (US THOMSON REUTERS), BAE SYSTEMS (UK), ROLLS ROYCE (UK), HSBC HOLDINGS (UK), COCA COLA (USA), SBERBANK (RUSSIA), LUKOIL (RUSSIA), GOOGLE (USA), BP (BRITISH PETROLEUM), GAZPROM (RUSSIA), NIKE (USA), APPLE (USA), MICROSOFT (USA)
Currencies: NZD/USD, USD/CHF, USD/ZAR, USD/SGD, AUD/USD, USD/EGP, USD/RUB, USD/BRL, USD/TRY, EUR/GBP, EUR/JPY, USD/CAD, USD/JPY, GBP/USD, EUR/USD
Commodities: ASX (AUSTRALIA), WHEAT, COFFEE, SUGAR, GOLD, SILVER, PLATINUM, CITIGROUP (USA), OIL (LIGHT SWEET CRUDE)
Indices: IBEX, NIFTY, NIKKEI 225, TEL AVIV 25, TOPIX, KL FUTURE, STRAITS TIMES, NASDAQ FUTURE (USA – NASDAQ 100 FUTURE), S&P FUTURE (USA S&P 500 FUTURE), SSE180 (SHANGHAI STOCK EXCHANGE), HANG SENG (HONG KONG), BOMBAY SE, KUWAIT (KUWAIT GENERAL INDEX), DUBAI (DUBAI FINANCIAL MARKET GENERAL INDEX), QATAR (DSM20), EGX 30 (EGYPT), TADWUL (SAUDI STOCK EXCHANGE), MSM 30 (OMAN), RTS (RUSSIAN TRADING SYTEM), MICEX 10 (MOSCOW INTERBANK EXCHANGE), ISE 30 (ISTANBUL STOCK EXCHANGE), FTSE 100 (UK), CAC (FRANCE), DAX (GERMANY), NASDAQ (USA), S&P 500 (USA), DOW ( USA – DOW JONES INDUSTRIAL AVERAGE)
Traders on EasyXP can choose a trade type to suit their strategy and their trade conviction. Each situation is different and the variety of trade options enables traders to profit maximally when they have predictive power. Traders can opt for CALL, PUT, Touch or Boundary trades. Traders can even engage in 60-second trades and benefit from fast returns on their technical analysis.
Standard binaries on EasyXP attract profits of up to 81%, making them extremely competitive in the industry. Traders whose research points towards a marked price fluctuation are excited to find high yield weeklong touch binary options providing profits of up to 500%.
Customer service
The EasyXP service is geared towards meeting the needs of their clients. They understand that their clients are their lifeblood and that each and every one is important. Their customer service system is therefore a pivotal part of their operation, offering a variety of contact mediums and fast, responsive, knowledgeable customer care. They utilize email, the phone, Skype and live chat and are available 24/7. There are few brokers in the industry that are so in tune with their customers.
Is EasyXP a Scam?
Binary options trading is one of the most popular, reliable, easy, and effective methods by which you can earn money online. EasyXP is one such broker that has been helping traders to capitalize on binary options. EasyXP has built a reputation for itself over the years. EasyXP boasts one of the best user-friendly platforms and ensures that the least amount of deposit is required to start an account for trading. EasyXP offers a very wide range of assets for you to trade with and consists of highly secure payment gateways to secure all of your transactions.
Final word
As a subsidiary of the long established Simple Trade brand EasyXP have quickly developed a reputation for providing best in industry service levels. They benefit from the accumulated wisdom of years of successful trading platform delivery from their sister companies. The company is forward thinking in their approach and understands that it is their clients that make them successful; they are a "listening company".
As a leader in options and Forex, EasyXP has delivered an amazing platform to the market. The amount of information and guidance available on the site is immense, making for a transparent and comfortable trading experience. Beginners and Experts alike enjoy the experience on EasyXP.
Sign up to EasyXP Now For An Exclusive Bonus!