BinaryOptions.net Awards 2014
---
What? It's nearly 2015 already? Where did the year go? This year the online binary options industry has been full of new brokers and signal services as well as, sadly, many scams. But what about things that really matter to traders? Which brokers excel over their brethren? Which brokers are the epitome of crap? What experiences have affected everyone for worse or for better? Read on and you will have a good grasp of what has been going on in 2014. These awards have been made by observing providers and their interactions with traders, affiliates, and the binary options community in general.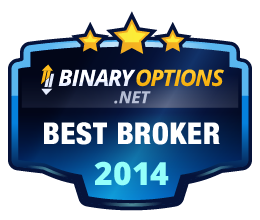 BinaryOptions.net's Best Broker 2014
Our first ever award for Best Broker 2014 goes to MarketsWorld. By far and away the easiest to use broker with one of the lowest minimum deposit requirements and minimum trade sizes, MarketsWorld.com has been on the scene for a long time and has never failed to provide top quality binary options trading. Headquartered on the Isle of Man and regulated there by the GSC, MarketsWorld is not only a top broker but also a regulated one. The top four reasons for awarding this honour are good payouts, fast withdrawals, low minimum deposits and low trade sizes which make it a top choice for newer traders or those with smaller accounts. Payouts range from 60% all the way up to 100% depending on market volatility, withdrawals are processed and paid within 8 business days (usually much faster). Minimum deposit is only $20 with a minimum trade size of only $1 so anyone can utilize proper money management techniques. Not only that they offer a free demo trading account with your registration to make getting started even easier.
Comments from our members:
"MW never call to harass me to deposit like other brokers, they offer payouts up to 100% which is consistently 10 points higher than the next best broker, customer support is fantastic, and the prices are fast and reliable. Bottom line is they are fair and trustworthy in an industry with many shady operators. They pay me on time like clockwork"
"No company is perfect but MW are by far the best BO company"
"MW tell it like it is. They don't have the fake ads about you can quit your job and get rich and it is so easy etc… they dont call and pressure you to deposit… they pay me out on time, everytime! Can't complain about them. And the British regulator ok it is Gambling Supervision Commision but in UK it is called fixed odds bet, same in Malta they regulate by the gaming authority, I would take British license and regulations over Maltese or (get serious) Cyprus!!! If you dont trust the regulator how can you trust the regulated company. I have never had a problem with MW, their pricing of my trades, their payout processing, totally professional in my experience"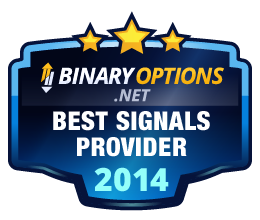 BinaryOptions.net's Best Signals Provider 2014
It's always hard to judge a signal provider which is why this year we have chosen SignalPush as the Best Signals Provider of the year. SignalPush is one of the most transparent signal providers on the market and includes automated copy trading as well. SignalPush does not generate signals itself, it is a platform where independent providers can register and set up shop. Users can then search the platform for SSP's that match their trading styles. Once the platform is downloaded onto your computer you have access to dozens, if not hundreds, of successful binary options traders who all provide signals. These signals can be acted on independently of the platform or you can link your trading account for the fasted automated copy trading around. Each service provider is vetted by SignalPush and sets up their own business and charges their own fees so you can browse to find just the right signals, at just the right price. Beware though, you get what you pay for!
Comments from our members:
"SignalPush are TRANSPARENT and only charge a monthly fee/do not require a new brokerage account"
"Signal Push does the best job currently, many people I know that use it as SPs or Subs would agree."
"Great work, great software, great signals!"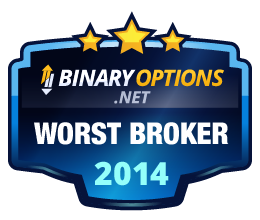 BinaryOptions.net's Worst Broker 2014
With the good comes the bad and it is sad to say that we were spoilt for choice when it came to awarding Worst Broker of the year. After some debtate, we have picked NYStockOptions as it embodies all that is bad about binary options brokers. They use an elaborate system of innuendo, internet based offices, web sites, signal services, managed accounts and fake regulation to ensnare our fellow traders. Starting with the name, NYStockOptions, the company tries to appear as if it is indeed a New York based company but rest assured it is not. Adding to the scheme is a completely fake regulatory agency, complete with website created by the same geniuses who operate this shady broker. To be honest, we can't believe this one is still open as it is sure to draw the wrath of the CFTC.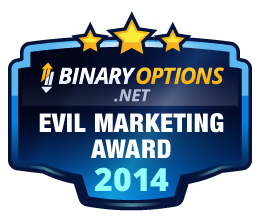 BinaryOptions.net's Evil Marketing Award 2014
It is to our dismay that we must award this honor, or dis-honor, to Michael Freeman. Long regarded as a proponent of safe binary options trading and a watch dog of the industry, Mr. Freeman has tipped his hand. Through information provided by you, our readers and forum users, it is clear that Michael Freeman and his many websites are nothing more than an elaborate affiliate marketing campaign. His signal services are not performing up to standard and are in fact scams. After further investigation it became apparent that Mr. Freeman was not interested in trading, but in being a bad ass, "rich as f&%k" affiliate marketer. His signals are in fact not even his, but a scammy service provided for the sole purpose of luring deposits.
Comments from our members:
"Trying to find out why Michael freeman signals are OTM since I subscribed to him 2 months ago, I'm talking about manual signals, the auto traders shouldn't be touched at all, I think a person would have more success if he would let the dog pick the trades than to use the mikes autotrader"
"I subscribed for Mike Freeman private signals group, where he promise to provide 10-15 manual signals per day with 70 % accuracy. On day first 04.12.2014 I received two signals, both OTM. Next day I received 3 signals – all OTM. After first day I decided not to execute his signals."
"As a total newbie to BO I first started trawling the net a few months ago and it soon became apparent that the industry was blighted by , dodgy services & products and dodgy brokers but then , whats this ?!! here comes Michael Freeman with his one man crusade to fight off these evils – he seemed like a genuine guy ( as the best scammers do ! ) . I joined his signal group and shortly after with much fanfare his Autotrader was released – I registered with one of his recommended brokers to gain access to the AT and decided to delay actual trading until I'd had a chance to check its performance – good job I did because as we all know , the results are no better than the flip of a coin."
As you can see, input from YOU – the binary options community – is a major contributor to the decision making process so please keep up the good work into 2015!