BossCapital is one of the newest brokers on the market. This broker was founded in 2014 and is headquartered in Gibraltar. The broker is built on the Tech Financials platform and offers a decent trading package. This isn't the best broker I have ever seen but it isn't the worst either. They have a decent asset list, good options, adequate expiry and decent terms but no one feature that makes this a must-use broker. On the bright side it is a good choice for us U.S. based traders who are having our options, no pun intended, dwindle.  If you are not familiar with Tech Financials it is one of the leading providers of binary options platform solutions and white label brokerages. 24Option is the leading CySEC regulated broker in this category.
>>>Click here to visit the Boss Capital website now<<<
Banking With BossCapital
BossCapital is based in Morocco but utilizes the Swiss banking system. Your deposits are held by BSI Bank Zuerich. The minimum deposit is only $200 and can be made by wire or credit card. There are 5 account levels with different benefits for each. The basic account is good but as you move up you can get faster withdrawals among other account specific benefits. In order to make a withdrawal you will have to complete the ID requirements and submit a request. The terms of use state without question that all withdrawals will be paid within 7 business days. The 7 day payout period is for the standard account only. The next tier up, with a balance up to $5,000, has faster withdrawals and starting at the next tier, over $5,000, withdrawals are same day. There is one free withdrawal allowed per month, as you move up the account tier the fee gets waived.
Bonuses are available from BossCapital. The standard account is eligible for a 30% bonus with that amount growing as your initial deposit grows. Executive accounts, over $5,000, can get a bonus over 50%. The trade minimum is 30X the bonus amount and this must be met before you can make any type of withdrawal. This is pretty standard for the industry and one of the reasons why I don't recommend bonuses as a rule.
The BossCapital Platform
BossCapital uses the Tech Financials platform. It is one of the leading platforms but I don't like it as much as some others like SpotOption and even proprietary platforms like Anyoption. However, it is not all bad. Mostly what I don't like is the look and the lay out. It's a little busy and not quite user friendly, at least when compared to other top brokers. Moving past may aesthetic criticisms lets look at what the platform has to offer. The asset list is quite large and when I checked for live trading most were available. There are over 200 in total with more than 25 indices, a dozen currency pairs, 8 commodities, 14 pairs trading and over 100 stocks. The indices include all the major U.S., EU and Asia-Pacific indices and things like Bombay, Dubai and Moscow. Currency pairs include all the most heavily traded currencies and Bitcoins. The commodities include gold, silver, copper, platinum and coffee, wheat and sugar.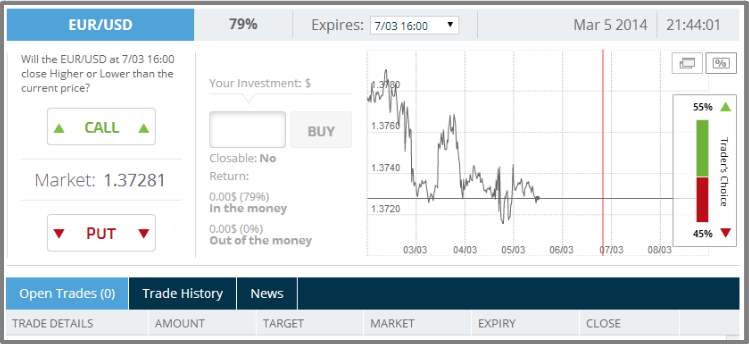 BossCapital has good options as well. There are the standard high/low digital trade but in addition to that they have Above/Below to. There are also Boundary, One Touch and Short Term trading. Above/Below trading has a strike price set by the broker and then you trade on whether or not the asset will close higher or lower than that strike. This is a great way to trade because it means there are time whenyou can buy a position that is already in the money. The Boundary trading has in and out of boundary options and the Touch trading has touch/no touch options. Short Term is where you will find the 30, 60 and 120 second binary options.
Expiry is pretty good too. It's not the best but it is above average. Short Term expiry is as I said; 30,60 or 120 seconds. After that there are at least 1 if not 2 or 3 intra-day expiry's as well as end of the week and end of the month. Not all expiry are available for all assets, the most heavily traded will have the most expiry's. Payouts run in the 75%-85% range on most binary trades. One Touch and Range options pay more. Some one touch options can pay as much as 350%. Depending on which account level you are you may be able to get higher payouts. The VIP accounts will get 89% payout on all winning binary trades.
Broker Extra's
There are not too many extra's here. BossCapital has an early closure feature available for some trades but that it not so special anymore. Their banking system is good. I like the way they reward traders for having higher balances. The standard account is OK when compared to the average broker but the services get much better as your account grows. Click here to visit Boss Capital.