Banc De Binary Brings Out Tips for Traders
---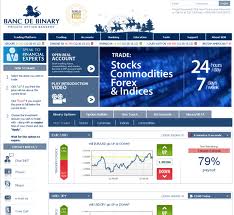 Banc De Binary, an award winning trading platform, has released a few tips which can help new traders, including those looking to try binary options. The tips have been put together after the company consulted its top financial analysts and brokers. The suggestions can help trader increase their chances of being able to maximize profits.
Find out about options before trading
Traders should be aware of the likelihood of the value of an asset increasing or decreasing before they trade in it. It is easy to get information about an asset on Ban De Binary. All that traders have to do is sign up for the company's daily market review. They should also look at an asset's chart patterns and discuss the live trading signals with their personal broker.
Understand the assets being traded
According to analysts at Banc De Binary, it is very important to understand the assets a person trades. Find out whether the stock prices are likely to have an impact on a commodity like it or the index (the one on which the asset is traded). Top investors keep in mind this factor, as they understand that the relationships between assets can have an effect and they look out for knock-on movements. Banc De Binary has more than 90 assets – with so many options, traders may get overwhelmed with information on each. To avoid this, they should pick an asset and find out only about it. In case a trader has knowledge about an asset, he should use it to benefit.
Practice before trading
Banc De Binary has a demo account, which traders can use before they venture into trading with real money. The account gives traders $50,000 that they can use to try their hand at trading. Even though the account is free, the service provider includes a host of services that it offers with its real trading accounts.
Banc De Binary's expert brokers will be accessible 24/7. Traders can get in touch with them to learn the nuances of trading. The brokers will take them through the online trading platform, give market analysis and discuss points that can help traders succeed. One of the best aspects about the account is that there is no time limit on it. To get started with the demo account, traders will have to create a live account by depositing $500. The