Alert, Cryptocurreny Market Updates And More That You Need To Know
---
The Big Squeeze Is On For Bitcoin Traders
Bitcoin has bounced off its long term low and key support level in a move that looks like it could go higher. The problem is that it is still fighting resistance at its short term 30 EMA and having a hard time getting across it. The world's leading digital currency is now trading in a tight range between $6450 and the EMA, winding up for what could become a major move. On a technical basis the trend is down, that is mitigated by support levels that have so far been holding. The question is, will they continue to hold? A break below support could be very bad for BTC and possibly shave another 50% off of its price. A move up would be bullish and likely start a wave of buying that will push it back to retest its all time highs. Based on the news at hand I am leaning toward the latter.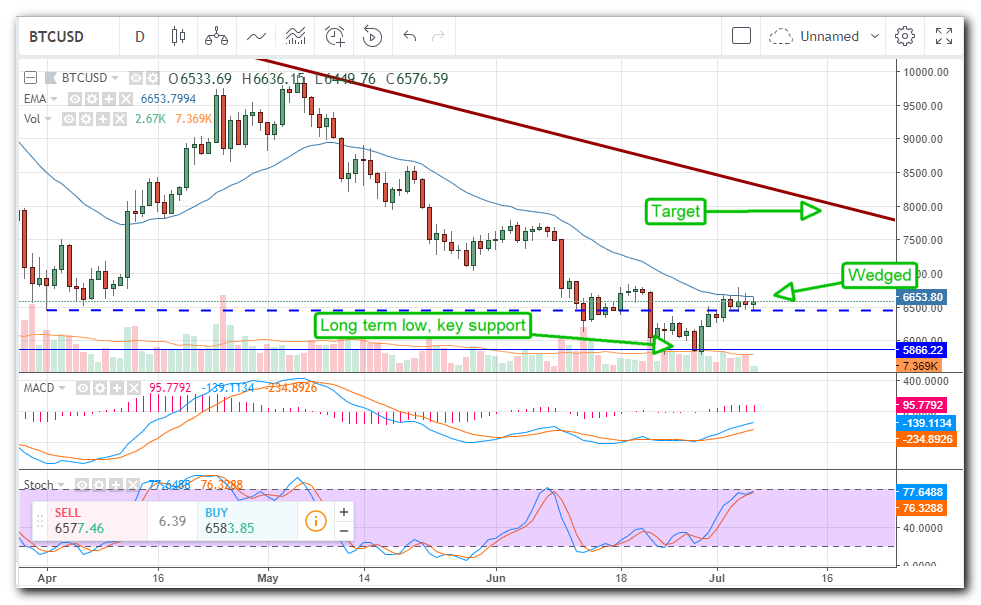 Exchange Updates: Over the last week there has been a lot of chatter out of the crytpocurrency exchanges. The CEO of Coinbase says there is high institutional interest in their newly released products and that is good for the market. Institutional interest means big money and long term support for prices. Binance reports profits at their exchange, fueled by the release of their trans-fee mining model, will approach $1 billion in 2018, quite a jump from the previous year. Trans-fee mining, if you are not aware, is when exchanges issue a native token as reward for trading and the token can be used to pay for commissions and fees.
Trading And Price Target Updates: The CEO of ADVFN, a financial markets website, says Bitcoin price will hit $100,000 because it is "part of the future". When it hits that price is in question but traders like Tom Lee still think a major rebound will happen by the end of this year. Tom Lee has lowered his target to a mere $20,000, down from $25,000, but still thinks BTC is the leading cryptocurrency technology to own. In the EU a wide range of cryptocurrency based ETF products will soon be available.
Blockchain Updates: There were really too many updates on blockchains this week to list them all but here are the two most important. First, the Ethereum network is experiencing a gas crisis due to high traffic volumes and congestion on the network. While this is a problem it is also believed to be a catalyst to spur development. The Ethereum network is expecting to release a number of updates in the next few months that are intended to increase network speeds. The Basic Attention Token, native coin for the Brave browser network, is seeing increased activity as the Brave usage grows. The company reports over 3 million active monthly users and a growing list of publishers and wallet holders. Brave also reports the planned launch of an Android app later this year.
Regulatory Updates: South Korea, a onetime leader in the crackdown on crytpocurrency, has made an about-fave. The country's legislators have introduced a draft bill that will pave the way for broad regulation of cryptocurrencies, ICO's and DLT technology. Romania, not to be left behind, has also introduced legislation for broad cryptocurrency regulation. The Swiss have already embraced cryptocurrency and are building a fully regulated DLT based cryptocurrency exchange. India, on the other hand, has enacted a full ban on financial institutions transacting with cryptocurrency exchanges. This does not mean natives can't own and trade BTC, just that they can't sell it for fiat money within the borders of India. Oddly enough, India's ruling party is embroiled in a scandal for allegedly operating a massive BTC money laundering operation.