ZZ Semafor Indicator Trade
Hello everyone, hope your day was great! Today I'm trying a modified version of my strategy, though generally everything else I looked at before will still be used. This is just a test to see how it performs; I may or may not use it later. I just have a different type of candle and the ZZ Semafor indicator (little dots on highs and lows of candles). These indicators are from a system I found on Forex Factory called the Freebie system. The system is designed for longer term trading than BO's but I'm using some of the indicators in conjunction with my strategy to see how they perform in the short term. I'm always learning new things as I go. I'm still reading Al Brooks books on PA as well. The candles you see work similar to the Heikin Ashi candlesticks, and I keep an eye on a particular candle that changes color after a ZZ Semafor dot appears at a high/low of a candle. Once price doesn't reach back to the high or low, I wait for the candle to change color. I also look for other signs of reversal such as a pin bar or other patterns as well as the 20EMA "rubber band" strategy (price always returns to the mean sooner or later) and all my other strategies I've discussed in the past.  Some other additions I added to my chart are some news indicators, an indicator that shows me when the candle closes, which is very useful, and an indicator that shows me what markets are open currently, simply for ease of use.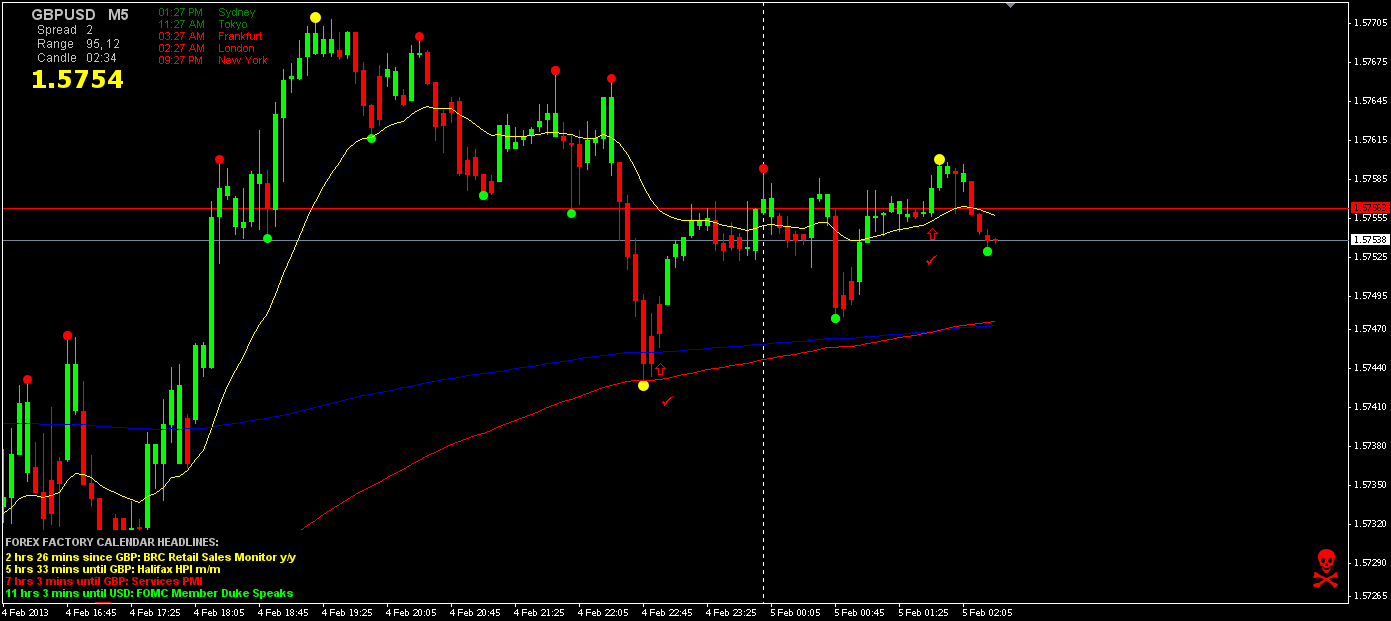 My high probability trade for the day began as I watched price drop sharply down to the 180 day EMA. As price reached the EMA, it stalled and I waited for a few candles just to see where they closed. A bounce off the 180 and 365 day EMA's are pretty reliable when they occur. Once price started going back up, and didn't show signs of reversing down, I looked back for support and resistance areas in the past, and this level that price rejected was now acting as a support level. As price was rising, Notice the ZZ Semafor dot was at the bottom, and after a bit the active candle turned green, which also was an indication that price would continue to rise. This was a 10-minute expiry and it was ITM by about 4 pips.
I did trade a few more but I didn't have as high probable trades as my first one tonight. As I'm writing this it's been 24 minutes since the AUD cash rate report, and the pair AUD/USD I trade was going haywire, so I stopped trading it. GBP/USD I had a few good trades, but it began to range for a while, so I called it a night. I really like having this news feed right in my MT4 window so I can see easily when a major news release will be made, because AUD went crazy after that cash rate report.