Weekly Cryptocurrency Market Outlook, On The Move Again
---
Crypto Market Prepares To Move Again
After several weeks of sideways consolidation, price correction, and token rotation the crypto currency market is getting ready to move again. Over the past couple of days all major currencies have bottomed at key support levels and begun to rebound. The rebound is still early, the recent highs have not yet been breached, but when they are I see it triggering a massive inflow of capital to the cryptocurrency market.
Bitcoin – Bitcoin is up about 2.0% in Friday action as it moves up from the short-term moving average. The world's leading cryptocurrency is lagging the rebound but still showing solid bullish technical. The move is accompanied by indicators consistent with support within an uptrend and indicative of shifting momentum. A move higher is expected but resistance is at the recent high, near $9,000. A move above $9,000 would be bullish and will open up the $12,000 level as the next target.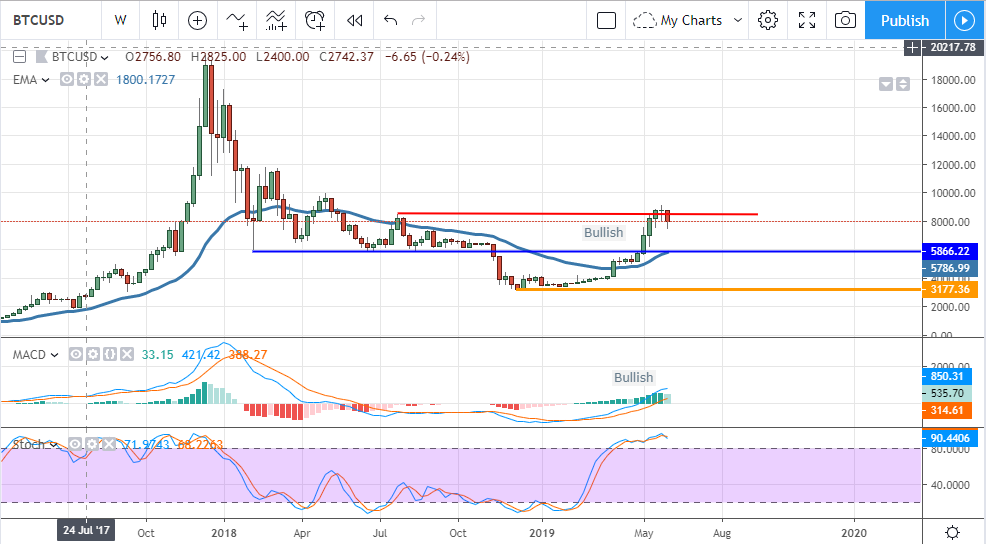 Litecoin – Litecoin is up nearly 3.0% in Friday action is one of the leading tokens for this rally. Litecoin is being supported by an upcoming Halving that will greatly reduce the availability of the token. Litecoin is already well above its support level, near $100, and approaching the recent high. The recent high, near $120, may provide resistance but the indicators suggest it will be broken. Once broken LTC is likely to rapidly advance to the next resistance target which is near $190. Longer-term this token, like BTC, is expected to retest the all-time high and set new ones.

Ethereum – Ethereum has been struggling with upgrades, whether to implement them or not, and that is seen in it's price action. That said, ETH joined the global cryptocurrency rally a little late but is still performing well. Since breaking above resistance four weeks ago the token has advanced 100% and looks ready to extend those gains. The token is moving up from the short-term moving average support zone and that is good. The move is supported by one of the indicators, weakly, which is not awesome. In the near-term, price may struggle to gain momentum, in the long-term a move to retest the recent high is likely. If that is broken a move up to $400 and then $600 is probable.