Volume + Price Action Trades
Hi everyone,
In this article I am going to share with you some trades I took with price action and volume.I took them in an exchange. Each trade has 5 minutes expiry.In all of them I buy contracts in the beginning of the five minutes.Firstly let's see my trades.


As you can see I bought 5 minutes binary options contracts in EURUSD currency pair.All of my trades expired regular in the expiry time except my last trade in which I sold the contract before the expiry.Let's see the screen shot of the day.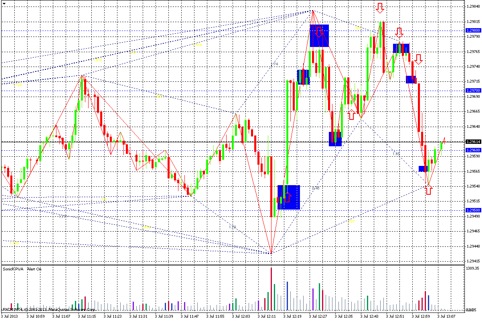 My trades are in the arrows in the chart. First of all, let's take a quick look in the market.In the beginning of the screen shot, before I took my trades, you can see the the buying climax near to a whole number.After that we have a big fall in the market.Notice the volume, some minutes before I took my first trade in the call arrow.We have an increasing selling climax in as you can easily see in the volume bars.We had a big fall in the market and maybe it's the time for the bears to take their profit.The buying climax after the big fall and the first bullish candles was my confirmation.I took a solid ITM call trade in the call arrow.In my second trade the price hit hit and get over the previous highs with a buying climax near a whole number.With the same thinking of my previous trade I took a put binary option trade in this case.My third trade was a little bit risky.I took a call without important clues.The most important thing in this chart are the ast trades.In the next put arrow the price hit previous highs with buying climax near the resistance which was a whole number,too.I took an ITM put.And now notice the lower highs in this down trend.In every pull back I saw and the first bearish red bar had bigger volume than the previous bullish bar I took put trades.Easy and risk free trades.My last trade was a call took this because of the extremely selling climax near a whole number and the rejection in the last bearish candle.It was in the money.Notice that finally we have a  bullish harmonic pattern.This was an extra reason to take my last call.There is a possible up movement of the price.
Kind Regards,
Kostasze