Two Cryptocurrencies For The New Year
---
Go Long Or Short On EOS. Your Choice!
Major cryptocurrency exchange Huobi now supports EOS trading on their Derivative Market. This means that clients are able to go long or short, and thus to profit even when EOS price is going south.
This new form of trading was introduced by Huobi as part of their "ongoing efforts to address customer demand" and according to the exchange's press release, the new contract type will offer leverage as high as 20x, meaning that traders can control a larger position will a lower investment. Keep in mind that leverage highly increases the risk associated with trading.
Chart Analysis – EOS/USD
EOS is down 7% in the last 24 hours and more than 12% during the last 7 days against the US Dollar, currently trading at $2.40 (Bitfinex). The crypto market as a whole has seen another drop over the last few days, which could be a simple retracement or part of a more drastic downtrend resumption; either way, it is too early to tell.
As for EOS, things are not looking too bullish at the time of writing: the 20 EMA (thin blue line) has just crossed below the 50 EMA (red line) on a 4-hour chart, indicating that the short-term momentum belongs to the sellers and possibly that more downside will follow.
On top of this, the current price level is not technical support, meaning that falling price was not rejected higher in the past from here. The first potential support is located at 2.10, followed by 2.00 and 1.80. The chances of upside movement will increase once the RSI becomes oversold (below its 30-level). For now, this is a choppy market, with a bearish bias.
Support zone: 2.10; 2.00; 1.80
Resistance zone: 200 EMA (thick blue line) and 3.00
Most likely scenario: choppy markets, mostly ranging movement with a bearish bias
Alternate scenario: move above 50 EMA after the RSI becomes oversold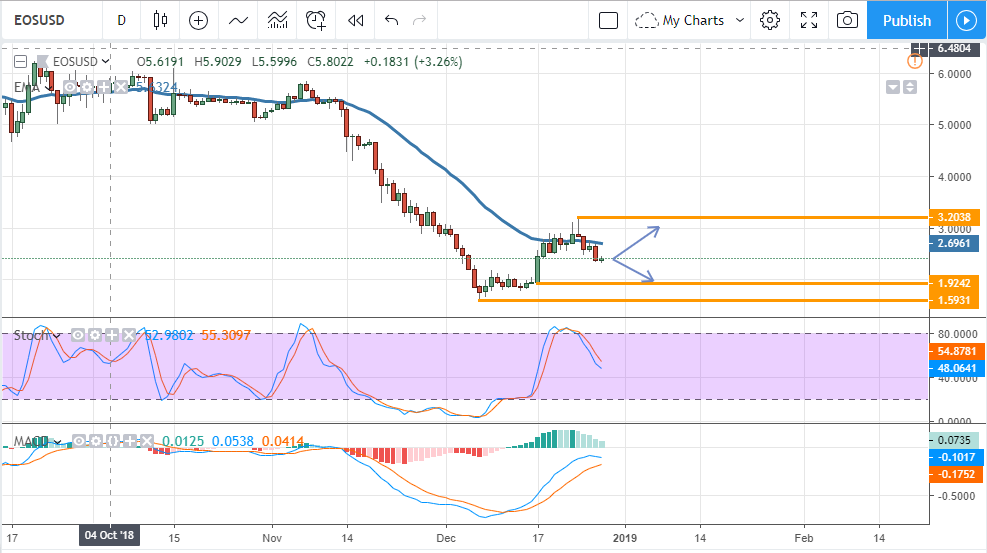 BAT Powered "Brave" Browser Under Scrutiny
Prominent Youtuber Tom Scott accused Brave of unethical practices related to the collection of BAT tokens on his behalf. Through the Adblock browser, people can donate to their favorite content creators, but Scott stated he has not authorized Brave to collect donations for him and that he doesn't accept any donations.
The Youtuber further said there is no way of opting in or out and there's no consent required from the creators, so basically Brave can obtain donations on behalf of others, using their names and pictures. The issue between Scott and Brave is still unsettled but the former has sent a right-to-be-forgotten request under European Union GDPR rules. Brave has 30 days to respond.
Chart Analysis – BAT/USD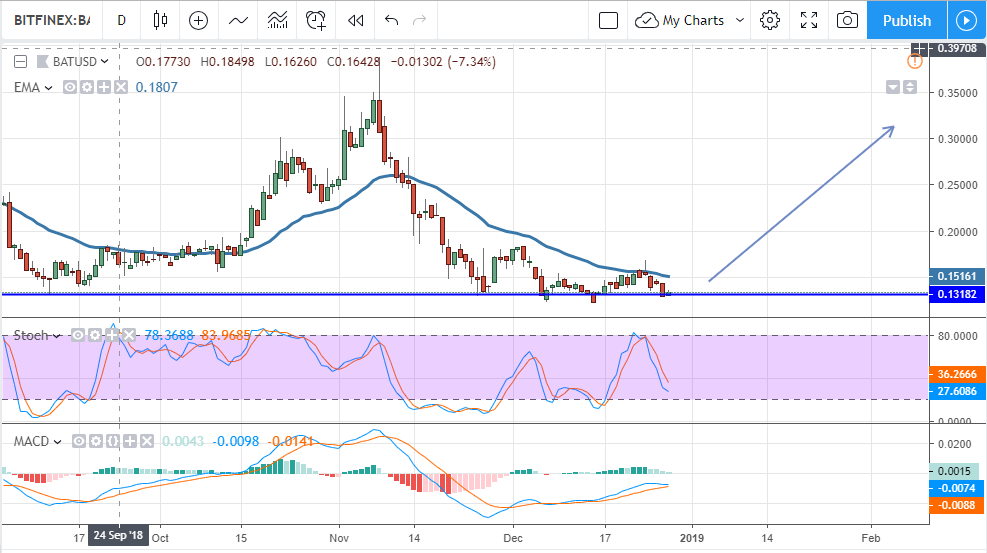 Currently sitting at number 32 by market cap, Basic Attention Token (BAT) had a rough few days, dropping to 0.130 from a recent high at 0.165 and is trading at 0.135 at the time of writing.
The token has not seen such a sharp climb as most other cryptocurrencies lately so the current drop cannot be considered just a retracement. In fact, the pair has been moving in a range since late November and has been in a sluggish downtrend for most of 2018 (just like almost all other cryptos) so there's a distinct chance of another test of the bottom part of the range, which is located at 0.123.
The first (minor) resistance is located at 0.148 but there's no upside pressure and the chances of a break are limited, at least for the time being.
Support zone: 0.130; 0.123
Resistance zone: 0.148
Most likely scenario: choppy markets, bearish bias and a possible retest of the support at 0.123
Alternate scenario: move into 0.148