Forex Trade Set-Ups Being Watched for Week of May 19
Friday May 16 has been a pretty quiet day (so far), but that may set up some good trades next week.  Here are some trades I have on, as well as a few set-ups I am waiting for. These are swing trades in the forex market, so I am using stops and targets. Trades are expected to last for several hours to possibly several days.
AUDUSD
I went long in the AUDUSD yesterday based on a long-term rising trend, and the pair recently broke higher out of a short-term downward sloping trend channel (within the longer-term trend). I am long near the bottom of the current consolidation. This is a trend trade, so expecting the price to move higher. Once (if) it breaks above this current consolidation we could see some quick sharp moves.
AUDUSD 4-Hour Chart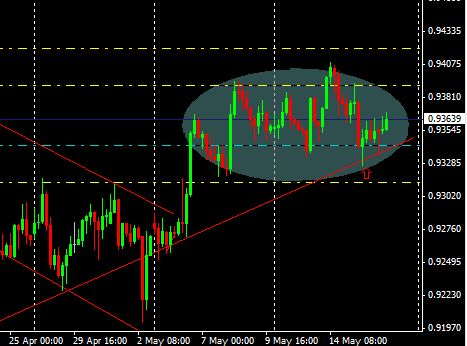 EURGBP
The price is currently near the low of a downward trend channel so I will wait till the price reaches the top of the channel before looking to go short. Blue line marks the potential short entry (may be adjusted slightly), the line above is the stop and the line below the target placed about half way into the channel. The concept here is simple–trade the channel but take the short trade at a resistance area (other example explained here: Are You Giving Yourself Enough Running Room on Trades?)
EURGBP 4-Hour Chart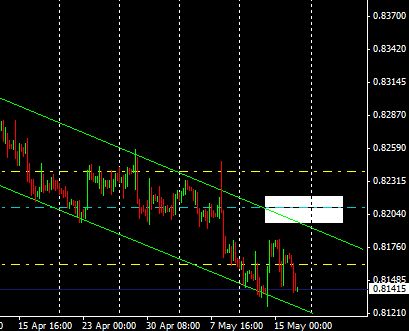 EURJPY
The EURJPY broke out of a triangle pattern to the downside, and has been trending lower since. I am waiting for a pullback (higher) to get short. This pair typically sees deep retracements so I have a short order waiting just below a prior pullback peak in the downtrend.  If the price keep dropping and we get a pullback peak below the entry point, then the order will need to be moved down below the last peak (yet to be seen).
I let the market come to me, I don't chase trades. If I can't get a trade where I want it, then I don't take it.
EURJPY 4-Hour Chart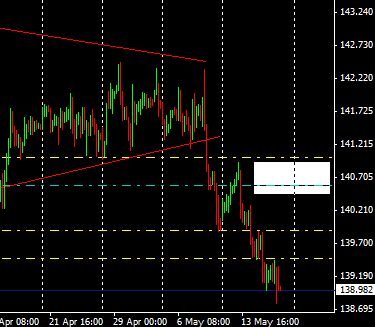 GBPJPY
The EURJPY and GBPJPY are highly correlated, but will have different set-ups since they don't move exactly the same. The GBPJPY was moving in a channel lower but has broken through it on aggressive selling a few days ago. The start of that aggressive selling is likely to be a strong resistance area, and it is also very close to the channel top. Therefore, I have placed a sell order right near the start of the big drop we saw a few days ago. Stops are above a recent high, and targets down near the original channel low in anticipation of the downtrend continuing.
GBPJPY 4-Hour Chart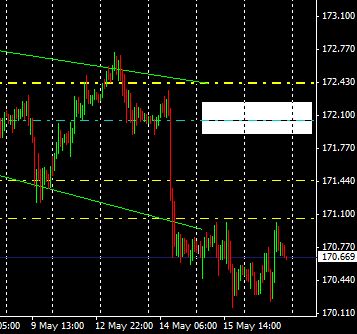 Final Word
On this time frame( 4-hour and 1-hour charts), I spend about 20 minutes a night going through about 15 to 20 forex pairs and looking for these types of setups. I put out lots of orders, and don't focus on any one particular trade. Less than 1% of my account is risked on each. On a given day I will usually be filled on 5 of these trades, so if one or two don't work out, the other three or four that do make it up for it. In other words, diversify a little bit with this style of trading. There is very little time or effort required, so put out orders when you see a setup. Don't find one trade, trade it and pray it works out. With trades like this you have an edge, but like a casino that edge shows over a great many trades. It is very easy to lose one trade even with a great edge, but if you take a lot trades that have an edge, it becomes very hard to lose overall. All targets are at least 1.6 times the risk, making winners bigger than losers.