Too Easy: 8 trades 8 wins!
22 October 2012
I headline this blogpost with "Too Easy" because it was an almost perfect day for my ALGOs. I had 8 wins with 8 trades 100%. I wish everyday could be like this. But markets don't always flow as they should and that is ok. In the end you can only try to trade best you can under the prevailing market conditions as they are presented. That is why when doing well push up the leverage and trades when bad try to push down the leverage and trades. Though my %s are high I can't tell when I will have win/loss streaks sometimes statistics are a cruel mistress. Still working on the "Money Management and Healthy Habit Pieces" So in the meantime I will just give you a synopsis of my trades for the start of the week. A few emails I have received from my readers have stated how much they like my charts as they show the exact levels of the trades * Takes a bow * You are welcome, enjoy! If you want to get in touch, just leave a comment below and I will get back to ya.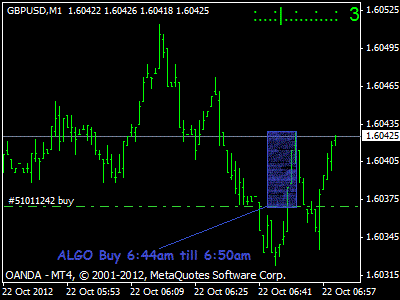 My first trade of the day was one of the most eventful of the day. I had a bad entry price and thought for certain this may have been out of the money. But the last 3 mins the price spiked right up to 1.6043 from my entry. That shows me to start with the market is flexible and willing to make moves which with my signals I should likely obtain good results.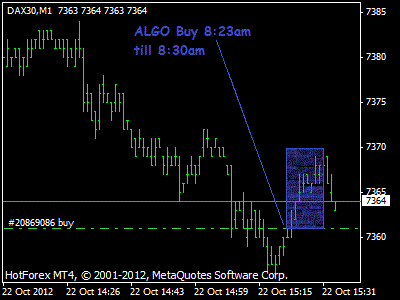 Dax had a perfect signal @ 8:23 to 8:30 and went straight up with near equal price/time. The signal seemed so solid with the 10sec and 1 minute in sync that I could have been taken it earlier for 8:25 expiry. The combination of the 10sec and 1 minute in sync has a high tendency to catch the exact turn in price most often.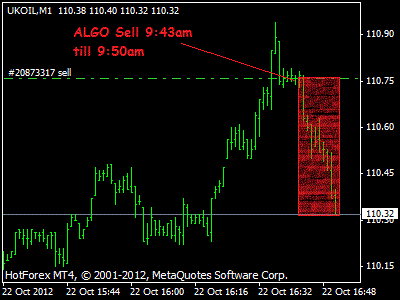 This was my favorite signal of the day. It showed the highest extreme and 10sec 1min 5min were all in sync and when that happens the probabilities of a strong move go way up. As we see here that was for certain the case. Price and time exactly matched for 110.30s by 9:51 which exactly @ that time it was in the 30s and in the chatroom this trade freaked alot of people out with how accurate it was for price/time exact. Sometimes when the market is in sync it will go exactly to the price to the exact time instead of just following the direction of the move.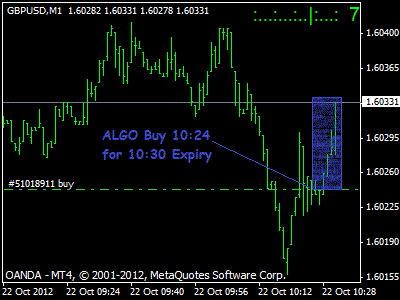 The second GU trade I had of the day again showed a spiky price action which when trading it really throws you off, but the signal itself was very solid so I had to enter it even with the odds spikes in price and this one had plenty today even though the signals themselves were near perfect and in the end I ended each trade near the high tick on every GU long today :)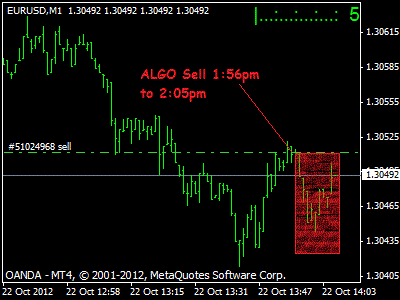 This trade on the EU was my least favorite of the day even though I was very confident in its result. It seemed to be a TRAP for longs imo when it first bounced. The bounce in price if you were watching was very fast and the ticks went high very quickly. But my modeling said this was anomalous and I smelled a rat! Right @ 1:56 I showed that price would likely drop and if this was a trap then it should drop very hard and fast, well it did at least for a few minutes then it shifted right back up coming within 3 pips of my entry before it expired. Undoubtedly the initial group of traders that took the long on the first push believed in this trade or caught some follow along traders helping overcome the down move and not giving the expected accellerated down move under the lows as I thought would occur. I am not always right ;)