This Bitcoin Consolidation Is A Signal For Big Profit
---
Bitcoin Price Action Is Bullish
The Bitcoin price action of late is bullish. The world's reserve cryptocurrency has been consolidating near recent highs after break a significant resistance level. The move bears the hallmarks of a triangle/flag-pattern but one of great magnitude. The consolidation has already been underway for three weeks and may go on for three or more weeks. Resistance is at the lofty price range of $13,000, support between $10,000 and $11,000, so we are talking about big numbers in terms of our targets and projections once the break out is formed.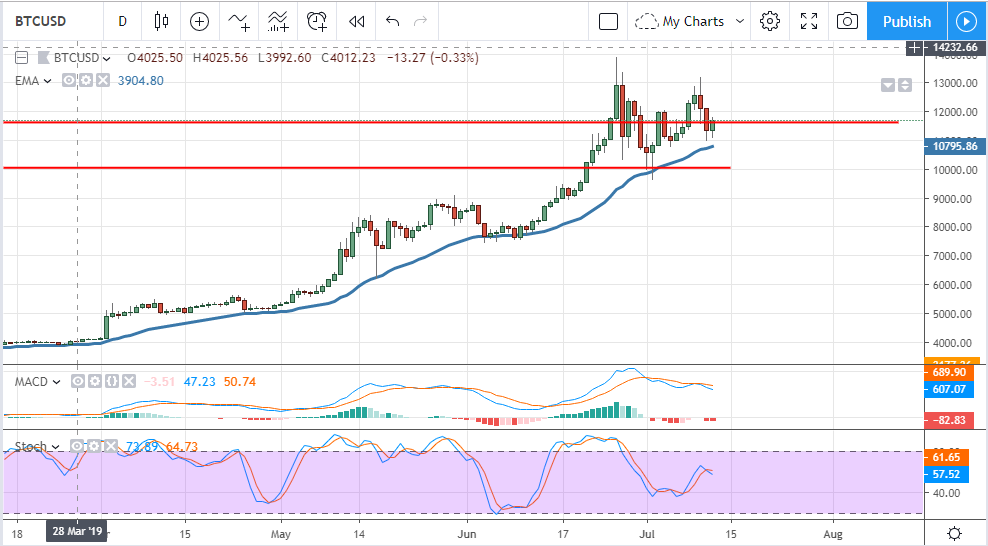 Looking at the weekly charts gets me really excited. This chart shows a strong rally that moves up from the $3,000 level all the way to the $12,000/$14,000 level where it has begun to consolidate. The consolidation is less apparent at this level but still there, brewing up a nice little rally for later this year. The salient point here is that our flag pattern, the one forming on the daily chart, has a flag-pole worth $9,000. There is never any guarantee with technical analysis but it is accepted practice to project the magnitude of the flagpole from the consolidation to get targets for the break out.

In this case I will project from the $10,000, $11,000, $12,000 and $14,000 levels for safety. This brings targets of $19,000, $20,000, $21,000, and $23,000 which means there is a high probability Bitcoin will reach its all-time high and set a new one.
In the near term traders should expect this consolidation to continue. If it doesn't that's great but that's not a scenario you can bank on. A move sideways with slowly rising support levels is a more likely scenario, the very next move may be a little bounce up to retest resistance. I don't expect the $13,000 level to break this time around but it may, if so $14,000 will likely contain prices for a little while at least. I would not trust a bullish break-out unless the candle is strong, closes above $14,000, and then stays there a day or two.
Litecoin is offering up a nice entry point. The coin has fallen to retest support at the $105 level and support is likely to be strong. Fundamentally, Litecoin has the halvening backing it up. The halvening is in a couple of weeks and will greatly reduce the available supply. Technically, Litecoin is now at the bottom of the second Elliot Wave retracement following a recent high. Well set up to rebound and at least retest the recent high near $140.