The Cryptocurrency Market Is In Distress, The Time To Buy Is Now
---
A Buying Opportunity Of Historic Proportions
Just when you though cryptocurrencies couldn't move any lower they do, but for no apparent reason. Bitcoin, Ethereum, Litecoin and the other top ten currencies have all shed nearly 10% in the hours leading up to this post and look like they could keep moving lower. The reason is simple, the public has not come back to the market and may not without some positive catalyst to drive them. The good news is that there are multiple catalysts on the horizon that will help public awareness, perception and availability.
The biggest problem weighing on the minds of traders and the public alike is storage, and hacking. Yet another major exchange has been hacked to the tune of millions and there is no end to the wave of crime in sight. This poses a major problem as it makes owning the coins very risky without even considering the fact they are an emergent technology. If you can't hold them safely then why hold them all is the general thought. The answer of course is to hold your tokens safely in your desktop based wallet, not in your trading account, and use CFDs to speculate the market.
What this means for buyers, owners and holders of cryptocurrencies is that an historical opportunity is developing. Cryptocurrency prices have entered a zone that many technicians, myself included, never thought they would again. Litecoin is in the lead on the march lower, having broken through a major support level and confirming a bearish triangle. This move is indicative of lower prices and could take LTC/USD down to retest the $50 level it was trading at before the 2017 run-up in price, a potential drop of 45% from current prices.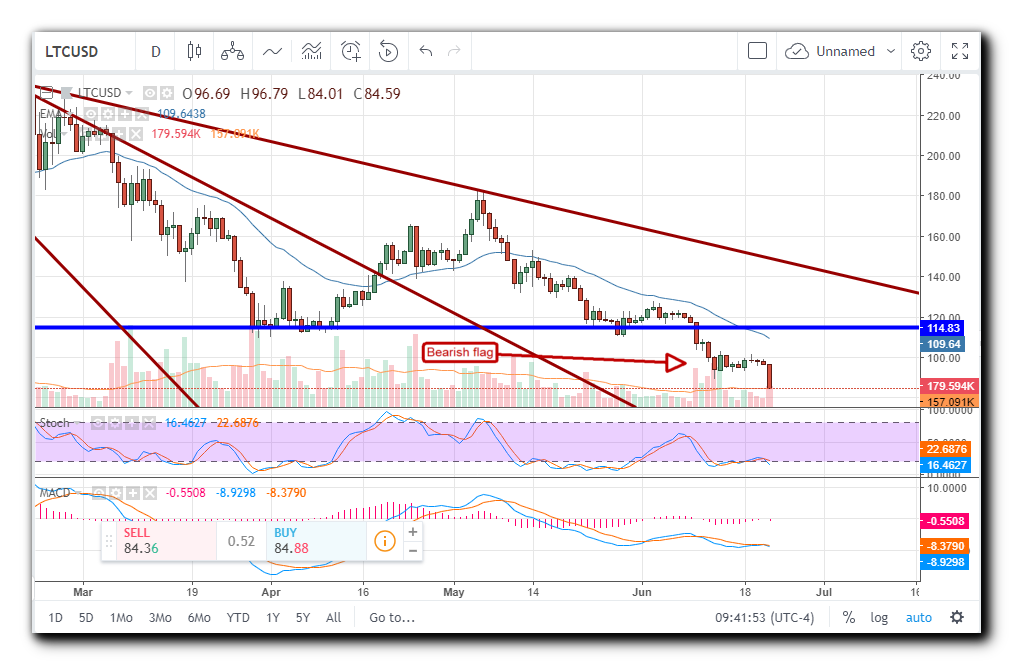 Ethereum is doing better, having found support well above its long term low. This token is now confirming support at that level and establishing its dominance as a market leader. While LTC is expected to recover as the network expands, ETH is expected to shoot higher later in the year as a trio of major upgrades help it reach scale and improve transaction speed. A move below $475 would be bearish but only in the near term. Longer term ETH is likely to move up and retest its highs.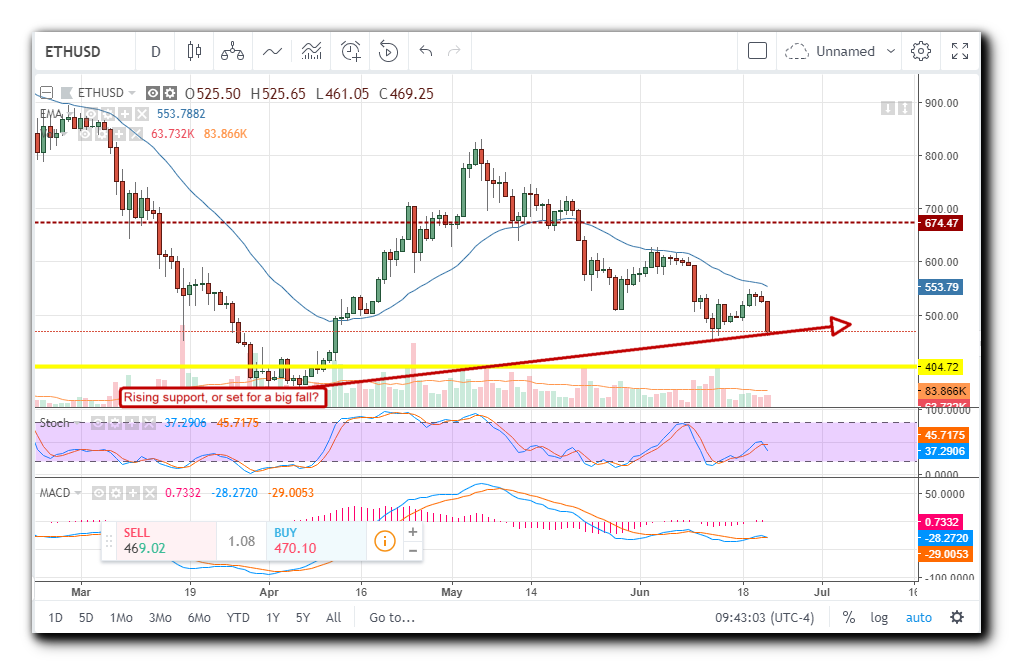 Aside from technical catalysts, upgrades to the system, both ETH and LTC face regulatory catalysts as well. A recent statement from the SEC, coupled with activity in England, has paved the way for Ethereum and Litecoin based futures products to be listed on US exchanges. Listing on US exchanges means access to institutional traders and enhanced liquidity for the entire cryptocurrency market.