Skrill Binary Options Brokers
---
Recommend binary options brokers that allow deposits and withdrawals with Skrill:
Formerly known as Moneybookers, Skrill is a global online payment services provider that allows businesses and individuals to make payments through the internet in a reliable and safe manner. The Skrill digital wallet system is owned and managed by a U.K based company Skrill Limited. The company is registered with Her Majesty's Revenue and Customs as a "Money Service Business" entity. Licensing and regulatory jurisdiction however falls under the purview of the Financial Conduct Authority (FCA). With its license, the company is authorized to operate within the entire European Union (EU).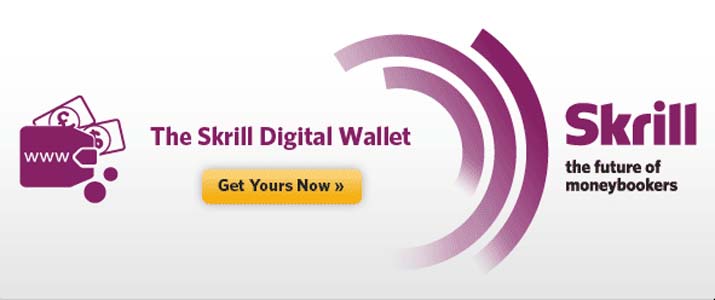 The Skrill Digital wallet system initially started life off as Moneybookers in 2001. However, the online payment system under Moneybookers only took off officially on April's Fools day in 2002. In 2007, Moneybookers was bought over for €105 million by Investcorp Technology Partners. In 2011, Moneybookers underwent a rebranding exercise to be called as "Skrill". The rebranding exercise was only completed towards the later part of 2013. Incidentally in 2013, Skrill Moneybookers changed hands once more with CVC Capital Partners buying over the company for €600 million.
Reliability
Starting off with almost 2 million users in 2002, Moneybookers was handling 5.5 million accounts by the year 2008. It was ranked by the British Sunday newspaper, the Sunday Times in 2010 as one of the fastest growing companies in the U.K. By 2012, the company is said to have25 million users including 120,000 business accounts. Some of the leading online brands that have incorporated Skrill Moneybookers as part of their payment system include eBay, Facebook and Skype.
Skrill support the transfer of funds in 41 currencies. The online payment service provider also support the integration of major credit/debit cards with their customers' accounts. Despite the wide acceptance of Skrill as a global online payment mode, restrictions of services to countries on the EU and U.S economic sanction list still applies. Regarded as a major letdown, the U.S since February 2013 is also no longer one of the countries which are not supported by Skrill. Nevertheless, Skrill still remain one of the most popular means of transferring funds online among those in Europe.