Routine Trading: 12 trades, 2 losses
11/09/2012
Both Friday and Thursday were fantastic trading days with only 2 losses out of a total of 12 trades for the two days on ALGO trades. Thursday was a better day as I only took 4 trades all of which were in the money, the only negative is due to family visiting and only traded half a day. Still it seems it was the right half lol! Friday was a bit more tricky as I could see a bit of manipulation that would have for sure caused problems for most s/r indicator or atypical methods out there.It did cause me a problem too, but not as much of a one as I was able to cherry pick in spots as gaps appeared on a individual instrument basis, such as the Aussie Euro Dow would be horrible trading then an awesome setup happens on gold or out of the blue the Dax gave a perfect signal while everybody else was flat.
So clarity wise it was a very good day with 8 wins 2 losses. This is another example of how statistics don't care. I watched a few people in the chat room try to fight the market with over trading/revenge trading only causing themselves more aggravation. Sometimes its best to just step back and watch when things are not in sync for you. The market is not going anywhere and with binary options you can trade all sorts of different indices stocks forex commodities so why act like there is a rush to trade. Take your time a good trade will often be so obvious and require the least amount of effort ;)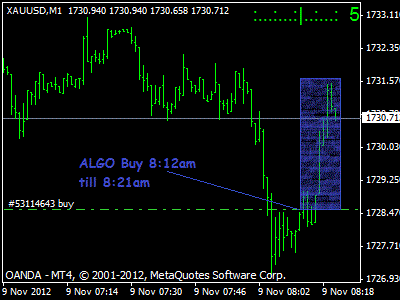 This was my favorite trade of the day, I did have one trade before this barely ITM on the EURO that was less then ideal to trade and somewhat odd as it was a very good signal with jerky movement but high ticks so very confusing. Still it was ITM in the end by a few pips. This one was ITM by a few dollars and its slope was ideal as where it ended near the top with large upticks in price to start with a few minutes into the trade.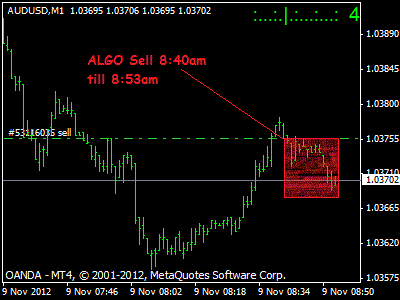 Now this Aussie trade was not as ideal because of the price action of the bars contraction/expansion along with the ticks being out of sync made it a bit more risky to get chopped up in a narrow range. At least that was my thinking until this trade down ticked exactly from entry and then low ticked into expiry saying to me "Sure I did not look as good before hand but man what a nice finish huh!"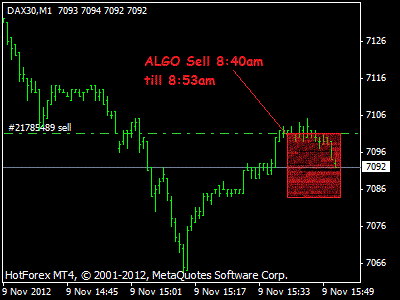 This Dax trade I really did not like but the range was such to give me higher probabilities around 7100 for the sell as well the other pairs and indices were all leading with indications of a drop ahead of the Dax here. Though it did take its time the drop happened and it low ticked into the expiry time making another very solid trade for me.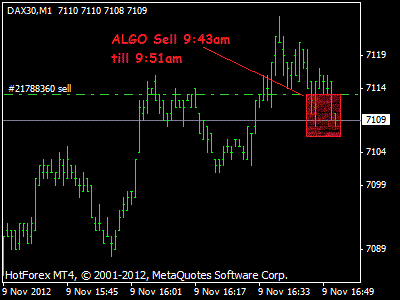 The next trade I had was also on the Dax. Now the other markets were way out of sync with some odd movements of one pair being up another down in the same segment or another being flat so it was a bit confusing as the overall flow did not indicate good trading. But the flow here on the Dax did stand out and ALGO wise the filters all said higher probability on this trade. Though it shows around 7114 for the entry my real entry was with my binary broker well above 7119 level, though it would not matter as the trade ended near the low ticks under 7109. Often you will find a mismatch between your binary brokers prices and your charting package prices. What matters is you are in the meat of the move from there it will matter little the difference will balance out overtime. It does require a lot of screen time though to stay in sync of the market often.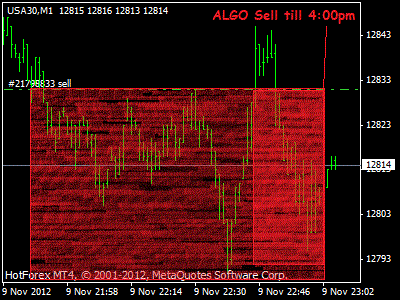 This trade was pure EGO I have to say. I had several people ask me what my ALGOs were saying for the end of day trading. I scanned through the different pairs and found the Dow and Euro to be near perfect sync for a down move into closing. The Euro was being manipulated to show strength into the close but the last 15 mins followed the down move with the Dow as expected. Both of which were clear in the money trades, though I am not a fan of longer term expires unless taking them in my forex account with spot off a 4H. I do have a better then 66% chance of winning on these. I crunched the numbers for my friends and then tagged along on both ending my week on a strong note. This weekend I will be purchasing new server/workstation equipment and may be doing some videos/live trading/education real time as soon as next week if things go well :) Until next time, Enjoy!