Read This Stunning Review Of The Top Four Hard-Fork Coins Now
---
The Big "4KS": Bitcoin SV, Bitcoin Cash (ABC), Bitcoin Gold And Ethereum Classic
Consensus of the community is a big part of decentralization but unfortunately it is not always achieved and differences arise. These difference can lead to divergences within the dev teams of cryptocurrencies and those lead to the so called "fork". There are two types of forks: soft and hard, the latter results, usually, in two different coins and new free money for anyone holding the original. The coins that resulted from the 4 most well-known forks will be in our focus today as we take a look at how they fared against the initial coin and their performance overall.
Bitcoin (Cash) ABC
Bitcoin Cash, a hard fork of Bitcoin, recently went through a hard fork of its own which resulted in two coins: Bitcoin Cash ABC (BCHABC) and Bitcoin Cash SV (BCHSV). After some confusing first days, most brokerages started to call the ABC strand Bitcoin Cash and Bitcoin Cash SV received the name Bitcoin SV. These are the names currently seen on CoinMarketCap and on almost all other crypto venues.
Currently trading around $115, Bitcoin Cash is occupying the number 5 spot by market cap, with a total dollar value of $2,065,812,475 and has been in a constant downtrend almost since the latest fork. As seen from the Daily chart above, the coin has been trading flat against the US Dollar with extremely low volatility and uncertain direction in the near-term. This type of behavior is usually followed by a strong breakout but given the "dead" price action, the direction cannot be anticipated, we'll just have to wait and see.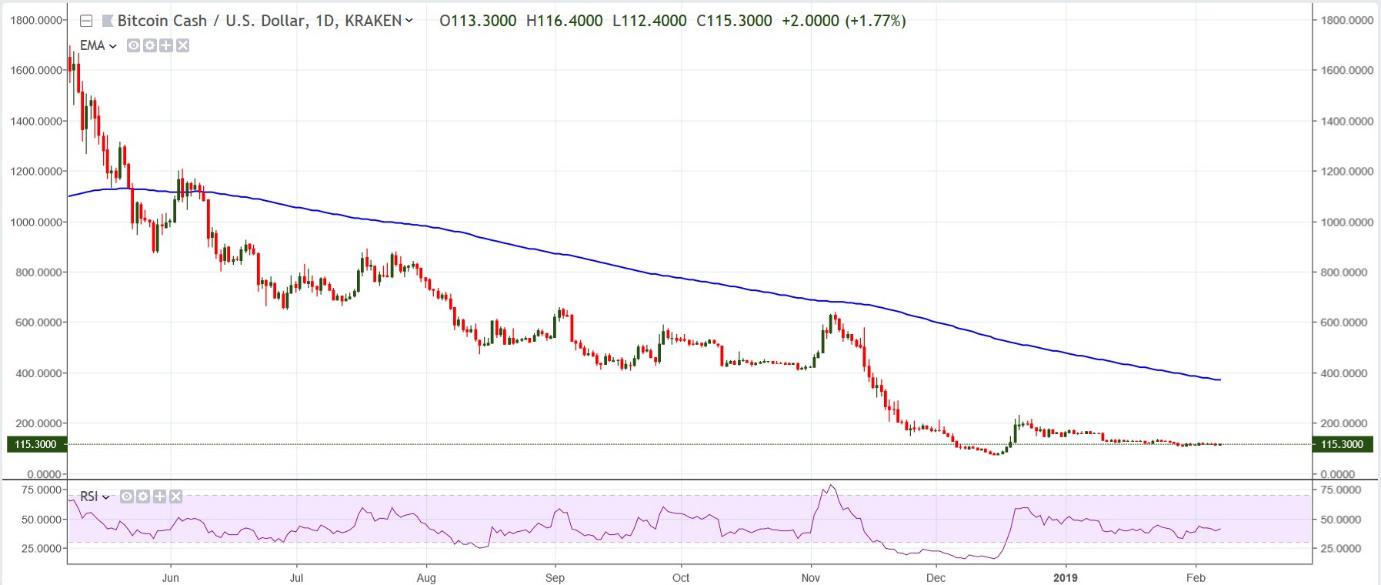 Bitcoin SV
The other half of the Bitcoin Cash hard fork is called Bitcoin SV (BSV), which stands for Satoshi's Vision, and is dubbed the true Bitcoin by its creators and backers. Since its inception in November 2018 the coin has had a pretty rough time, dropping into the $40 area from an initial price of about $250, then recovering above $100 and now trading at $64. It stands just outside the Top 10, at number 11 with a market cap of $1,121,277,415, but that is likely to change very soon. Although it recovered from its all-time low, the coin is still in a downtrend and doesn't show any sign of recovery so it may go lower in the coming weeks.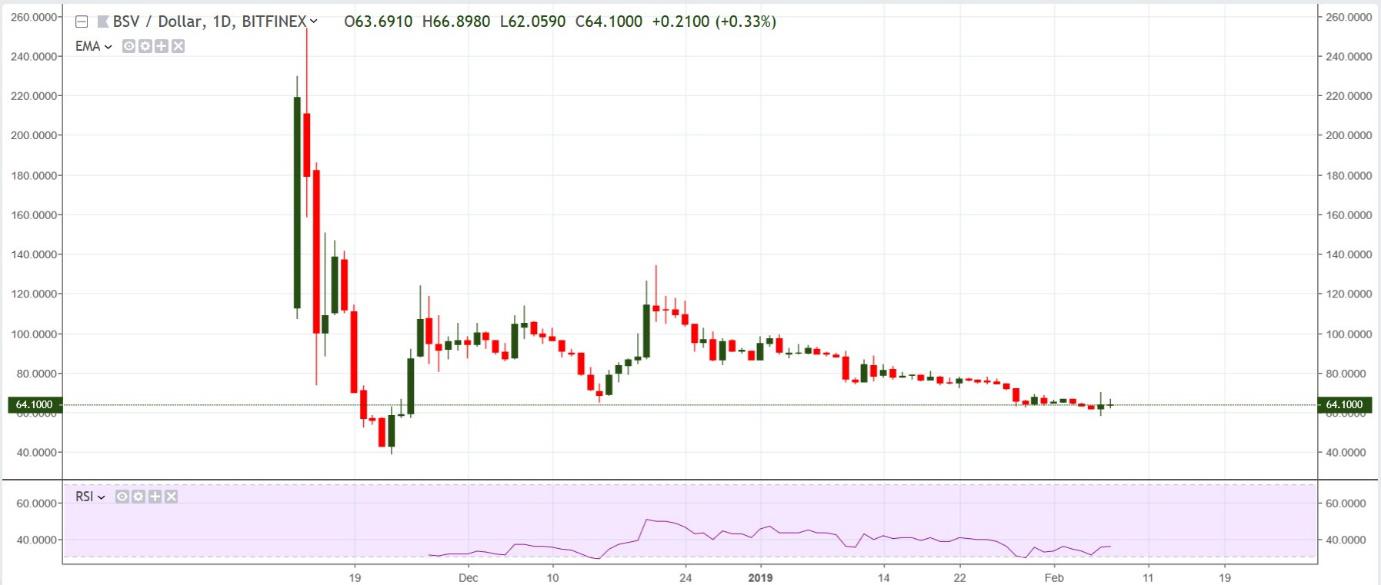 Bitcoin Gold
This coin was "born" in October 2017 as a fork of the original Bitcoin in an attempt to create a more decentralized version of Bitcoin. Some community members felt that a few whales and ASIC manufacturers were controlling Bitcoin so they created Bitcoin Gold (BTG) to combat it. BTG protocol introduces a different Proof or Work algorithm that allows more people to join the mining process and aid decentralization.
Currently trading at $9.48, Bitcoin Gold is the 28th cryptocurrency by market cap with a total dollar value of $165,163,912. The coin is in a downtrend, which started soon after its inception but lately it's been flat and without volatility, similar to the other BTC forks. There are no bullish signs on the chart so we can expect to see a new low fairly soon.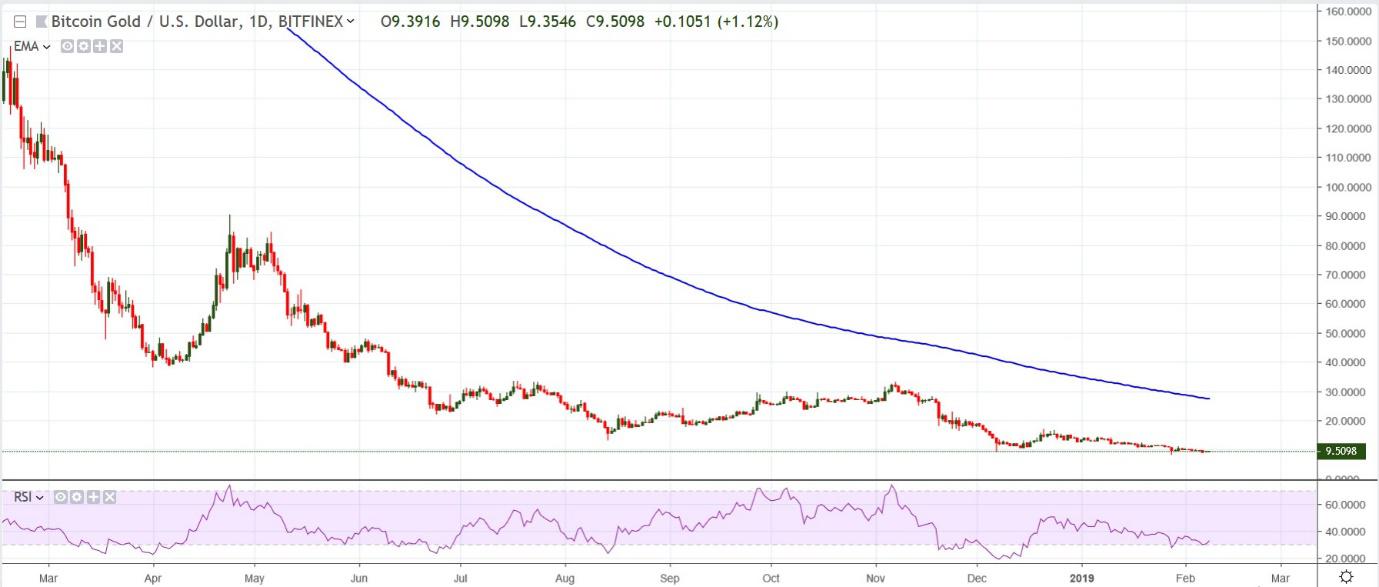 Ethereum Classic
The coin was initially known as Ethereum but after a fork in July 2016, in the aftermath of the DAO attack, it took the name Ethereum Classic (ETC) and the new coin was named Ethereum.
Ethereum Classic is currently the 17th cryptocurrency by market cap, with a total dollar value of $421,371,233. It is trading at 3.90 against the US Dollar from an all-time high of $45.51. In January 2019 the chain was hit by a 51% attack so things don't look too bright for ETC, the network is just too risky. The chart shows a clear downtrend and signs of exhaustion (low volatility, flat price action). As long as the ETC/USD pair is trading below the 200 days EMA, there are no bullish signs.