Price Action, 1 Moving Average & the Belkayate Timing indicator
11/05/2012
Hello Everyone, so today I have a new strategy that I've been working on that I have completed. It's a strategy that I have been tweaking for quite some time and its pretty simple (to me). I developed this strategy from other strategies I've found all over the internet. The best thing you can do is develop your own strategy because then you understand everything about it backwards and forwards. It's very easy to do a Google search for thousands of strategies that can be confusing and time consuming trying to learn, don't get me wrong, it's great to try new things out, you have to search to find what you like, but DON'T spend all your time just trying different strategy after strategy, because you never will become good at one in particular if you jump around too much. If there's a strategy or a piece of a strategy that you like and is easy to understand, take note of it.
Anyways I have come to a decision on what strategy I will stick with and try out, and as always price action is my number 1 priority. My strategy consists of PA, 1 moving average, and the Belkayate Timing indicator, pretty simple right?
My idea of this strategy is as follows: I start to look for support and resistance areas, then I look for price to venture away from the MA, (kinda like the rubber band strategy), If price has a sharp move away, I begin to watch for a reversal candle. If there is a reversal candle forming, I then look at the Belkayate Timing indicator and see if the candle is past the 8 level. If it is past the 8 level, I will place a call or put accordingly. Depending on how far price is from the MA, I will choose 10 min expiries or 30 min expiries. Direction of the trend also plays a role here, I will try to place most trades in the direction of the trend, but if there is a very good setup otherwise, I will take it.
So a recap: Look for support/resistance, Price move away from MA, look for reversal candle, Belkayate Timing level past 8 level. If all requirements are met, place a trade. I went back on a chart to see how this strategy would work in the past (I know back testing has its limits) and it looks like it would work nice. It doesn't produce many signals, but the ones they do are fairly big winners. I will be testing this strategy only from now on to see how i do.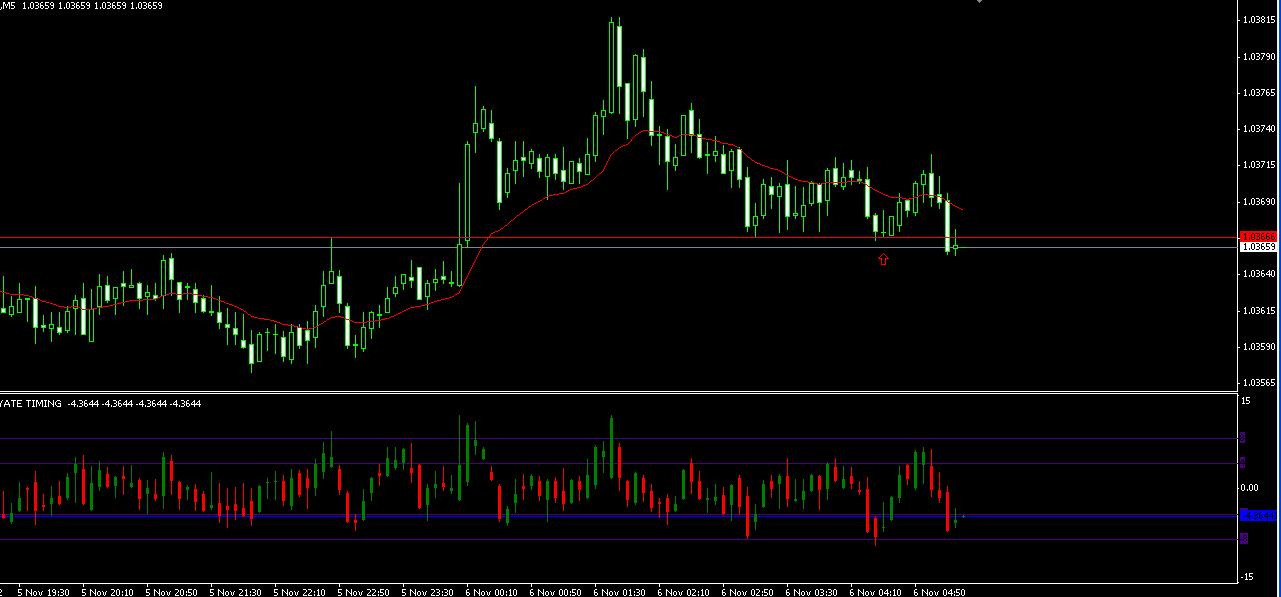 Today I made one trade using my strategy, it doesn't produce a ton of trades, but they are usually reliable. Price was dipping back down to a recent support level (line on chart), and I noticed price made a sharp move from the MA, then I looked for a reversal candle, then a Doji formed, and the wick of the Belkayate Timing indicator was past the 8 level. All of those indications were green and signaled a trade for me. It was ITM. The trade wasn't a large winner, because I got in the trade a little early. I chose a 10 min expiry but it was almost not long enough to see price move up. I'm still tweaking my entry times but I'm getting better I believe. Hope you all are enjoying these posts! Let me know if you have any questions.
Thanks,
Austin