---
Plus500 is an online trading platform for trading CFDs on Forex, Stocks, Commodities , Options and Indices!. The site software and fee structure make it easier and cheaper to open or close a position. Traders can use leverage and margin trading like one would in a land-based trading market. Risk control and orders allow members to buy and sell at market prices, set a stop limit order, and determine a stop loss policy in order to limit your losses. In other words, Plus-500 gives traders all the options in an online setting one would have in a live trading environment. Plus500 only offers CFDs trading, which is what I want to talk about today. Before I do, I'll give a broad overview of the website, so all possible members will know the tools at their disposal when joining the Plus500 community.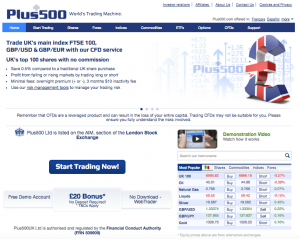 Plus 500 Overview
Plus500's slogan is the "World's Trading Machine". The firm caters for CFD trading only. Plus500 has both fixed and dynamic spreads, ensuring they remain competitive. The site is set up for transactions involving WebTrader, desktop computers, iPhone, iPad, and Android phones. Several options for funding your account exist, including VISA, Mastercard, Skrill-Moneybookers, PayPal, or bank wire transfer.
Plus500 Bonus
Traders don't even have to deposit money in their account to get a welcome bonus. The bonus is available for anyone who registers an account but does have terms and conditions attached. All you have to do is download the trading software, click on "Real Money", and enter your account details. This takes you to an account page where you click the "validate" button. Once you enter your personal details, you'll need to enter your phone number without a country code. Once this is done, click "Send Me a SMS". This provides you with a 3-digit code you'll need to enter into the given field on your screen. Once this code is entered, you'll receive $20 in your account for the purposes of trading. Remember, this cash can't be withdrawn immediately. Instead, you can withdraw the bonus when you accumulate 60 trade points or "Tpoints". This bonus expires in three months, so be sure to get enough CFD trading done in 90 days time. Full terms and conditions are given on the sign up page itself – please ensure you read them and ensure they suit your trading requirements.
Deposit Bonus
Traders also get a first deposit bonus, if you prefer to pay money into your account, you can get a bigger bonus. Put in the bonus code FIRST100 and you'll receive a $30 bonus for a minimum deposit of $100. To cashout, you'll need 50 Tpoints. This is just the first of six levels of deposit bonuses offered by Plus500, though. The high-roller bonus is worth $10,000, which is given when you deposit $50,000 and use the promo code FIRST50000. To cash out this money, you'll need 10,000 TPoints. Other bonus levels include $150, $200, $1,000, and $2,000. To receive one of these initial deposit bonuses, you'll need to input the bonus codes FIRST500, FIRST1000, FIRST5000, and FIRST10000, respectively. Remember all bonus funds come with terms and conditions attached.
Trading CFDs Online
What many people may not understand is CFDs can be traded on shares, commodities, or indices. Forex assets can be traded as CFDs, too. This lets you profit from the rise and fall of the various markets on the Internet, depending on your predictions of where the market is going to go the next day. Members of Plus500 can choose either short term or long term positions, so their software is for all sorts of investors, not just the day traders. In either case, Plus500's CFD interface gives traders the benefits of low margins on their CFD transactions, giving them better flexibility when investing small amounts. As the large-scale bonuses show, the company also handles higher volume CFD deals, though.
No Fees Policy
Most other CFD service providers charge commissions on your trades, while Plus500 take an approach called the "market spread". A funding premium is used for short positions, while this is subtracted for longer positions. This helps you cover the cost of associated funding. A night premium exists, so be sure you understand how the fees for the Friday-to-Monday position works, because it costs three nights' fees. Also, an inactivity free of $5 US dollars is charged when your trading platform goes unused for 3 months. This offsets the cost of maintaining the service (site), even when people no longer use it. Also, this slowly drains an account, so only the high-dollar accounts are going to remain in operation when a trader goes years without using the service.
Plus500 Demonstration
Those who aren't sure whether Plus500 is the right trading platform for them should give the site's demo trading tutorial a try. The demo uses the exact same software as the real site does, so you can learn how to use their technology without wasting money. Potential traders can give the site a test-drive with no commitment. If the demo impresses you, test out with the bonus, then move on to the full money download. Plus500 has all the tools you need for CFD training, so if you can figure out how their fee system works, it should provide you with a positive CFD trading experience.