iOption Trading Platform Gets Two New Features
---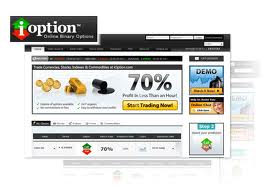 Binary options traders using the popular iOption trading platform will get to try its two new features very soon.
After several months of research, surveys, beta testing and testing with focus groups, the company decided to introduce the Long Term Expiry Dates and the Cross market assets features that its customers can benefit from. The kind of attention that iOption pays to its customers and the quality of products it offers them is what sets it apart from its competitors, and makes it one of the best binary trading platform in the world.
About the New Features
The two new features in the iOption trading platform include the Cross market assets feature and the Long Term Expiry Dates feature. The Cross market assets option is unique and allows you to trade between different assets and markets too. For example, this feature will allow trading between commodity and forex markets, meaning you will be able to exchange gold for dollars, euro for silver etc. As these are single position trades, they are simple to execute and bring down the risks and the costs too.
The Long Term Expiry Dates feature allows you to trade binary options and close at the end of a particular month or even year, enabling you to make the most of the seasonality of trades and the hedging strategies.
iOption's Offers Get Better
iOption is one of the oldest binary trading platforms today and has been catering to traders for years. The company is headquartered in Cyprus and the British Virgin Islands, and is a reliable binary options broker in the industry. It is known for the wide range of services and tools that it has to offer, and is always finding ways to make the trading experience better and more profitable for its customers.
Considering that the binary options have become common investment vehicles, investors and traders are on the lookout for better strategies and tools that they can benefit from. At the same time, the number of binary options brokers in the market is increasing and the competition between them is only getting bigger and bigger every day. It is only natural then, for a company like iOption to offer more than its competitors and stay ahead in the race.