Ichimoku Kinko Hyo + Volume Part II
Hi traders,
In my previous article I talked about Ichimoku Kinko Hyo basic things and I explained how many traders use this indicator. You can see that you can identify break outs, trends, supports and resistances and crossovers. In this article I will tell how I use Ichi with volume spread analysis and price action. You could have some good signals with the above but I believe that  it's not "a stand alone indicator". Like every indicator, of course. I use it mostly to identify the general picture of the market. If it's bullish or bearish. After that If a signal will appear I am trying to confirm this with volume and price action. If there is confluence between them I am going to take a trade. So, it's time for the first screen shot of the day.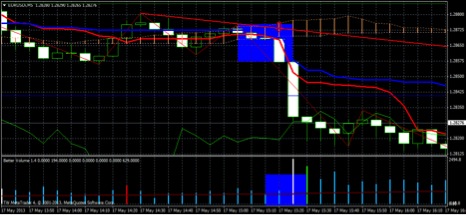 This chart is from EURUSD currency pair and I use Ichimoku Kinko Hyo, Price Action and volume spread analysis. First of all, look at the price behavior from the beginning of the screen shot. It was below the cloud then came above and made a high. After that moves down and it's trying to break the cloud but it can't and makes a support. Then makes a new high lower than the previous. This is our first price action signal. We have a lower high. Notice the red trend line which I drew. Then the price is moving down again. Will it break the support or not? It's the time of volume spread analysis now. Notice that the kijun(blue line) is above the tenkan(red line). Look at the blue box in the volume. There is an increasing volume and the price is moving down slowly. In this case I am going to take a put. Look at the next candle. It's negative and the price is moving down very fast. In our volume indicator a big white candle appears. This means that the investors are selling heavily right now. Our prediction was right.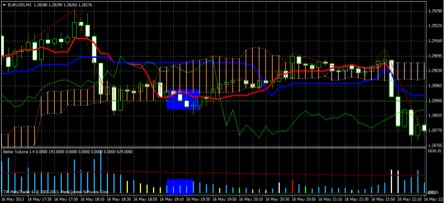 In the second chart (EURUSD currency pair) I want to show you how volume can protect you and help you to filter some false signals. Look at the blue box. The price broke the Kumo and the Kijun is above the tenkan. It seems like a good opportunity for a put but it isn't. Look at the volume. We don't have an increasing volume , we have a stable and low volume. This means that we shouldn't expect a big move in the market right  now. The market is ranging and if you remember I told you so in the first article, Ichimoku works better in trending markets. So, don't take a trade in this case.
Kind Regards,
Kostasze